National Assembly deputies have recommended that the Government design an economic stimulus package, but both the Government and the National Assembly have yet to discuss the topic.
At the recent National Assembly session, some National Assembly deputies said the Government would take strong solutions to support the pandemic-hit economy that has the lowest growth rate since Doi Moi (reform) in 1986.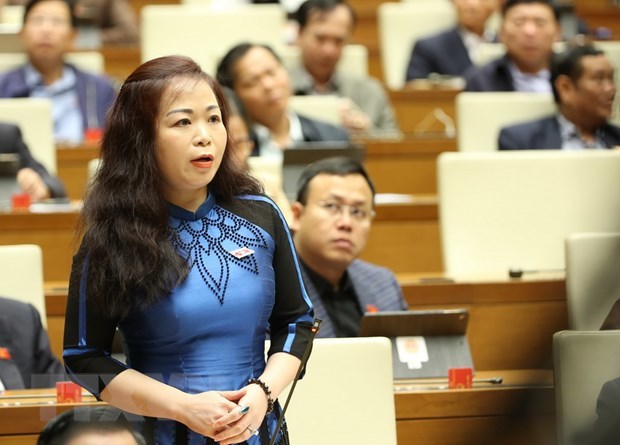 Deputy Vu Thi Luu Mai.
Hanoi's Vu Thi Luu Mai said that if the National Assembly issues a stimulus package for economic recovery, it should include tax exemption and reduction policies.
Deputy Nguyen Nhu So of Bac Ninh Province affirmed that it is necessary to quickly issue the next support packages to help businesses take advantage of the remaining time of the year to complete their yearly plans.
Citing the world's experience of strongly intervening in the economy with bailout packages, he said the Government's goal of having public debt in 2022 equivalent to about 44-45% of GDP is feasible compared to the estimated goal for this year of 43.7%. Controlling inflation at 4% is safe compared to the public debt ceiling of 60% of GDP.
"Therefore, we still have a lot of room to launch stimulus packages that are large enough and have far-reaching effects to promote economic recovery while ensuring control of macro targets," he said.
Deputy Trinh Xuan An of Dong Nai Province added that it is necessary to give direct and effective support to the business system.
He said: "Currently, only about 30% of small and medium enterprises can access capital from banks, and the remaining 70% have to use their own capital or borrow from informal sources at a very high cost. For the loan package of 16,000 billion VND with disbursement ending on July 31, 2020, none of them had access to it."
Deputy Vu Tien Loc of Hanoi said that in the context that there is not much room for monetary policy, the measures to "give blood" for the economy can only be a combination of fiscal and monetary policy, in which fiscal policy must play the leading role.
Loc suggested promoting the form of public-private partnership (PPP), because this is the key to promoting the public-private partnership in the coming time, to mobilize resources from the whole society.
People and businesses are exhausted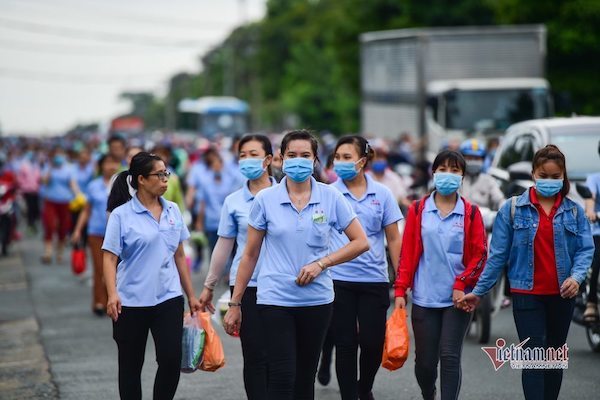 The unemployment rate of people of working age in the third quarter was 3.98%, an increase of 1.36% compared to the previous quarter and an increase of 1.25% over the same period of 2020.
Some experts have suggested an economic stimulus package equivalent to around 8-10% of GDP, even 15% of GDP in the next two years.
The pandemic has caused millions of people to lose their jobs, and pushed millions of people below the poverty line, and hundreds of thousands of businesses to dissolve.
The Ministry of Labor released the following figures: Of a total of more than 28.2 million people who were impacted by the epidemic in the third quarter this year, 4.7 million people lost their jobs, accounting for 16.5%; 14.7 million people had to temporarily suspend production and business, accounting for 51.1%; 12 million people had their working hours cut or were forced to take time off work, or take leave, accounting for 42.7%, and 18.9 million workers had their income reduced, accounting for 67.2%.
The average salary was 5.2 million VND in the third quarter, a decrease of 877,000 VND compared to the second quarter and 603,000 VND compared to last year.
The rate of underemployed and unemployed workers increased sharply, with the underemployment rate in the third quarter 4.46%, equivalent to more than 1.8 million people, an increase of 1.86% compared to the previous quarter.
On a national scale, the number of unemployed people of working age in the third quarter was more than 1.7 million people, an increase of 532,200 people compared to the previous quarter and an increase of 449,600 people compared to the same period of last year.
The unemployment rate of people of working age in the third quarter was 3.98%, an increase of 1.36% compared to the previous quarter and an increase of 1.25% over the same period of 2020. The unemployment rate in urban areas was 5.54%.
In that context, there is still plenty of room for fiscal expansion. Public debt is only about 44% of GDP, much lower than the threshold of 55% of GDP. Foreign exchange reserves reached more than one hundred billion US dollars. Capital from international financial institutions is abundant.
Without timely support policies with a large scale, the economy cannot recover and grow quickly, which will affect the state budget, currency, and labor markets. Vietnam will miss new opportunities in the chain of production, business, investment, global trade.
The size of the stimulus package will be discussed to balance macroeconomic stability, but hopefully it will be released soon in parallel with administrative reforms, and improvement of the business environment and market-economy institutions.
"I earnestly request not to neglect the central task of continuing to accelerate institutional reforms, reduce administrative procedures, improve the business environment, and national competitiveness to promote the strength of the entire people, so that our economy will not miss this chance. It is strong and substantive institutional reforms, not monetary support packages, that will shape the future of Vietnam's economy," said deputy Loc.
Tu Giang

There is still room for Vietnam to implement bailout packages and restore the economy, but there is not much time left.

A programme on economic recovery and development is scheduled to be submitted to the National Assembly's extraordinary session in late 2021, heard the Government's regular press conference on December 2.