Urban development in the 1960s and 1970s in Singapore and Seoul could be valuable lessons for Hanoi to map out its sustainable development.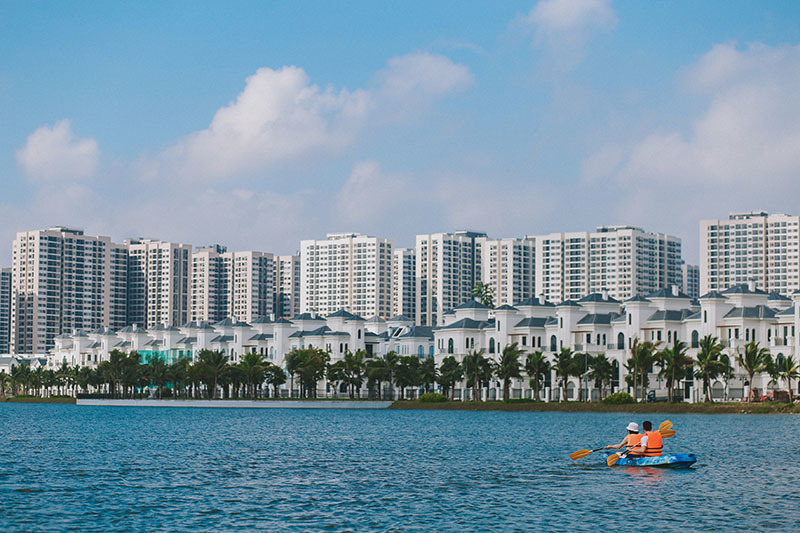 Pham Van Tuan in Ha Dong district in Hanoi noted that the distance from his home to his office building on Hai Ba Trung district is just 10 kilometers, but it takes two hours a day to travel between the two points because of the daily traffic jams from To Huu Street to Le Van Luong and Giang Vo.
Tran Duc Tuan, 38, who moved to Trung Hoa Nhan Chinh residential quarter in 2010, said he can see clearly how life has changed in the last 10 years.
"Ten years ago, the roads were clear and traffic was smooth. Now, traffic congestion occurs so regularly," he said, adding that when traffic is heavy, he has to have dinner at restaurants or street shops.
"I cannot thread my way through the traffic to get home, so I take time to have meals at street shops while waiting for the traffic to ease," he explained.
Pham Thanh Tung, Chief Secretariat of the Vietnam Architect Association, said that more roads have been opened and existing roads have been expanded, but traffic congestion still occurs because of the high population.
With about 10 million people in Hanoi, the number of vehicles is increasing rapidly, while the public transport system cannot catch up with the increase. Meanwhile, planning errors have caused a lot of problems, including lack of classrooms, poor healthcare services and increased pollution.
Experts believe that in order to keep pace with urbanization, it is necessary to design the development in association with the expansion of urban area. The central area should be reserved for public utilities.
The expansion towards the suburbs is inevitable. That is the way followed by many other regional cities.
Lessons from Singapore, Seoul

Experts believe that in order to keep pace with urbanization, it is necessary to design the development in association with the expansion of urban area. The central area should be reserved for public utilities.
Analysts say that the urban planning and development model in Hanoi is similar to the development forms of many large cities in Asia. This comprises a historic inner central area and satellite urban areas linked with transport routes and belt roads.
Singapore once faced a housing shortage. A demolish-and-build policy was implemented from 1960s to 1970s. Its new architectural planning was implemented in three major pillars – residential, industrial and commercial.
With the principle of preservation and expansion, Singapore retained historical areas such as Chinatown, Kampong Glam, Boat Quay and Little India, and enlarged the urban space towards the suburbs in the first years of the 20th century, including the Secondary Settlement and Bungalows Area.
Since it focused on developing clean industries, Singapore built satellite cities to help reduce travel cost, save money for daily life, and supply laborers on the spot.
In Seoul, prior to the 1970s, the majority of people lived on the northern part of Han River which was also the convergence point of transport routes. Later, with rapid urbanization in the southern part near the river, the population layout became more balanced and harmonious. Suburban areas attracted more and more people, and in some cases, they are now even busier than central cities.
Multi-center model
In 2010, Hanoi publicized its general planning to 2030, with a vision until 2050, which shows that expansion will revolve around clusters of urban areas. Under the model, there would be an urban core surrounded by small and medium satellite areas, which would be linked thanks to beltway and inter-provincial roads, highways and railways.
The planning was expected to shift from one-pole to multi-pole status once some functions (industry, service, trade, service, etc…) of the central area moved to satellite urban areas. Meanwhile, many new centers will be opened.
Since the Hanoi general planning got approval in 2011, the capital city has witnessed good multi-pole development.
The central area comprises the districts of Hoan Kiem, Ba Dinh, Dong Da and Hai Ba Trung. The municipal authorities plan to develop urban railways in the historic inner area, urban area chains in the northern part of Red River, Belt Road No 4, and satellite urban areas with a complete social-technical infrastructure system. It is expected that people will leave the historic inner area for the suburbs.
The western part has seen the clearest change thanks to heavy investment in infrastructure, affirming its position as the new administrative center of the capital city.
According to Savills and CBRE Vietnam, the western part of Hanoi in recent years has caught special attention with large projects, including My Dinh, Bac Anh Khanh and Vinhomes Smart City.
As for the eastern part, Tran Nhu Trung, a real estate expert, said the area is no less attractive in the eyes of investors, and that it is very near the central area of Hanoi, just three kilometers.
A lot of real estate projects have been developed there, including Vinhomes Riverside, Vinhomes Ocean Park and Ha Noi Garden City. The municipal authorities have also publicized the planning of two large urban areas in the northern part of Red River.
The three centers are forming a 'triangle of development' of Hanoi. Satellite cities are taking shape step by step.
CBRE Vietnam's deputy director Pham Ngoc Thien Thanh believes that developing hyper cities or residential-commercial projects as currently seen in many areas in the city, especially in the suburbs, is a necessity.
"People today understand that a livable place not only needs to be beautiful but also sustainable, and flexible enough to adapt and cope with the anomalies of the natural and social environment," said Do Viet Chien, secretary general of Vietnam Real Estate Association (VREA). 
Nam An

Transport projects are expected to improve overall accessibility and reduce transportation costs, in turn increase economic productivity and development.

The Japanese government will set up a fund worth JPY250 billion ($2.4 billion) to support Japanese companies' "smart-city" projects and to help further decarbonisation measures in Vietnam and other Southeast Asian nations, reported the Nikkei Asia.