Poor urban development planning and the intentional adjustment of development plans to serve certain interest groups will affect development of physical spaces for many generations.
A report from the National Assembly shows that 1,400 development plans have been adjusted one to six times, and the adjustments are made to increase benefits for investors, reduce spaces for public interest, and ignore people's interests. This is very worrying.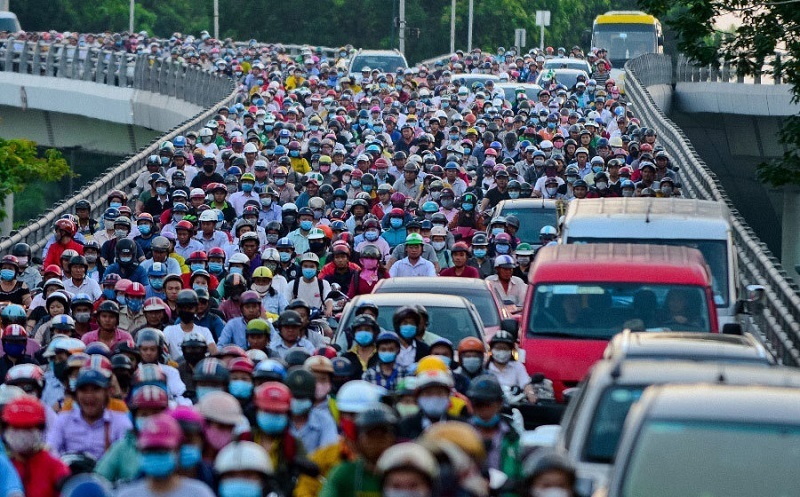 HCM City
The continuous adjustments of hundreds and thousands of urban development programs cause social damage and loss of trillions of dong to the State.
But most importantly, the status of planning projects, or adjustment of planning by "speculation", "going to night" or "collusion", creates negative public opinion.
Hanoi is jampacked
Prime Minister Nguyen Xuan Phuc has asked to urgently address the issues related to urban area programming in the capital city. 

A report from the National Assembly shows that 1,400 development plans have been adjusted one to six times, and the adjustments are made to increase benefits for investors, reduce spaces for public interest, and ignore people's interests. This is very worrying.
Ciputra residents recently lodged a complaint about the adjustment of the urban area. Yards, gardens and internal roads are turning into commercial land, offices, hotels and high-rises.
Under the initial plan, the urban area would have five buildings with the height of 5-47 stories. But investors plan to develop eight buildings with the height of 45-68 stories.
Instead of a parking lot on a 13,400 square meter land area, the investor now plans to develop an underground parking lot associated with business area. On the TM-13 land plot of 55,000 square meters, which was initially reserved for mixed commercial area, yard, garden and internal roads, the investor now intends to develop offices, hotel and multi-storey buildings with an estimated population of 3,000.
Hanoi doesn't lack land. After expansion, Hanoi's total area has increased to 3,344 square kilometers. However, the inner city has an extremely high construction density, and overly high population with many multi-story commercial buildings, thus leading to traffic congestion, flooding, pollution, and messy landscapes.
HCM City suffers from traffic jams, flooding
HCM City has an area of more than 2,100 square kilometers and there are many real estate projects licensed in the inner city. High-rise buildings arise along roads, while transport infrastructure development cannot keep up with the pace. This has led to infrastructure overloading, traffic congestion, and failure to ensure drainage capacity for thousands of houses, causing flooding.
In districts 1, 3, 5 and 10, flooding regularly occurs on roads 3/2, Le Hong PHong, Ly Thao To, Ton Duc Thang, Nguyen Phuc Nguyen, Nguyen Van Cu, Vo Van Kiet and Hoang Sa along the Nhieu Loc – Thi Nghe Canal.
Tan Son Nhat Airport area is another example. Since it has suffered from traffic jams for many years, it is necessary to restrict or prohibit multi-storey buildings. However, more and more buildings are still arising on Truong Son, Hong Ha and Bach Dang roads.
Multi-storey houses are also arising on arteries such as Nguyen Thi Minh Khai in district 3 and Ly Thuong Kiet in district 11.
Just on a small section of Nguyen Huu Canh Road in Binh Thanh district, one can see dense high-rise buildings. These include Sai Gon Pearl project which includes buildings with a height of up to 38 stories (2,200 apartments), The Manor (1,000 apartments), and a 40-storey hotel with a shopping mall. It is estimated that the population there is 10,000.
Japanese experts, at a workshop on the city's transport development, advised the city not to build multi-story houses and instead set up commercial centers underground in the area along Nguyen Huu Canh Road. They said the riverbank along Nguyen Huu Canh street should be reserved for the community's entertainment activities.
However, many multi-storey buildings have arisen in the area, leading to traffic jams and serious flooding.
While the inner city is full, the outlying area has deserted land, especially in the districts of Hoc Mon, Binh Tan, Nha Be and Can Gio. Cu Chi district, with an area of 500 square kilometers, has land with great potential. Its area is equal to ¼ of the city's total area, while the population is 400,000, equal to the population of three wards in the inner city.
Talented planners with long-term visions needed
The price cities have to pay for bad programming is heavy: urban residents have to live with pollution, traffic jams and flooding.
In other countries, no single architect or organization alone is allowed to program urban development or adjust urban development plans. Social critics, construction experts, culture experts and urbanists all can join the planning and show their opinion.
South Korea strictly controls urban planning. Seoul restricts the building of houses in the inner city, programs satellite cities, and builds transport infrastructure items to attract investors. It is not easy for anyone to ask for planning adjustments.
In Vietnam, if officers in charge of managing urban development had qualifications and long-term visions, unreasonable planning would not be approved.
Meanwhile, an unreasonable legal framework related to urban architecture planning has loopholes for investors to exploit to seek profit.
The Law on Planning, for example, includes lax provisions which can be exploited by investors to adjust planning to their benefit.
The planning does not fit the socio-economic development strategy. Article 51 says the agencies that can approve the planning can make adjustments to the planning. The regulation can be exploited to make and adjust planning arbitrarily.
It is the right time to reconsider all the development plans in Hanoi and HCM City. It is necessary to set up stricter regulations on issues related to planning.
Hanoi and HCM City have also planned the development of satellite cities in suburban areas, but the areas still have not attracted investors because of the lack of infrastructure items.
In the land areas which remain deserted, the State should take the initiative in developing technical infrastructure and essential services to turn them into 'bait' to lure investors. 
Tran Van Tuong

HCM City plans to conduct research and identify trees resilient to natural disasters and suited to the local soil.

Leaders of Switzerland's Credit Suisse and Aebi Schmidt Holding (ASH) Company expressed interest in smart urban development in HCM City during a meeting with Vice Chairman of the municipal People's Committee Tran Vinh Tuyen on July 8.