Each residential area, commune and ward are considered the core level – the 'cell' that needs to be protected. Many places in Hanoi are effectively promoting the "green zone" model for safe residential areas.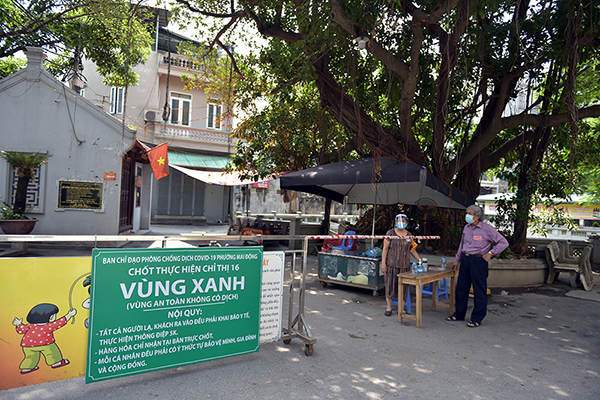 A green zone in Hanoi.
'Green fortress'
At 10 am, putting a uniform red band on his arm, Mr. Luong Dinh Cuong started his shift in the "green zone". The two people who had finished their shift at 8am handed over the books with statistics of the number of people going in and out, people going to the market, and people going to work, to Mr. Cuong. He, along with nearly 15 other people in the residential area, had volunteered to take on the task to guard the zone and protect their relatives and neighbors against Covid-19.
Alley 49 Trang Tien Street (Trang Tien Ward) with around 30 households and 120 people, where Mr. Cuong resides, in is one of the first residential areas of Hoan Kiem district to pilot the safe green zone.
A "Green Zone" sign is placed across two-thirds of the entrance, alongside a table with books, a bottle of antiseptic solution, and an electronic thermometer. A man on a motorbike went in, explaining that he had just returned from the market. Mr. Cuong carefully checked the list of the previous shift and measured the person's temperature prior to allowing him in.
People coming out from inside the alley were all recorded by Mr. Cuong in the notebook, and he then immediately updated to the general chat group of the Covid-19 community in Trang Tien ward for the next shift.
The first residential "green zone" checkpoints in Hoan Kiem district were established on August 3, and after more than a week, more than 181 green zones in the district were set up.
Vice Chairman of Hoan Kiem District People's Committee Nguyen Quoc Hoan, in an interview with VietNamNet said that the construction of "green zones" in the district is associated with the movement of "self-defense households, self-managed houses". Previously, this movement was deployed to ensure security in each household, but it has now been applied smoothly in line with the epidemic situation in the district.
"We define a green area as a place where there are no cases, and access to apartments, crowded houses, dormitories, and alleys can be controlled. Currently, the district is implementing the first phase. Any places whose conditions are met and the people's consensus is reached, the expansion will be deployed."
Putting people above all, a series of safe "green zones" are being expanded across 30 districts of Hanoi, creating more "fortresses" in the fight against Covid-19. Many units have thus far established hundreds of "green zone" security posts such as Hoang Mai with over 400, Hoan Kiem nearly 200, Ung Hoa 145, Thanh Tri 219...
The construction of green zones in the battle against Covid-19 is a solution to reduce the level from a very high-risk "red zone" to a high-risk "orange zone" then towards becoming a safe "green zone". Depending on specific characteristics, each locality has been implementing drastic measures and solutions to expand the "green zone" with the motto of strengthening and developing right from the grassroots and residential areas.
Safe 'green zone' clones
More and more green signs belonging to the checkpoints protecting the Covid-19-free safe zone have been erected all over the place. These 'green areas' are directly monitored and managed by residential groups according to the model of 3-4 layers of protection on the spot, preventing infection from outside as well as cross infection within the area.
The highest efficiency achieved by this model, as stated by Vice Chairman of Hoan Kiem People's Committee, is the consensus, self-awareness and strength of the community, from setting up checkpoints by themselves to voluntarily participate in the tasks. Individuals are heedful of that fact that this is to provide safety to their own families and the community.
For the effective practice of "green zones", Secretary of the City Party Committee Dinh Tien Dung stressed the absolute need of specific guidance on criteria for defining "green zones", how to organize self-management, gather and mobilize people to participate in setting up checkpoints, and arrange 24/24 guards. Closely checking and monitoring movements in the area, especially temporary residents and visitors...is also important. Each citizen is a "soldier" and each family is a "fortress" against the epidemic.
At meetings with ministries and localities on epidemic prevention and control, Prime Minister Pham Minh Chinh has emphasized the significance of a new approach and the implementation of more drastic and powerful solutions. Relevant ministries and localities must pay close attention to the consolidation and safety of "green zones".
The 'green strip' spreading over 'the Covid map' exudes optimism, faith and hope, and manifests the effectiveness of epidemic prevention models.
GREEN ZONE
Non-hotspot areas. People strictly observe epidemic prevention and control measures, and only go out in case of absolute need. 'Green Zone Protection Posts' (Non-epidemic areas) are set up by residential groups.
Grassroots authorities regularly control the strict implementation of social distancing measures. Stay heedful and proactive in any situation that might arise.
ORANGE ZONE
High risk areas include factories, production establishments, agencies, units, markets, supermarkets, hospitals, medical examination and treatment establishments. Grassroots authorities approve the epidemic prevention plan, and only allow operations when epidemic prevention regulations are ensured. Ceaseless inspection and supervision accompany the receipt of feedback from people.
RED ZONE
Grassroots authorities adopt measures on blockade and medical isolation with appropriate facilities; proactively take further actions to tighten the grip on the disease situation in the area. People nearby strictly follow epidemic preventive measures.
 Tuan Minh

Hanoi is determined to separate F0 cases from the community, thoroughly trace F1 (F0 contacts), localize and scale down 'red zones', and protect and expand 'green zones', gradually stopping the Covid-19 outbreak.