The number of Covid-19 cases has been increasing over the last 40 days. Quarantine zones have become overloaded, while field hospitals have had few beds for patients.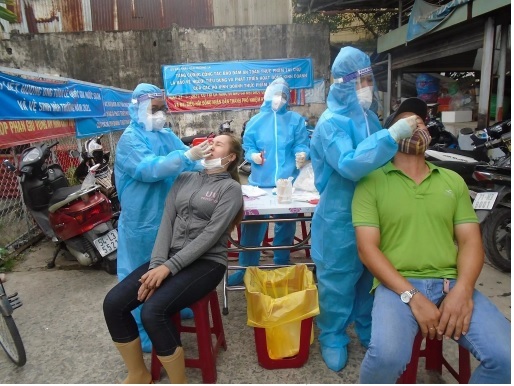 Mass Covid-19 testing has been replaced by taking samples for testing at homes and apartment buildings
The situation has forced the city to change its ways of fighting the pandemic.
On July 13, the HCM City Police instructed its units to change the way of controlling people's travel. Twelve quarantine checkpoints at the city level, placed at the city entrance gates, and 310 checkpoints in the inner city were set up.
However, the policemen do not stay at the checkpoints, but make mobile inspections and take accidental examinations to discover signs of people leaving houses without legitimate reasons. When patrol duties are finished, policemen return to the checkpoints to continue performing their tasks.
This is a new measure applied by the municipal authorities in controlling and handling people violating Directive 16.
The change was made after thousands of people got stuck at a checkpoint on Nguyen Kiem Road in Go Vap District on July 12.
In order to go through the checkpoint, people had to make health declarations, show documents and give legitimate reasons why they needed to go out.
Nguyen Kiem is a one-way road. During rush hours, because of the high number of vehicles, the traffic was in congestion and chaos.
On July 13, Go Vap district authorities had to move the checkpoint to another place and hang sign boards, calling on people to restrict travel, and not to leave home if unnecessary and strictly observe Directive 16.
The checkpoint on To Ky Road of Dong Hung Thuan Ward in District 12 is situated at the foot of the bridge, next to the traffic light. Traffic jams occurred regularly, which brought high risk of coronavirus spread. In Districts 6, 11, 12 and Binh Thanh, the establishment of checkpoints also caused traffic jams.
When HCM City initially set the checkpoints, it tried to strictly control the travel of people and vehicles. However, this led to chaos and the loss of control, thus putting people at a high risk. Therefore, changing the measure and applying flexible solutions was a necessity.
Taking testing samples at home
HCM City authorities have asked localities to take full advantage of the 15-day social distancing campaign to change the way of taking testing samples and giving test results.
Previously, people had to go to testing units to have samples taken. As a result, thousands of people gathered at one place and HCM City had to pay a heavy price with a lot of cross-infection cases found, which required large-scale tracing campaigns and isolation.
Now the testing is carried out in another way in high-risk areas, and random testing to detect F0s (Covid-19 infected cases).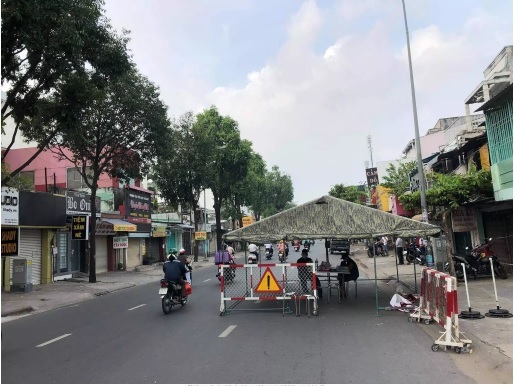 Traffic is no longer congested as the requirement on having a certificate of negative Covid-19 test results has been removed
Testing results are given soon after taking samples so as to localize high-risk and safe zones. F0s will be taken away, while F1s are allowed to spend quarantine at home.
In the areas where testing has not been organized, people have been told not to go to hospitals for examination if they don't have Covid-19 symptoms. If people have symptoms of the disease, local authorities will send staff to their homes to take samples.
People can get test results through electronic health declaration system. They need to download 'Y Te HCM' (HCM City Healthcare) and use a smartphone to check testing results. The results are certified with QR code and have the same validity as a certificate.
Deputy Prime Minister Vu Duc Dam said HCM City has been on the right track and the most outstanding achievement is the reorganization of testing. Test results are now given within 24 hours.
Home quarantine for F0s
On July 13, the HCM City Healthcare Department released a document guiding home quarantine for asymptomatic F0 cases who are medical workers.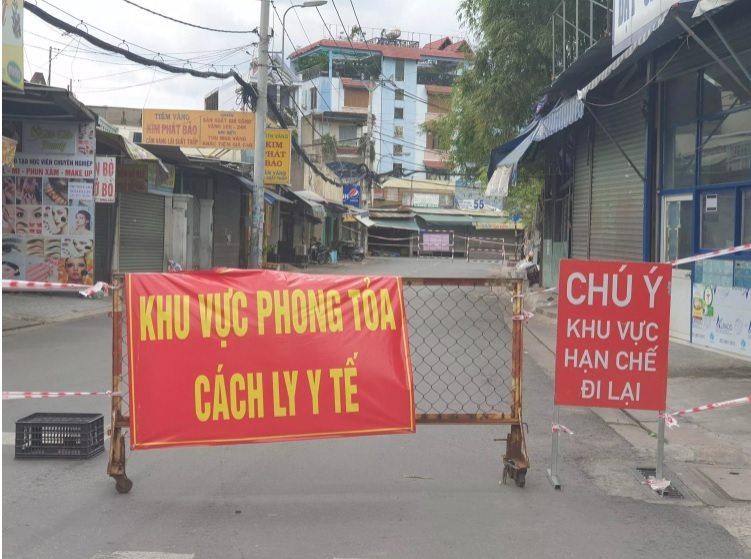 In addition, an F0 with no symptoms who has negative test results on the 10th day, or those who are still positive but have low virus load and are no longer infectious, will be put under quarantine at home if their home conditions can meet requirements.
Local medical agencies have set up taskforces in charge of monitoring the health conditions of F0 quarantined at home. If patients show new symptoms, they must be quickly brought to hospitals.
The decision on allowing home quarantine was released following the rapid increase in number of infection cases in HCM City, from a 3-digit to 4-digit number. The application of the strategy was necessary because of overloading at field hospitals and shortage of medical workers.
Doctor Truong Huu Khanh from the HCM City Children's Hospital No 1 said the city needs to take full advantage of the social distancing days to carry out rapid tests to find F0s.
He said the decisions on allowing home quarantine for F0s who are not likely to become severely ill and to shorten the required time in quarantine zones will ease the burden on the healthcare system.
According to epidemiological experts, in the coming days, the city will not have enough room for all mild F0 cases at hospitals, so mild F0 cases should be at home as has been done in European countries and the US. Local medical care facilities should monitor F0 cases and hospitalize them when necessary.
Experts have also recommended that the city quickly apply information technology (IT) to monitor F1 cases, supervise the activities of medical workers, and create health reports for medical workers and F1 cases. All the reports should be made via apps.
According to Minister of Information and Communications Nguyen Manh Hung, three technologies have been used for fast tracing. First, helping F0 cases remember where they have been in the last 14 days. Second, QRC that helps discover the places where F0 cases entered in the last 14 days. Third, Bluezone that helps discover the people that F0 had close contacts with. These three tech solutions provide fast and accurate tracing, which takes only a few hours.
The solutions for the time to come include: proactive and rapid testing; quick and accurate tracing; localization and isolation; and vaccinations. All these need to be done with the support of technology. One technological platform is used for all 63 cities and provinces, and the data is shared among cities and provinces. 
Ho Van - Tuan Kiet

More than 200 health workers are taking care of more than 4,000 infected people who have no symptoms or mild symptoms at the field hospital No. 6 in An Khanh ward, Thu Duc, HCM City.

Many enterprises in HCM City are operating under a so-called production-and-quarantine model, i.e. maintaining production while strictly following quarantine rules amid the Covid-19 outbreak.