From July 9, Ho Chi Minh City entered 15 days of social distancing under Directive 16 of the Prime Minister. This is a valuable time for Vietnam's largest metropolis to find new strategies to 'live together' with the Covid-19 epidemic.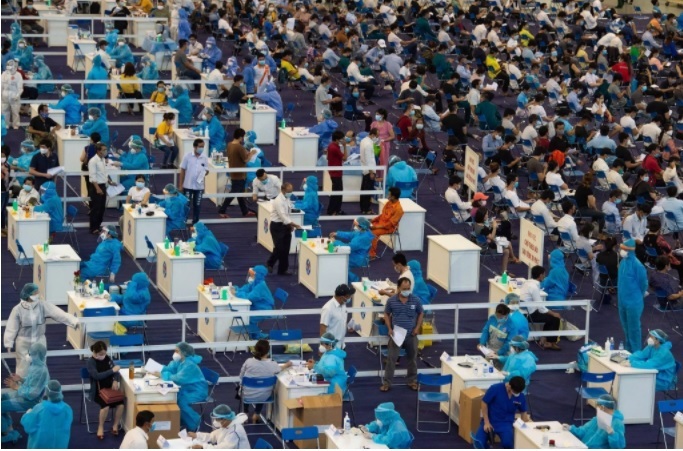 Thousands of people gathered at Phu Tho Gymnasium in District 11, Ho Chi Minh City to get vaccinated against Covid-19.
At 9am on July 5, at the wholesale market of Binh Dien in District 8, HCM City, dozens of people who surrounded two employees of the market management board wearing protective clothing. They began fighting for the Covid-19 test registration sheets.
The rules on epidemic prevention and control were being broken. The scene was very chaotic. People shouted and tried to get the papers, which are considered 'passports' to enter the market.
"Please give me one sheet. I've been waiting for an hour, I can't stand it anymore...", a woman shouted angrily. Meanwhile, two employees looked confused in the tight circle of dozens of people.
Earlier, people were surprised seeing photos featuring thousands of people queuing and jostling at Phu Tho Gymnasium in District 11 when HCM City just launched a campaign to vaccinate more than 800,000 people.
On June 24-25, thousands of people flocked to Phu Tho Gymnasium to be vaccinated. Although the chaos was solved the next day, the bad news caused the people who came to the stadium to be very afraid. A person from District 4 who tested positive for nCoV had been vaccinated at Phu Tho Gymnasium on June 24.
In fact, the failure to ensure social distance at the vaccination site at Phu Tho Stadium posed a high risk of spreading the disease.
There was also a mess in the campaign to collect samples for nCoV testing for more than 5 million people in the city. Thousands of people in Binh Tan and District 8 lined up on the street, stood very close to each other, inching up for an hour to get to the sample collecting sites.
People complained on social networks about the slow return of test results. They said the results were only available after 2-3 days and during these days, if someone carried the virus, they would have already spread it to others.
In addition, the measure to strictly control people who get in and out the city requires people to have a certificate of negative test results for the virus. Accordingly, thousands of people jostled at hospitals and health centers in the city to get quick tests, while no one knew which of them were carrying the virus. At Hospital 175 alone, 54 positive cases in two days were detected through the Covid-19 testing service.
Poor organization
These actions all went against the social distancing regulations under Directive 10 of Ho Chi Minh City.
In fact, the city made some decisions that placed pressure on the city's own epidemic prevention and control goals.
For example, the decision to ask people to have certificate for a negative test to get in and get out the city put pressure on people. It is possible to blame the people's poor awareness, but the local government gave a hand in making such chaos. At Binh Dien Market, after only two days of distributing test sheets, the market was forced to close.
The scene of thousands of people flocking to the vaccination site at Phu Tho Gymnasium also showed the poor organization of the authorities.
Previously, when Go Vap district implemented social distancing under Directive 16, chaos occurred at checkpoints.
Deputy Prime Minister Vu Duc Dam at a recent meeting raised many questions about the problem of testing and tracing of virus carriers in Ho Chi Minh City.
He said that the city issued Directive 10 on social distancing measures to fight the epidemic, but in fact it created chaos and gatherings. The city must immediately adjust the work of taking samples for testing and organizing vaccinations.
New thinking needed
Social distancing is reasonable and also the best solution for HCM City besides vaccines. However, after social distancing, if there is no change, another outbreak will return, even more serious than before.
What solution does Ho Chi Minh City need to control the epidemic and 'live with' it?
Dr. Le Minh Khoi from the HCM City University of Medicine and Pharmacy said that it is necessary to conduct quick tests in an organized way at home instead of organizing large-scale and massive tests.
To avoid overload at hospitals, the city can authorize local administrations to manage F1 cases and allow F0 cases who have no symptoms or mild symptoms to be quarantined at home, depending on their economic conditions.
Field hospitals will treat patients with average symptoms. Hospitals will cure patients with serious illnesses. The elderly and/or those with underlying medical conditions (cardiovascular disease, diabetes, renal failure) are protected by restricting exposure at home and prioritizing vaccination for them.
The 5K message and vaccinations will be implemented at the same time. Therefore, HCM City needs to vaccinate the people as quickly as possible, and move towards herd immunity.
Deputy Prime Minister Vu Duc Dam recommended that HCM City apply information technology to speed up testing in order to trace and detect Covid-19 infected cases quickly.
For people who have a need to travel, the city must have a plan to make rapid tests and return test results as soon as possible in the form of a QR code.
In order to support HCM City, the Ministry of Information and Communications and the Ministry of Health are working urgently to provide specific instructions on integrating people's test and vaccination results into personal QR codes, creating favorable conditions for monitoring people from getting in and out epidemic-hit areas.
Deputy Minister of Information and Communications Nguyen Huy Dung said that in terms of technology, all people have QR codes through applications such as Bluezone and NCOVI or the medical declaration app. People only need to scan the QR code on their phones when passing through checkpoints.
Minister of Information and Communications Nguyen Manh Hung has proposed that HCM City and other localities should apply technology in epidemic control. These technological solutions are not only applicable to Covid-19 prevention and control, but also can be used for infectious pandemics that may occur in the future.
The Minister proposed fighting the epidemic by "5K message + vaccines + technology".
It was described as such:
Earlier: detecting infected people through proactive testing, screening.
Faster: faster tracing of infected cases through technology. Instead of taking a week, it will be in several hours.
More precise: accurately detecting the people who have close contacts (F1) with infected cases by technology, which can reduce the number of F1 cases by dozens of times.
More radical: each virus carrier can create a network of infected people, and many infected people have no symptoms but they can still infect others. However, the application of technology will uncover the entire network involved.
More normal: When technology is applied in Covid-19 prevention and control, those who are infected will be treated, those who have close contact with infected people will be isolated, and the rest will still go to work, live a normal life with the implementation of the "5k messages + vaccines and technology".
Longer term: vaccinations.
* 5k message: Khau trang (facemask)- (Khu khuan) disinfection- (Khoang cach) distance- (Khong tu tap) no gathering – (Khai bao y te) health declaration.
Ho Van - Tuan Kiet

The Prime Minister's approval to pilot home quarantine for F1 cases instead of concentrated quarantine is considered a turning point in Covid-19 prevention in Vietnam.

Access to Covid-19 vaccine sources has been difficult due to a scarcity of supply in the world. What solutions will Vietnam need to buy enough Covid-19 vaccines for its people?