Making independent films has long been considered a risky investment in Vietnam. There are obstacles in the production process as well as distribution, according to directors.
Independent films are mostly new cinema projects made by independent entertainment agencies rather than big firms. The film genre may be different from normal movies in content, style and art form.
Success overseas, lost at home
Director Luong Dinh Dung is among the directors with most experience making and distributing independent films in Vietnam.
Two years ago, his film Cha Cõng Con (Father and Son) found it hard to find audience at home after touring many international film festivals.
The film won various prizes including the Best Foreign Feature and Special Jury Award for Outstanding Cinematography at the 26th International Arizona Film Festival in 2017 and the Indie Spirit Best Storyline Award at the 15th International Boston Film Festival the same year.
Cha Cong Con director to release new film
Vietnamese film screened at Tokyo Film Festival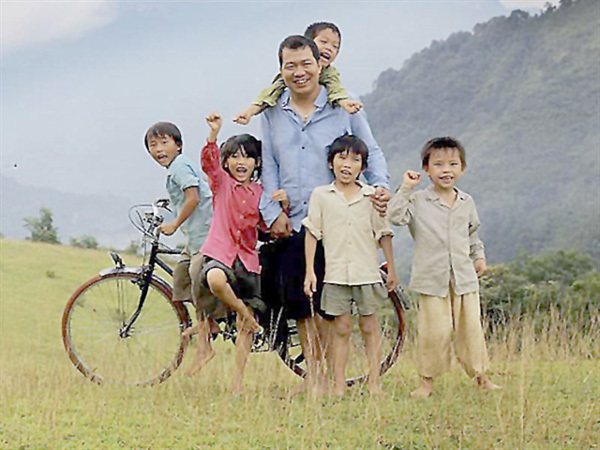 HEARTWARMING: Director Luong Dinh Dung and some actors of his film Cha Cõng Con (Father and Son) pose for a photo at the shooting site. Photo courtesy of the filmmakers
 
"Sometimes I thought I was at the end of a tunnel with no light," Dung said. "There was a 70 per cent chance the film would never be screened at local cinemas because of a small audience."
He personally met every distributor he could, before Lotte Distribution agreed to screen his film.
Father and Son then surprised him as it was screened throughout April and May 2017, a long time for a film made by a Vietnamese team.
Phan Dang Di, four years ago, became the first Vietnamese director to be nominated for a Golden Bear prize at the 65th International Berlin Film Festival with his film titled Big Father, Small Father and Other Stories (or Saigon Sunny Days).
At the event, the film competed with other 18 entries by famed directors all over the world.
The film tells a story of a student of photography named Vũ, who comes from a Mekong Delta province to rent a house in HCM City at the end of 1990s, early 2000s. He was given a camera as a gift from his farmer father, with which he explores life. Vu is enthralled by his handsome roommate named Thang, who uses drugs, gambles and hangs out with prostitutes. Thang introduces Vu to Van, a dancer. Vu and Van then make love though Vu also likes Thang as a male partner. Vu and Thang then visit Vu's homeland, where they met a young woman that Vu's father hopes Vu will marry. Thang then tries to flirt with the woman, which makes the young photographer jealous.
The film project got financial support from the World Cinema Fund as one of four projects out of 130 from 40 countries and territories to receive 40,000 euros (US$44,200).
TOUGH ROAD: Le Cong Hoang (left) and Do Thi Hai Yen in a scene from Big Father, Small Father and Other Stories (or Saigon Sunny Days). Photo courtesy of the filmmakers

The film's copyright was then bought by French firm Memento Films and was the first Vietnamese film to be screened widely at 400 cinemas in 30 cities across France.
In France some 50,000 tickets were sold and the film was screened for three months, before being moved to Poland and Chinese Taipei.
Yet the film has only been screened at only events in Vietnam and not commercially in cinemas, according to Di.
"Vietnamese distributors are not much interested in this kind of film," Di told Thanh Niên News in an interview.
Problem in notion?
Nguyen Thuy Van, who has spent 10 years in PR and film distribution for Megastar – CGV in Hanoi, said she did not distinguish between studio films and independent films.
"I don't care whether it's an independent film, artístic film or commercial film," she said.
"I think each film has its own audience. Distributors and producers should find the right audience for the film, who will go to watch the film happily. If they find the wrong audience, they will criticise it."
Van also suggested filmmakers equip themselves with PR skills to provide proper material for the PR team to advertise their movie.
"They should take a course like marketing and distributing," she said. "They should host PR activities as soon as they can at the beginning step of the project like setting up a fanpage or website to update information, behind the scenes, actors and actresses."
Van said each film needed about 10 per cent of its income spent on PR.
Filmmakers should think of other channels like Netflix, Amazon and YouTube to distribute their work.
Favourable policies needed
Mentioning the problem, curator Truong Que Chi said few films of this genre by both Vietnamese and foreign directors had been screened in cinemas in Vietnam.
"There is totally lack of a main system to distribute independent films," Chi said.
Curator Vu Manh Cuong explained the problem was caused by audience's changing from watching movies in public cinemas to home cinemas, cafes or clubs.
"I agree that we lack a system for independent films," he said. "We have no single cinema for these films like Hanoi Cinematheque, which closed a few years ago."
Director Luong Dinh Dung explained that distributors always thought first of profit.
"It's difficult to force them to pay attention to our films if the films are not of all people's taste," he said.
"However I and other independent filmmakers hope to set up a distribution system for independent films soon as the genre plays an important role in Vietnamese cinema," Dung said.
Curator Cuong suggested the State subsidise the system.
"Otherwise, no cinema or distributing system can survive long," he said.
Dung also said the State should subsidise the genre through favourable policies like reducing taxes or exempting taxes for a certain period of time for independent filmmakers and agencies.
Ngo Thi Bich Hanh, deputy director of BHD Company, said domestic cinema enterprises didn't get as much help as foreign enterprises.
"A domestic enterprise, when it opens a cinema, has to pay many kinds of taxes," she said.
"The same foreign enterprise will be exempted from import tax for a long time."
Hanh said her company struggled to find finances.
"We and some partner enterprises have discussed establishing a cinema fund," she said. "But the law does not permit this. To set up such a fund, we need collateral. Our properties are mostly intellectual properties. That's the problem."
In 2015, CGV Art House was set up, sparking hope among independent filmmakers. Yet the project broke up just two years later as there were not enough films to screen and a small audience, resulting in loses.
In the past two years, BHD and Galaxy companies have supported independent filmmakers in distribution. Films like Nhắm Mắt Thấy Mùa Hè (Summer in Your Eyes) by director Cao Thuy Nhi, Vai Diễn Đổi Đời (Actress Wanted) by Nguyen Duc Minh, and Đảo Của Dân Ngụ Cư (The Way Station) by Hong Anh are such lucky independent projects.
Some cinema clubs have screened independent films regularly like TDP Centre for Cinema and Theatre Talents Support and Development in Hanoi directed by director Viet Linh; Xinê House (Cinema House) in HCM City initiated by director Phan Gia Nhat Linh and Ơ Kìa Hà Nội (Hà Nội A Long Time Ago) tea room in Hanoi by director Nguyen Hoang Diep.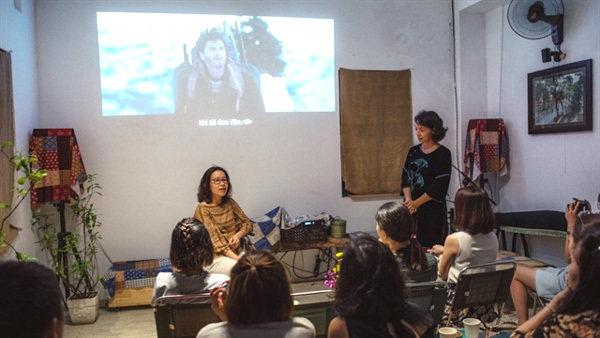 COMMUNITY: Filmmakers and audience members talk after watching a film at Ơ Kìa Hà Nội tea room. Photo courtesy of the tea room

"Each city in France has a group of cinemas subsidised by the state or by local cinema fans community," director Di said.
He said in China, there were special film festivals for independent films.
"The Chinese government also supports ticket price for some cinemas and has favourable tax policies to lure people to cinemas," he said. VNS
Le Huong