Whenever the State gives more power to people instead of setting limitations and subsidizing them, it will be able to mobilize gigantic financial and intellectual resources for development.
A man was the owner of a construction company. In 2011, he mortgaged properties for bank loans which he intended to use to expand business.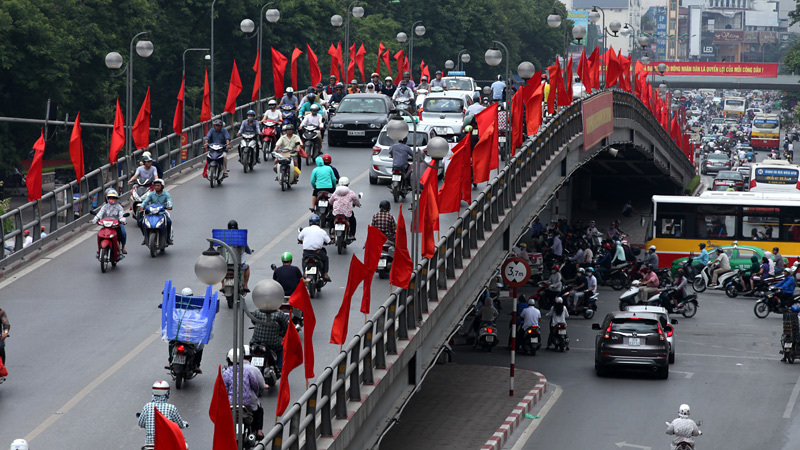 But he met with misfortune. The lending interest rates were too high. Many of his partners went bankrupt and could not pay debts, resulting in projects unimplemented. These, plus harassments by agencies, made his business plan fail completely.
As he lost all of his property, he had to live in a rented house and did chores to earn his living.
"They were days full of hardship. I still managed to survive. Other businessmen became penniless," he recalled.
2011 was a year of prolonged period of macroeconomic instability with high inflation, when a series of businesses went bankrupt, bringing about serious consequences.
These are truly unfortunate stories, though people used a dainty phrase - "creative destruction" - to describe the death of businesses.
The number of businesses operational in Vietnam now is modest, 560,417, which includes state-owned, foreign-invested and private enterprises.
Analysts say that private enterprises 'cannot grow' with 98 percent of them being small and medium sized. Over the last decade, the private economic sector made up 8-9 percent of GDP only each year, much lower than the 30 percent created by business households.
Under PM Phan Van Khai's administration, economists predicted that Vietnam would have 500,000 businesses by 2010 thanks to the Enterprise Law. However, only by 2017 had the goal been reached.
The ratio of businesses to population in Vietnam is among the lowest in the world. In developed countries such as the US, Japan and UK, there is one business for every 10-12 people. In ASEAN countries, every 80-100 people have one business. Meanwhile, in Vietnam, there is one enterprise for every 256 people, according to VCCI.
Institutional regime will determine businesses' vigor
To have a strong business force, create jobs for people, and bring prosperity to the country, Vietnam needs to have a friendly and safe institutional foundation for businesses to run.
Following the 2013 Constitution with provisions to ensure people's freedom of doing business, a series of laws were enacted and amended to realize that spirit. These include the Civil Code, Criminal Code, Enterprise Law, Investment Law, Commercial Law, Real Estate Business Law, Employment Law and Bankruptcy Law.
Great efforts have been made by the government since 2014 to break administrative barriers and bureaucracy to place Vietnam among ASEAN's four best business environments.
Nevertheless, institutional reform still cannot meet businesses' expectations.
Recent surveys conducted by VCCI have found a worrying sign that the more private businesses grow, the higher fees for administrative procedures they have to pay. Larger companies have to bear more inspections by state management agencies.
This is one of the reasons why Vietnam's businesses cannot grow.
Together with administrative reform, legal reform must be set as a major task during the business environment improvement process.
When compiling a law, policy makers always waver between giving more power to businesses and people, and increasing the power of state management agencies.
However, it is obvious that the great achievements over the last 30 years of doi moi (renovation) are all associated with decisive institutional renovations. 
Tu Giang