A colleague of mine was surprised when his 17-year-old son, who is quiet on Facebook, is a "hot TikToker" with videos viewed by hundreds of thousands of people.
TikTok has become a popular social network among young people recently. Photo: Bloomberg
The kids around my house no longer chat via Facebook messengers but through groups on Zalo, and they share TikTok or YouTube links that they think are cool.
It seems that Facebook is not the popular social network for Gen Z (those born between 1997 and 2012). It's the image and short video formats on Instagram, Snapchat, and TikTok that are popular among them, not the platform that Mark Zuckerberg created in 2004.
A report by the Pew Research Center (USA) shows this. According to the telephone survey conducted with more than 1,500 Americans from January 25 to February 8, the most popular social networks for people aged 18 to 24 were Instagram (76%), Snapchat (75%), and TikTok (55%).
According to social networking expert Karen North of the University of Southern California, the appeal of these applications comes from the fact that users cannot only send messages, but also express themselves through images and videos. It's similar to the experience of going to a night club. The young users will stick with the new apps until they find a more interesting alternative.
Another expert, Helen Wang, from the University of Buffalo, said that Instagram, Snapchat and TikTok have tailored features for this group of users. Young people were born and raised in a technology-rich world, and naturally, they possess digital media skills to competently experience a variety of platforms.
According to Pew's report, the percentage of people aged 18 to 29 using Facebook is 70%, compared to 77% for users aged 30 to 49 and 73% for users aged 50 to 64. Half of the people aged 65 and older said they use Facebook. Thus, Facebook and YouTube are the two most popular platforms with the older population.
It is not an exaggeration to call Facebook a social network for the elderly. In fact, Facebook and its founder Mark Zuckerberg are no longer the symbol of youth. Despite many marketing campaigns targeting young users, many scandals occurred in recent years such as data leakage and the spread of fake news, making young people run to other "cleaner" platforms.
Perhaps Facebook is now experiencing a similar journey as that of MySpace. MySpace started in 2003 as a site for people to post photos, videos, blogs, and chat. From 2003 to 2008, it was the largest social network in the world. But nothing lasts forever.
Sleeping on victory will make any king lose his throne. Zuckerberg - who made many wise decisions in 17 years running Facebook - also made mistakes as he did not realize the huge threat posed by TikTok. At an internal meeting in July 2019, he commented that TikTok is no different from the explore card on Instagram.
Facebook launched Lasso, a copy of TikTok, but it failed. At the same time, TikTok is growing rapidly despite being beset with geopolitical challenges. In 2020, TikTok had 65.9 million users in the US, an increase of 85.3% compared to 2019, and the number is expected to double in 2021. TikTok is considered a machine that can produce young millionaires.
Gen Z: key for growth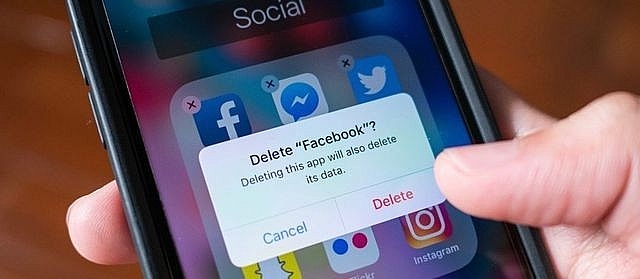 Photo: Business Insinder
Why is Gen Z so important to the future of Facebook? The "oldest" people of Gen Z are in their 20s, who are about to enter the business world. They are the first generation of true e-citizens.
According to data of research firm App Annie, in the third quarter of 2020, Gen Z spent an average of 4.1 hours per day on apps, excluding games. Some 98% of Gen Z owned a smartphone, and Snapchat and TikTok were the two applications that were most focused by marketers to reach Gen Z, not Facebook.
Gen Z has gone beyond the e-commerce world of Gen Y (born between 1981 and 1996) and is moving into social commerce. Gen Z's shopping behavior takes place entirely on social platforms. 97% of Gen Z customers consider social media as their top source of shopping inspiration, 65% use social media to find entertainment content, 61% are especially interested in video. For Gen Z, the top social commerce platforms are Instagram, TikTok, and Pinterest.
According to The Influencer Marketing Factory, the hashtag #tiktokmademebuyit (TikTok made me buy it) has surpassed 2.3 billion views on TikTok. Nearly half of Gen Z and Gen Y purchased an item they saw on social media or on a livestream. The number of people involved in social commerce in the US grew 25% in 2020.
It can be said that Gen Z is the key to the sustainable growth of social networks like Facebook, which live on advertising. Losing this group of users, it is possible that another platform will surpass Facebook in the future, similar to what happened to MySpace in the past.
In Vietnam, according to Kaspersky's report, the most popular applications with children in the period of 2020 – 2021 are YouTube (28.82%), Zalo (15.67%) and Facebook (15.01).
Zalo is the leading "Make in Vietnam" social network with about 60 million accounts, which has begun to exploit the user base through the provision of commercial services as well as public administrative services. If it can grasp users' needs of prioritizing sharing and interacting through private channels such as messaging, combined with its understanding of local users, Zalo can break through and surpass Facebook as Russia's domestic social network Vkontakte has done.
Du Lam

Up to 97 per cent of Vietnamese users identified Facebook as a top video platform while 74 per cent said they watch publisher videos because "I can watch videos on Facebook everywhere, at any time".

In 2020, Vietnamese spent 25% of their time on smartphones surfing Facebook and 12% of their time watching YouTube.