Many foreigners profiled in this column consider Vietnam their second home because they have fallen for the landscape or the locals' hospitality, but Kawarai Yushi, a Japanese expat based in Thua Thien – Hue, has fallen for Vietnamese literature.
Japanese expats at ease in Vietnam
Vietnamese and Japanese books on show in Hanoi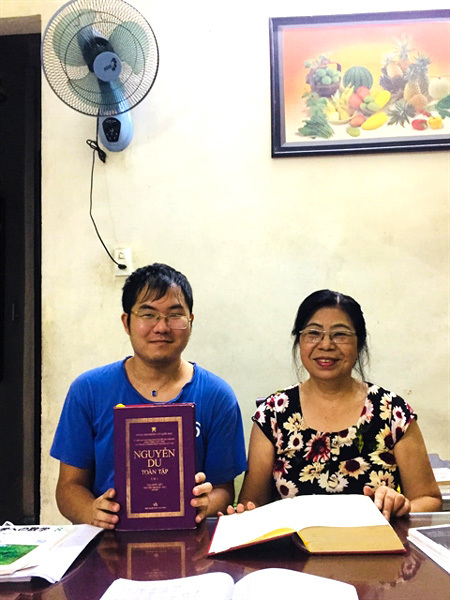 Kawarai Yushi poses with his teacher of Sino-Vietnamese characters, holding his favourite book - Nguyễn Du Toàn Tập (Complete Works of Nguyễn Du). — Photos courtesy of Kawarai Yushi
Yushi learnt about Vietnamese literature by chance when he visited a bookstore in Japan and came across the French version of the novel entitled Tố Tâm by writer Hoang Ngoc Phach, which, he said, is the main reason he decided to come to Vietnam to study.
"I read the translation of some novels and poetry, which made me cry all night. Although I used to major in theoretical astrophysics in England, I was familiar with literature as well; however, it was a shock to discover Vietnamese literature! How touching it is! I believe that it was my predestined affinity when I already knew French and classical Chinese which are necessary to understand Vietnamese literature," Yushi said.
He first visited Vietnam in August 2010, after an invitation from a Vietnamese friend who was also an overseas student in England. At first, he never imagined he would study in Vietnam, but it was the locals' hospitality and generosity enticed him to come back.
"Vietnamese people have strong bonds of family, relatives and friends. My friends gathered to celebrate my birthday, which I had never experienced in Japan, and it has become my unforgettable memory," Yushi recalled.
Aiming to explore Vietnamese literature, he decided to apply for the Linguistics and Literature Department at Hue University's College of Education. At present, the 31-year-old Japanese expat is doing an MA in Philology and will graduate this November.
Though Yushi is interested in Vietnamese literature, he admitted he was keen on reading classical literary works and seldom modern ones. Some of his favourite Vietnamese classical works include Lục Vân Tiên (The Tale of Lục Vân Tiên) by poet Nguyen Dinh Chieu, The Tale of Kiều by poet Nguyen Du or Chinh Phụ Ngâm (Lament of the soldier's wife) by Dang Tran Con.
Presently, the Japanese expat is planning to work with an English native speaker to translate Tố Tâm and other Vietnamese classical works into English.
"I have read many books and found out that Vietnamese have many interesting literary works which, however, have not been popular among foreign readers. I hope that more foreigners will understand more about Vietnamese literature, as well as the beauty of the country and people here," he said.
Yushi is also among 21 writers contributing to the book entitled Chuyện Người Tây Ở Xứ Ta (Stories of the Foreigners in Việt Nam), which gathers the stories and views of the foreigners who have visited and fallen for the country.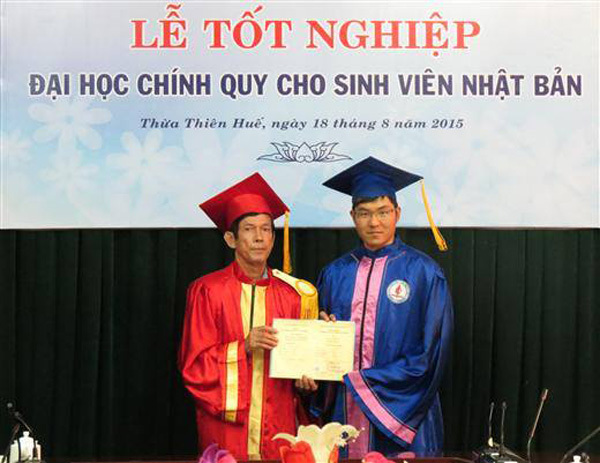 Yushi graduated from Hue University's College of Education, majoring in Linguistics and Literature. He is doing an MA in Philology and will receive his degree this November.

To many first-comers to Vietnam, language is a difficult barrier to get over, but in only a month Yushi grasped six Vietnamese tones and 11 vowels which Japanese does not have.
"I have a policy of teaching myself the national language of the country I am going to visit. My first impression on the Vietnamese language was 'melodious but difficult sounds'," he said.
According to him, the largest difficulties in Vietnamese are its complicated pronunciations and abundant vocabulary.
"At the beginning, they did not know I was trying to speak Vietnamese but said 'sorry, I do not speak English.'
"I always put the TV on to get accustomed to the pronunciation and observe how Vietnamese people move their mouth to mimic. Fortunately, my teachers did explain the pronunciation system to me in terms of English so I could learn it both in theory and in practice," he added.
Besides literature, language is another of Yushi's passions and gifts. He can speak English, French, German and Vietnamese fluently, as well as communicate basically in Korean, Chinese, Thai, Lao, Italian, Spanish, Portuguese and Russian. He can also read Arabic, Persian, Hebrew, Latin, ancient Greek, Sanskrit and Pali.
Yushi is presently enriching his linguistic capacity by learning the Czech language.
"I have learnt about 20 languages but find Vietnamese has the most difficult pronunciation system," he said.
"I strongly recommend you should follow private lessons. You should watch how Vietnamese people use the mouth and mimic it. If your mouth gets very fatigued, it means you are learning Vietnamese well, since learning a foreign language requires you to use different muscles."
After completing his masters in Vietnamese lterature, Yushi plans to do a PhD of Hán Nôm (Sino-Vietnamese characters) at the Vietnam Academy of Social Sciences in Hanoi this November.
"Hopefully I could become a lecturer at a university in Việt Nam. I intend to naturalise and stay in the country till the end of my life," he said. VNS
Luong Thu Huong