Over 20 years ago, a Japanese woman visited the central city of Hue and fell in love with the place.
She has returned many times to support children fighting cancer.
Kazuyo Watanabe is now a familiar face for children their parents at the Paediatrics Centre at Hue Central Hospital. She visits Hue four times a year, and spends most of her time with patients.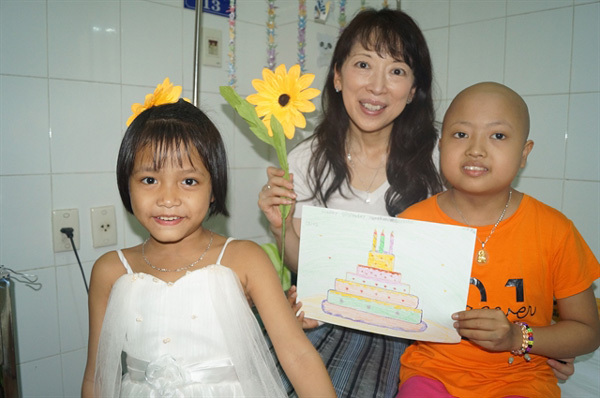 Kazuyo Watanabe (centre) with cancer patients at Huế Cental Hospirtal. Photos courtesy of Kazuyo Watanabe

She has helped the hospital to build a new floor for oncology-haematology patients, with a play room and dining room for the young patients.
"My wish is for as many children as possible with relapse and refractory problems to be saved with advanced treatment," she told Việt Nam News.
"We have set up a transplant unit on the fifth floor of the hospital," she said.
Total funding for the new facilities has reached VND8.5 billion (US$366 million), contributed by Japan Asia Group Limited and individuals and agencies in Japan.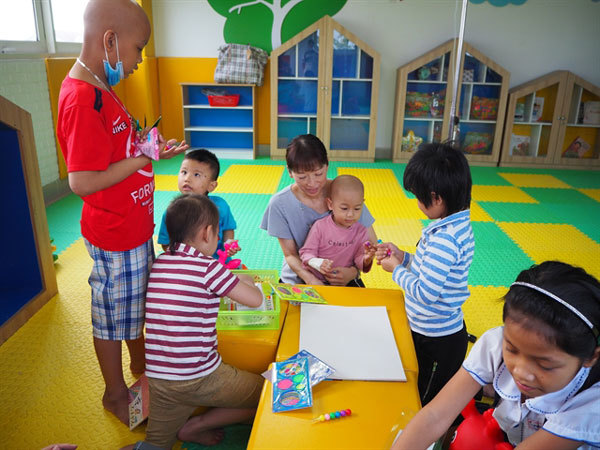 Kazuyo Watanabe plays with the children at the Paediatrics Centre.

As the founder of the Asian Children's Care League (ACCL), a non-profit organisation in Japan, Watanabe chose to support children with cancer and their families in Asia, starting in Hue.
"The reason I chose Hue is because I lived there for a year when I was involved in supporting street children back in 1995, where many people suffer economic hardships," she explained.
Professor Pham Nhu Hiep, director of the hospital, said the Faculty of Paediatric Oncology-Hematology was set up in 1975 but had not been equipped with modern facilities and medicine. The number of poor patients who relapsed and died was very high.
Since 2005, with the support of Watanabe, the faculty has proper machine and money for needy patients.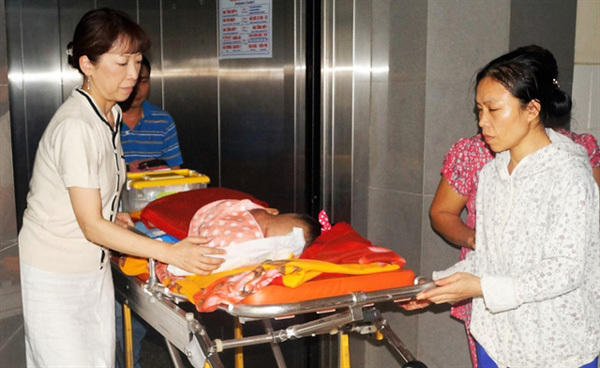 Kazuyo Watanabe spends most of her time with the patients when she is in Vietnam.

"Her restless efforts have resulted in increasing the rate of child patients who live on for more than five years without any problem to 50 per cent, and the ratio of children with cancer who survive to 70 per cent," he said.
Watanabe initiated the House of Hope in January 2016 for children and their parents to have a "home away from home to provide a safe place to cook nutritious and delicious meals, rest and spend time with their families."
"We want this place to be filled with hope, and now many parents use this house to cook meals every day," she said.
The house, which is located near the hospital, contains dozens of rooms with TV, air-con, washing machines and stoves. The project has received donations from domestic and foreign individuals and agencies.
Before she started the project, childhood leukemia was considered incurable, and even at the hospital, the medical staff believed it was a no-win situation.
"When I started, I wanted to offer support to children with cancer with optimal treatments and care at the hospital," she said.
"Caring for children with cancer, through both medical and social perspectives, is still my goal," she said.
The approach from the beginning was to confront both medical and psycho-social-economic-cultural dimensions.
"Cancer is not only a health issue, because there are social issues involved, which led us to a 'holistic-dynamic-sustainable-harmonic approach' to cancer care," she said.
Watanabe said in country like Vietnam, late diagnosis and presentation of cancer remained a huge issue, so outreach projects from central hospitals have been launched to emphasise the need for early detection and referral.
She said networking with local hospitals was essential for treating the maximum number of children as possible in the region.
Watanabe said the foundation had faced a lot of difficulties such as financial and emotional burdens on families, different habits, a shortage of medical staff; lack of facilities and medical equipment and a public stigma about cancer.
"Key to tackling these challenges was connecting the dots of human resources, materials, financial sources, information and time, in an open and cross-disciplinary manner," she said.
Many children patients and their parents call her "Japanese mother".
"I was surprised by her enthusiasm for my daughter and other patients here," said Nguyen Phu Vang, a parent at the House of Hope. "Our daughter has been unlucky, but we are lucky to have Watanabe helping her. She's like an angel sent from heaven. I don't know how to thank her enough."
Watanabe said all the children with cancer she has met in Vietnam were special.
"The greatest happiness I have is meeting the volunteers who help them," she said. "They are my source of inspiration. Devoted medical staff, enthusiastic student volunteers, kind supporters and lovely children. We are 'One Family' together."
She said she is happy to see many survivors of childhood cancer grow up with big smiles on their faces.
"The survivors visit me when I come to Hue and I'm really happy to see my 'heroes' again," she said. "I'm proud of them for facing the treatment and overcoming their diseases."
She will also never forget the precious lives and smiles of the children who didn't make it. She keeps in touch with their families and tries to visit them as often as possible.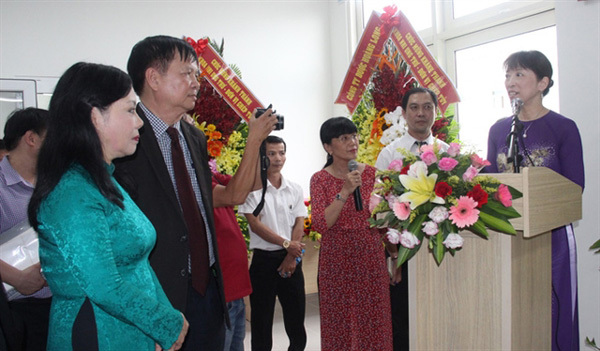 Kazuyo Watanabe (first right) makes a speech at a ceremony at the Faculty of Paediatric Oncology-Hematology at Huế Central Hospital.

Watanabe stressed that 'bottom-up' grassroots activities could make changes, but to achieve a maximum impact to save as many children as possible, a "top-down" Government involvement was needed.
"Top-down and bottom-up efforts should be co-ordinated and integrated," she said.
Programmes like the Global Health Initiatives by the United Nations, WHO, Union for International Cancer Control's (UICC) and the recent movement of the Global Noncommunicable Diseases (NCD) Action Plan which include childhood cancer could bring stronger voices.
It was very important to have the tools to convince the Government through international co-ordination of advocacy, research and policy, she said.
"From an NGO standpoint, we are like a 'concierge' identifying the needs and priorities and matching them to the proper channels, and Government involvement would further brighten the future," she said.
Watanabe said Hue was a beautiful city with warm people.
She call the city her second home and treats the people like her relatives.
"I love Vietnamese food, and all the dishes are delicious," she confessed. "I enjoy Vietnamese vegetarian food, and tea and coffee for relaxation."
She has just received the Japanese Foreign Minister's Commendation for outstanding achievements in the promotion of mutual understanding between Japan and Vietnam.
She has also received the Medal of People's Health from the Vietnamese Government for her contributions to the development of childhood cancer treatment and care in Vietnam. - VNS
By Le Huong

The dreams of a young Japanese woman play out in a school in the central province of Quang Nam every day.

On the morning of May 22, Nguyen Thi Lien, 28, sat on her bed at K Hospital in Hanoi surrounded by medical equipment awaiting surgery that afternoon.

At 7pm one evening, Le Thi Ut eagerly arrives at the library on the sixth floor of the National Institute of Hematology and Blood Transfusion (NIHBT) to study embroidery.