In order to make a contribution to the country's fight against Covid-19, VietNamNet has launched the "Joining forces with VietNamNet to stamp out the pandemic" program.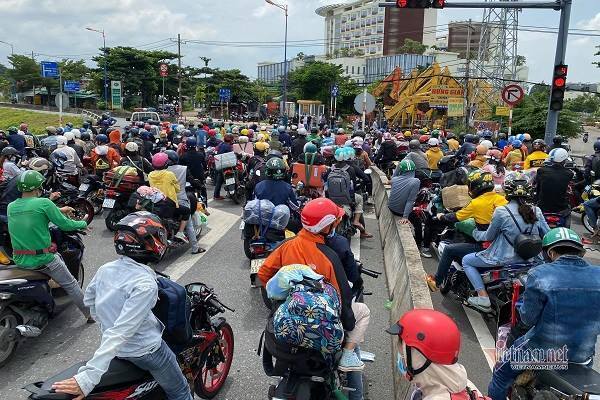 Hundreds of people were persuaded to stay in HCM City
On August 15, when hearing that social distancing in HCMC would last one more month, many people packed their bags to leave the city for their hometown. Hundreds of motorbikes were then blocked at quarantine checkpoints. People who were rushing to home villages, however, were persuaded to return to the city.
Dinh Van Khuong, 21, was unaware of all of this, and got VND500,000 from his mother to use the money to have a Covid-19 test. He planned to go to Trang Bom in Dong Nai to stay with his cousin.
Having no motorbike, the young man, wearing a helmet and backpack, walked under the scorching sun. Khuong understood that going out on the street was a violation of Directive 16 and he could be fined. However, he had no other choice.
Khuong had moved to HCM City and worked there for two months when the pandemic broke out. He has been unemployed for three months.
Many people in HCM City have lost jobs and don't have enough meals or accommodations. Most of them are migrant workers from other cities and provinces.
As migrant workers cannot return to their home villages, they have unwillingly joined the 'community of homeless people'. The increasingly high number of F0 cases in the community these days has put pressure on medical workers.
On August 17, HCM City asked the Prime Minister and the Ministry of Finance to give support of VND27,967,947 million and 142,200,000 kg of rice to the city to support poor workers amid social distancing, helping them cover rent and daily meals.
The number of poor workers expected to receive support is 4,740,330.
On August 17, the 'Tam long mua dich, san se yeu thuong' (Sharing love, sympathy during pandemic) program was launched by the Ministry of Information and Communications, under which gifts are given to households in HCMC who have difficulties because of Covid-19.
It is expected that 533,000 households will receive gifts with total value of VND160 billion.
Provincial councils of compatriots have also supported local people living and working in HCM City. In addition, many charity groups have been set up to help unlucky lives.
However, there are still many people who need support. And VietNamNet has found that hospitals are lacking medical equipment that help cure severe cases.
Dr Pham Gia The from Field Hospital No 3 said the hospital needs Covid-19 testing, electrocardiogram, ultrasound, and blood pressure measurement machines. In addition, the hospital also needs protective clothing, standard protective masks, and walkie-talkies.
As for the Field Hospital No 8, Dr Nguyen Phuc Cam Hoang said the hospital lacks 390 dust bins (240L). Meanwhile, Cho Ray Hospital, the end-line hospital for Covid-19 patients, needs more ECMOs and breathing machines HFNC.

With a wish to join forces with the whole country to fight the pandemic, VietNamNet has launched the program 'Tiep suc day lui dai dich cung VietNamNet'.
The program aims to give food and essential necessities to the poor, freelance workers and unemployed people affected by the Covid-19 epidemic, as well as to centers for social protection and those who still cannot access aid packages.
The program also aims to help equip hospitals, quarantine zones, and medical units with modern equipment.
Those who need support can call 19001081 (from 8 am to 8 pm), or send information to banbandoc@vietnamnet.vn
Benefactors can give support in two ways
Remitting money to VietNamNet's account, or donating food, essentials, machines and medical equipment
In Vietnam: Account No 0011002643148 Vietcombank Exchange
Overseas: Bank account VIETNAMNET NEWSPAPER - The currency of bank account: 0011002643148 - BANK FOR FOREIGN TRADE OF VIETNAM - SWIFT code: BFTVVNV X
Remitting money from overseas: Vietnam Joint Stock Commercial Bank for Industry and Trade, Dong Da Branch
Address: No 183 Nguyen Luong Bang Street, Dong Da District
Swift code: ICBVVNVX126
VietNamNet Head Office:
Hanoi: 3rd Floor, C'Land Building, No 156 Xa Dan 2 Street, Dong Da District
HCMC Office No 408 Dien Bien Phu Street, District 10 
VietNamNet 

More than 53 per cent of all employees said they have been under more stress during the recent outbreak compared to last year, according to a national survey conducted by Adecco Vietnam.

Although Vietnam has dealt with previous COVID-19 outbreak with spectacular success, it stands to lose some of its hard-earned gains if it cannot overcome the latest outbreak that has paralysed industries in the past couple of months.