Phuc Sen Village in the northern province of Cao Bang is not a place first-time visitors might want to stay long, as the noise may come as a shock.
Traditional blacksmith craft of Nung An people
Traditional craft village offers scenic escape for travelers
Life of Nung people in Phuc Sen valley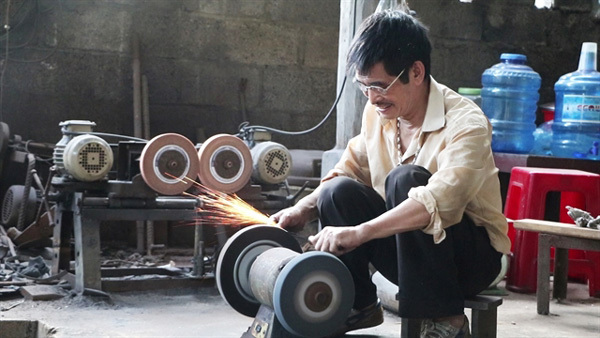 SPARKS FLY: Long Anh Chien, 58, sharpens a knife at his workshop. VNS Photo Bao Hoa
That noise is the sound of thousands of knives, of all shapes and sizes, being made each year by about 350 blacksmiths of the Nung An ethnic minority.
During the day the village is filled with the sounds of workers beating and hammering steel as they forge knives using traditional techniques and recycled materials.
"We have been doing this job since my grandparents' time, and I don't remember exactly when it started," says 58-year-old Long Anh Chien.
"We get steel from the shock absorbers of used cars to make the knives," he adds.
Legend has it that the craft was first started in the village about 200 years ago.
Nowadays some 200 households in Phuc Sen earn a living forging knives.
An experienced blacksmith can make 4-5 knives a day, a less experienced one 3-4, Chien says.
Chien started learning to make knives when he was 15. When he grew up he left the village to work elsewhere, but returned and took up the traditional craft in 1998.
"I've done a lot of jobs but they were all unstable. This job does not pay as much as others, but it gives me something to do every day and a stable income," he says.
"There are 12 workers in my workshop, divided into four groups of three. Each group is responsible for producing a specific type of product. Knives, hammers, hoes, and rakes. Tools that serve agricultural production and domestic use.
"A senior blacksmith earns VND15-20 million (US$650-860) a month. Those with less experience get VND9-15 million per month."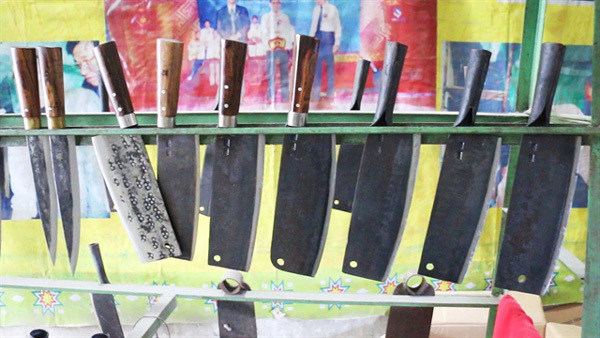 STILL SHARP: Knives are made and sold in Phuc Sen Village, Cao Bang Province. VNS Photos Doan Tung

Despite the stable income, Chien says the job requires a lot of hard work and the mastery of emotions to do it well.
"With this job we all work 10 hours a day, not eight like other jobs. Ten hours and a lot of effort, technique and skill," he says.
"A blacksmith has to be both aggressive and calm. That's what's special about this job. If you're being aggressive all the time your products will all go to waste. If you're calm all the time and do everything slowly, the products will also not turn out well.
"Because the temperatures of fire fluctuate and decrease quickly. You have to be very quick to take advantage of the heat, that's when your high temper comes into use. But then when you shape the knives you have to be very calm. Very calm and careful, otherwise your knives will not be sharp."
There are different steps to make a knife but Long Anh Minh, 47, says there are four major ones.
"The first step of making a knife is to choose the steel. Then you temper the steel. Then you forge the knife, which is the most important step. The more carefully you do it, the higher quality your knife will be. Then you hone and shape it," he says.
"The knives might be made from the same steel, but during the forging process, the longer you beat and hammer the knife, the more refined it will be since all the impurities have left."
FAMILY AFFAIR: Long Anh Minh, 47, forges a knife with his wife.

With some 20 years of experience in the trade, Minh said what makes Phuc Sen knives special is the manual forging process.
"I visited other knife villages and saw the blacksmiths there, while still using scrap steel from used cars like us, they use machines a lot and skip the manual steps when making the knives," he says.
"Their knives might be sharp at first, but not for long. How long the knife stays sharp depends on the manual forging process."
Requiring a lot of physical strength, making knives may seem to be a job for men. But Minh's wife helps him with the majority of the work, and he says he wants to pass the job on to his children and keep the traditional craft alive.
He says: "I live on the land where this craft was born, so my entire family helps each other out.
"My children might not be old and strong enough to forge knives, but they can help with small work. Like shaping the knives, which doesn't require much physical strength.
"This is a traditional job passed down to us from our ancestors. I hope my children will gradually take up the craft when they grow up." VNS
Bao Hoa