As 12-year-old Nguyen Viet Lam is taken to the operating theatre at Hanoi's Military Central Hospital 108 he grips a nurse's hand tightly, not looking back.
Surgeons bring back smiles to kids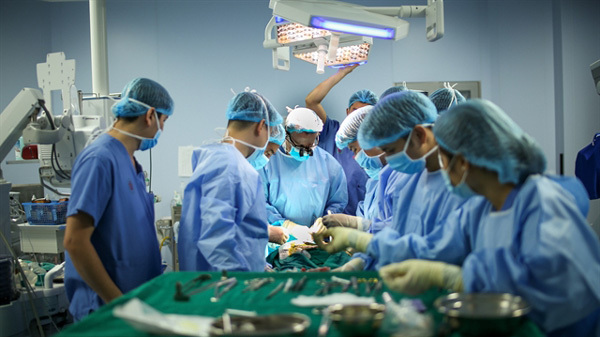 LIFE-CHANGING: Surgeons from a hospital in Canada work side by side with medics from Vietnam at Central Military Hospital 108 in Hanoi. Photo courtesy of James Newton/Facing the World.
Behind him, watching through the window as the sliding doors close is his father, Nguyen Van Khang.
Moments earlier he had been telling his son to stay strong, to be confident, and reassuring him that everything was going to be okay.
Now, as the doors close and his boy is led away, tears stream down dad's face. It was a good thing Lam didn't turn around.
Born with severe facial deformities, Lam has only ever really wanted one thing in life – to look like his friends do.
"He wanted to socialise but his face was different," said Khang. "His friends kept making fun of him, staring and pointing at him. He has been very conscious of it."
But now, thanks to Facing the World (FTW), a UK-based charity, Lam will soon fit in. He will look like all the other boys and girls he calls friends. No longer will he stand out from the rest for all the wrong reasons.
"The plan is to rebuild his cheekbones using his own tissue we take from his skull," said Dr Christopher Forrest, a plastic surgeon from SickKids, a hospital in Toronto, Canada.
"We make an incision across the top, we will hide the scar in the hairline, we will take some bone from the skull and we will use it to make some brand new cheekbones for him and that way he will be able to have a better facial balance and fit in society better."
Lam is one of many children in Vietnam that have a whole new lease on life thanks to Facing the World.
But this is far from a simple, quick fix.
The charity is offering assistance in the form of experts from the US, the UK, and Canada.
But instead of just coming to Vietnam, operating, and then taking the first flight home, Facing the World are here to stay.
Katrin Kandel is the CEO of the charity that was launched in 2002 by two surgeons who wanted to help children with disfigured faces by enabling them to have craniofacial surgery.
"We are exclusively operating in Vietnam, so we are very much focused on training," said Kandel.
"We do that through sending Vietnamese doctors from the units we are establishing abroad for international fellowships to the UK, to Canada and to the United States.
"And at the end of the day that is what we are trying to help, the children that are born in Vietnam with facial abnormalities.
"Ours is all about creating sustainable solutions. We believe that through this amazing international network that we have developed, we have the answer to a sustainable solution.
"We believe in five to eight years, we will have the units established in Vietnam that can be given back to Vietnam, and then Vietnam has the ability to start training doctors from other countries."
But all of this amazing work and effort comes at a cost. While the doctors offer their time and expertise for free, there are still huge expenses that need to be covered.
Flights, accommodation and more importantly, the cost of training Vietnamese doctors overseas.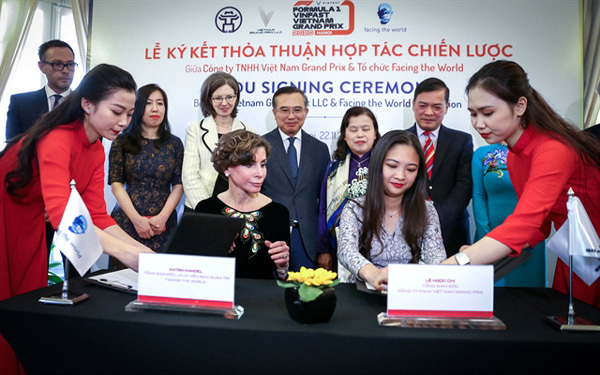 WORKING TOGETHER: Katrin Kandel (front, second from left), CEO of Facing the World signs a sponsorship deal with General Director of Vietnam Grand Prix Corporation, Lê Ngoc Chi. Photo courtesy of James Newton/Facing the World
 
Last week Vietnam Grand Prix Corporation, the company who will be organising next year's Formula One race in Hanoi, pledged their support.
"I think this is going to transform the work that we do," Kandel said.
"It's a worldwide brand, it has an extremely large viewership. At the top of the season you have 450 million people watching the race. We want to focus the world's attention on the activities of the charity, which really are about the children."
The General Director of Vietnam Grand Prix Corporation, Le Ngoc Chi, said: "We are honoured to join hands with Facing the World to support babies with birth defects to have a good and more beautiful life.
"F1 is an international sporting event in Vietnam and we want to take this opportunity to raise awareness so that FTW can call for the necessary support and carry out their mission, improve the lives of the children, strengthening the training and research of doctors so that they can carry out their noble work."
Facing the World work with several hospitals in Vietnam. Last week they performed surgeries on 12 patients including both children and adults at Central Military Hospital 108 in the capital.
Dr Vu Ngoc Lam, director of the hospital's Centre for Craniofacial and Plastic Surgery, said: "Our hospital has signed a collaboration deal with Facing the World lasting five years with a focus on capability training and transfer of surgical techniques.
"We hope with the existing techniques, facilities, and doctors, we will be able to approach and take over the new techniques so we can perform operations with high level of difficulty by ourselves."
"Facing the World has also helped the hospital open the Centre for Craniofacial and Plastic Surgery, the first integrated and multidisciplinary centre in this field in Vietnam."
Dr Forrest, who led the team carrying out the operations, said his team would always be available to offer help and support in the future.
"We are hoping this is the beginning of a long relationship," he said.
"We have visiting surgeons and anaesthetists that come and visit at the hospital for sick children in Toronto and we will continue to come back and have a partnership with the 108."
As for patient Lam, thanks to the hard work and dedication of so many people he can finally begin his new life, looking just like all his friends.
After more than five hours under the knife, the operation was deemed a success, and he is recovering well. VNS

Nguyen Viet Lam's story
Nguyen Viet Lam looks far younger than his 12 years of age. His parents believe it is a miracle he's alive today, as when he was just a month old, he nearly died of pneumonia.
Despite his tiny frame, Lam is clearly a fighter, determined to have a better life.
There may be a long way to go before he achieves his dream of looking 'normal', but it is that goal that spurs him on.
His father is with him every step of the way.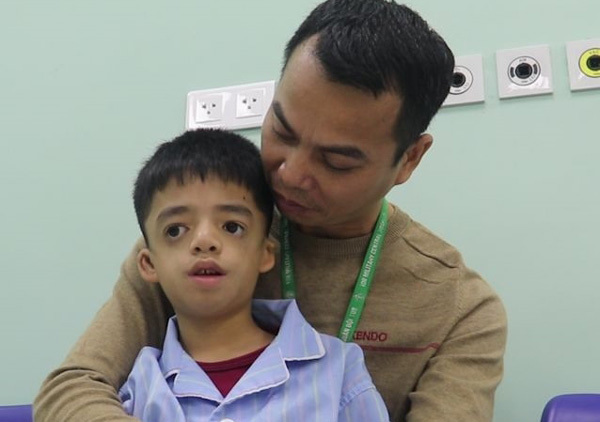 FATHER'S LOVE: Nguyen Van Khang comforts his son Nguyen Viet Lam, telling him to be strong ahead of surgery. VNS Photo Vu Thu Ha
Here is his story:
"Lam is our first son. He had face deformities at birth. We don't really know the cause for it. He also had cleft palate and had to undergo surgery to repair it in 2009. Due to face deformities, one of his ears is totally deaf and the other is impaired. When he was a little child, his mother could not breastfeed him and maybe due to that, he was sick all the time. We almost lost him when he suffered from pneumonia when he was just one month old.
"He is now 12 years old but looks much smaller. Despite his physical disability, Lam is a very good boy and intellectually capable. Due to his hearing impairment, he has troubles in studying. He is now just a fourth grader [which is for nine-year-old students].
"He studies in the same class as his younger brother so that he can help him in learning and socialising. Actually he does not really have friends. He wants to socialise but his face is different so his friends kept making fun of him, staring and pointing at him. But he has his younger brother side by side with him all along. He once told me he wanted to grow up like a normal person and not be made fun of.
"We moved our family from Nam Dinh Province to Hanoi to get better opportunities for his treatment. I have brought him to many hospitals since he was born, including local hospitals and the biggest ones here, but doctors all said treatment for his problems was beyond their ability.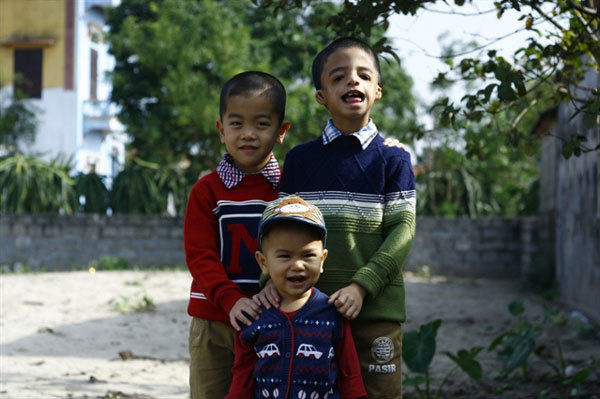 WE ARE FAMILY: Lam (right) with his two younger brothers. Photo courtesy of the family

"We first came to Military Hospital 108 in 2014 but doctors could not do anything then. So I feel very happy this time. We went to see Dr Lam on October 25 with just a faint hope. But then he said Lam was on the list of patients who will be operated on this time. We are so lucky.
"I hope after this surgery, his face will look better. I know we will still have to rely on support from doctors, hospitals and charity projects. He will also need to go through a lot more surgeries so he can look like his friends. For now, we are told that he will need another surgery when he turns 16 or 17 to repair his ears. I really hope that he can finally live a normal life."

How Facing the World changes lives
Facing the World had been up and running for six years before they identified a real need for their services in Vietnam.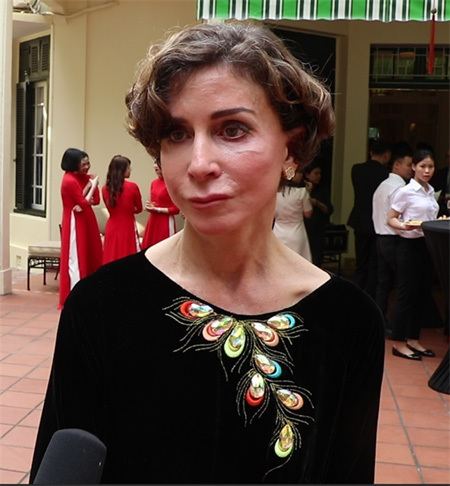 CHARITY: Katrin Kandel, CEO of Facing the World. VNS Photo Paul Kennedy
Birth defects in Vietnam are estimated to occur 10 times more often than in neighbouring countries, partly because of Agent Orange, a chemical deployed by the US forces during the war with America.
FTW decided the best way forward was to use the 'teach a man to fish' approach. Instead of just sending doctors to perform operations here, they instead award international training fellowships to Vietnamese medics.
These fellowships are key to the charity's success.
Doctors are offered 2-6 week fellowships at some of the best hospitals in the world. The cost of training can run into billions of dong, but are all covered by the charity.
As technology advances at a mindboggling pace, the world is becoming smaller. So when surgeons hop on a plane and head back to their home countries, they are still just a click away.
To enable this to happen, FTW uses telemedicine to help medics in Vietnam communicate during procedures no matter where in the world their colleagues are.
Not only does this help solve problems during surgery, but this connectivity also enables the teaching programme to expand.
"The world is a very small place," said Dr Christopher Forrest during his latest mission to Vietnam.
"It is interconnected so it is easy to get hold of each other and to talk to each other and talk about problems and give them some solutions."
By Vu Thu Ha & Paul Kennedy

Over 20 years ago, a Japanese woman visited the central city of Hue and fell in love with the place. She has returned many times to support children fighting cancer.
Bumpy roads cannot stop teachers in the northwestern mountainous province of Son La from fulfilling their mission of teaching pupils in remote schools.