After registering to take a train to return to her hometown, Thuong and her family members are still waiting for their turn. Her son has also tested positive for the coronavirus.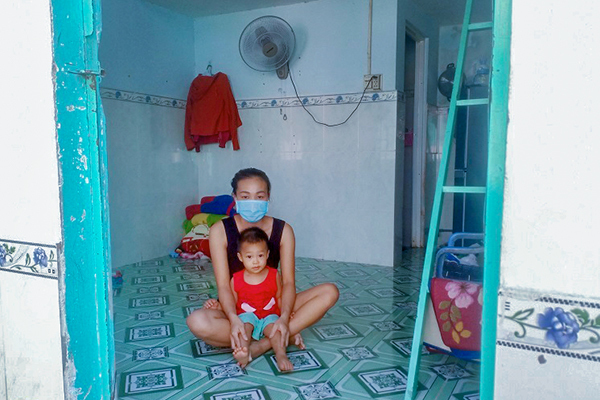 Le Thi Hoai Thuong and her son
Le Thi Hoai Thuong from Quang Tri province lives in a rented room in Tan Phu Trung Commune in Cu Chi District in HCM City. Her husband is a worker at a rubber plantation, and she is a housewife taking care of a five year old and a one year old.
The family income is just enough to pay for rent and food. After social distancing was imposed, they have not had any money to maintain their lives.
In early August, two months after Khuong became unemployed, the couple registered to take a train organized by the home province of Quang Tri to return to their hometown to stay with their brother's family. However, they are still waiting their turn.
In the empty rented room, they are struggling to survive. The landlord has reduced rent by 50 percent and sometimes gives them rice. However, their lives are still full of hardship.
The situation became worse when their elder son got got Covid-19 in mid-August from children in the same hostel. Three people were taken away to quarantine zones, while their son, who has mild symptoms, can home quarantine. Thuong has borrowed an empty room for her husband and the son to stay.
"I still have not discussed the rent with the landlord, because I have no money to pay the rent," she said.
The room, electricity and water bills cost them VND1.5 million a month. As the landlord agreed to reduce the rent, they still have to pay VND1 million. However, they don't have money for food, let alone money for room rent.
Another migrant, Bui Thi Hien, from the northern province of Vinh Phuc has rented a room in Vinh Loc A Commune in Binh Chanh District for four years. She earns her living as a vendor, selling goods on the pavement.
Hien told VietNamNet that she and many people in rented rooms nearby have not received any financial support from the local authorities in the last few months, since the city began strict social distancing.
Since Hien does not have registration for temporary residence, she cannot receive aid from the Government.
Minh Phuong hopes he can get some support so that he can buy food and pay for his room
Hien and her husband left their kids at the grandparents in their hometown, while they live and work in HCM City to earn money for the family.
However, because of the pandemic, they cannot earn enough. "We still don't know how we can survive. We have to count on my parents," she said with sigh.
Because they do not have temporary residence registration, the couple cannot register for vaccinations or get shopping coupons. They have tried to seek support from benefactors via social networks and sometimes rice or instant noodles.
"We have shouted for help, but our shout has not been heard. Many people have rushed to go back to their hometown and don't want to stay in HCM City," she said.
VietNamNet reporters tried to contact the quick reaction team in Vinh Loc A Commune, but the line was always busy. They were also unable to contact the Vietnam Fatherland Front Committee of the commune and Chair of the Red Cross.
On August 15, hundreds of people were stopped at a checkpoint on No 1A Highway and asked to return to their residences in HCM City instead of their hometown. Many of them returned to HCM City as requested but were very worried.
Duong Thanh Luu in Thu Duc City said he and his wife have been unemployed for several months. They registered with local authorities for support, but there has been no reply. Since they had run out of money, they had no other choice than to leave for their hometown on their motorbikes.
Luu said before leaving, he borrowed VND2 million and spent VND700,000 on Covid tests. The remaining money was used to buy medical equipment. He was asked by the landlord to pay the room rent of VND1 million and they had to 'mortgage' property instead of paying money.
Minh Phuong, also in Thu Duc City, complained that he has run out of food and money. He has been eating instant noodles for the last three months of unemployment.
"I really want to stay in HCM City, because I understand that it's dangerous to go on the streets now. I hope I can get some support so that I can buy food and pay for my room to get by," he said.
With a wish to join forces with the whole country to fight the pandemic, VietNamNet has launched the program 'Tiep suc day lui dai dich cung VietNamNet' (Joining forces with VietNamNet to stamp out the pandemic).
The program aims to give food and essential necessities to the poor, freelance workers and unemployed people affected by the Covid-19 epidemic, as well as to centers for social protection and those who still cannot access aid packages. 
Khanh Hoa

Food supply has been ensured for HCM City and the southern region during the social distancing period, according to a working group supporting the COVID-19 fight in the southern region.

Business associations and industries have repeatedly asked commercial banks to ease lending interest rates to share difficulties with them in the Covid-19 pandemic.