Millions of overseas Vietnamese want to fly to Vietnam to celebrate Tet but international commercial flights have not resumed and few "rescue" flights exist.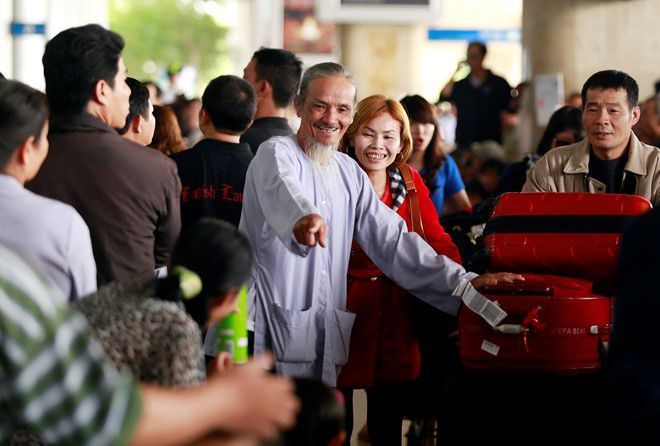 Millions of Viet Kieu want to fly to Vietnam to celebrate Tet
T.T.D. has been stuck in Canada for two years and cannot return to Vietnam though he is fully vaccinated. He learned that there are rescue flights provided occasionally, but the airfare is too high, about VND50 million and passengers have to pay for quarantine. He has decided to wait for international commercial flights.
"I heard that Vietnam has temporarily recognized the vaccination certificates/vaccine passports of 72 countries/territories. When will Vietnamese people with vaccine passports be able to return?" he said.
At a recent webinar about the resumption of international air routes, a man said he and other Viet Kieu in Australia wanted to fly to Vietnam. "When will airlines be allowed to sell tickets? Is it true that we have to wait until April 2022?" he asked.
In reply, an official said the plans to provide specific flights to help Vietnamese citizens return home are still being made, and depend on pandemic developments and domestic quarantine capacity.
Regarding April 2022, he said airlines are still waiting for the decision by the Government on the Ministry of Transport's proposal.
As routine commercial flights have not resumed, Vietnamese citizens overseas have to wait to book rescue flights, which are rare and unscheduled.
Meanwhile, air tickets are priced quite high. It's estimated that the total cost for flying from Japan or South Korea to Vietnam is VND50-60 million, while the figure is VND80 million from Europe.
Explaining this, Nguyen Quang Trung from Vietnam Airlines, the national flag air carrier, said aircraft have to land at airports with quarantine facilities such as Nha Trang, Van Don and Da Nang. Besides, the cost per seat on these flights is twice as much as usual, because airlines fly only one way. Once routine commercial flights resume, airlines will have passengers for both ways, and airfares will be lower.
Millions of overseas Vietnamese wait
The demand from overseas Vietnamese to take flights to Vietnam is very high. Vo Huy Cuong, Deputy Head of the Civil Aviation Authority of Vietnam (CAAV), cited a report by the Ministry of Foreign Affairs (MOFA) as estimating that in the first two quarters of 2022 (Tet holiday), about half million Vietnamese, Viet Kieu and foreigners have demand to fly to Vietnam.

Millions of Viet Kieu (overseas Vietnamese) want to fly to Vietnam to celebrate Tet but international commercial flights have not resumed and few "rescue" flights exist.
However, since the number of rescue flights is limited, many of them would have to take chartered flights for tourists and have a 7-day quarantine before getting home.
Luong Hoai Nam, a respected aviation and tourism expert, said demand is very high, because many Viet Kieu missed 2021 Tet in the country because of Covid-19 and they want to return this year.
The problem is that people will have to have a 7-day quarantine. Meanwhile, Cambodia removed the quarantine requirement on all fully vaccinated passengers on November 15.
"It's unreasonable to require fully vaccinated people to quarantine," he said.
He said that more than 1.5 years have elapsed and it's necessary to restore routine international flights for fully vaccinated people.
Bui Doan Ne, Deputy Chair of the Vietnam Aviation Business Association, said overseas Vietnamese and Vietnamese people should be treated equally. That is, Vietnamese citizens overseas who have been fully vaccinated and have negative test results should be allowed to fly to Vietnam without concentrated quarantine. Localities don't have the right to restrict the number of Vietnamese citizens returning to their homeland.
"Millions of overseas Vietnamese want to fly. Tet holiday is nearing. And in order to avoid congestion, it'd be better to allow Viet Kieu to fly to Vietnam now," Ne said.
Overseas Vietnamese could register for tours under a new pilot program on receiving foreign tourists. This means that they need to book packaged tours and fly to five localities – Phu Quoc (Kien Giang), Nha Trang (Khanh Hoa), Quang Nam, Da Nang or Quang Ninh.
People will have to follow 7-day tours and fulfill procedures to be able to visit relatives. However, they can only stay in Vietnam for a maximum of 90 days.
The Ministry of Transport has proposed reopening international routine flights, commencing from Q1 2022 under a 3-phase program.
Phase 1, from the first quarter of 2022, the major markets are China, Hong Kong, Japan, South Korea, Taiwan, Thailand, Singapore, Malaysia, Laos, Cambodia, France, Germany, Russia, the UK, Australia, with 4 flights/week/way (about 12,000 passengers would enter Vietnam a week).
Phase 2, from the second quarter of 2022, routine flights carrying passengers with vaccine passports to Vietnam with no requirement on concentrated quarantine. The flight frequency is 7 flights/week/way for each airline.
Phase 3, from the third quarter of 2022. Routine flights will be provided depending on travel demand, pandemic developments and vaccination coverage. The markets and flight frequencies will be determined by airlines.
Ngoc Ha

A number of chartered flights carrying foreign travelers with vaccine passports are coming to Vietnam this week under closed tourism programs. Five localities have prepared to serve international arrivals.

According to experts, the delay in reopening international air routes will affect Vietnam's economic recovery.