The new mutant coronavirus strain found in the UK can spread more rapidly, raising concern about the effect of vaccines. Vietnam plans to implement gene sequencing of the virus sample.
Mutant virus spreads 70 percent faster
At an online conference with 700 connections on the morning of December 23, Minister of Health Nguyen Thanh Long said the news about mutant coronavirus in the UK had led the Ministry of Health to keep a close watch over the information.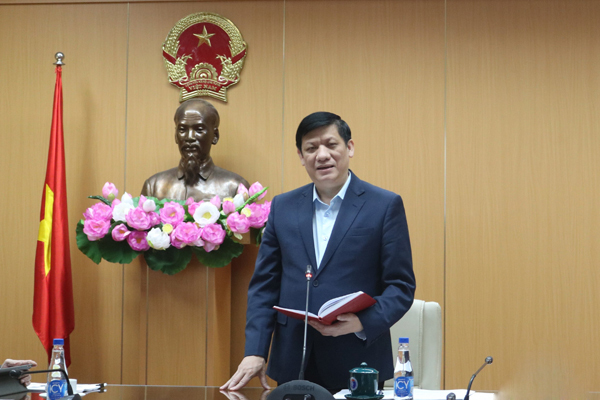 Minister of Health Nguyen Thanh Long
The new mutant coronavirus strain increases the virus's ability to adhere to host cells, thus increasing the rate of spread by 70 percent compared to the old strains. This is worrying because the increased infection means stronger community transmission, faster cycles, more infections, and more deaths.
Vietnamese scientists have discovered D614G, a new mutant coronavirus strain which spreads rapidly. But its spreading rate is still weaker than the one found in the UK.
However, to date, scientists still have not discovered if the new strain can neutralize vaccines.
Long is worried that it will be difficult to control the pandemic if the coronavirus variant, which spreads more strongly and rapidly, breaks out in the community.
"We are very concerned about the new virus strain, but we need to keep calm and try to cope with it," Long said.
Vietnam has implemented gene sequencing of all virus samples found in Vietnam and will do this with virus samples from Europe and countries which have found virus variants.
"We have not found any virus strains in Vietnam with these mutations. However, we must not neglect the work to prevent and fight the pandemic. The Ministry of Health (MOH) will promote measures to prevent and fight the pandemic to be sure that people can enjoy a peaceful Tet holiday," he said.
According to the minister, this winter will be severe for countries and the consequences will be serious if they don't take drastic measures to control the pandemic.
The pandemic is still escalating in many countries, with 500,000 or 600,000 new cases reported daily.

The new mutant coronavirus strain found in the UK can spread more rapidly, raising concern about the effect of vaccines. Vietnam plans to implement gene sequencing of the virus sample.
Some countries, including ones with very good models of fighting against the pandemic such as Japan and South Korea, have had to impose strong measures because of the coronavirus recurrence.
Long stressed that Vietnam needs to intensify the application of measures to prevent infections from occurring.
First, it is necessary to strengthen supervision at medical units. The first cases mostly originate in hospitals. Winter is the time for respiratory diseases, including influenza, which has symptoms very similar to Covid-19.
Long said that all of these cases must have coronavirus tests. He said that testing capacity must be increased.
Prepare for the worst
The minister has asked localities to get ready to prevent and fight against COVID-19 at the highest level and prepare for the worst cases.
"We don't know where new Covid-19 infections will be discovered. Therefore, local authorities need to figure out how to take samples on a large scale, and ensure they have enough treatment facilities if new infections are discovered and hospitals have to be isolated," Long said.

Long asked local authorities to continue all measures to control people entering Vietnam. At this time, 100-150 people have been found illegally entering Vietnam across borders.
Around 1,600 check points at border areas have been set up, with 10,000 officers.
Long has asked the Ministry of Foreign Affairs to restrict flights returning from pandemic-stricken areas, especially from countries where the new mutant virus strains have been found.
He also asked to maintain strict control over quarantine and prevent the spread of virus from quarantined areas to the community.
It is necessary to learn a lesson from the third outbreak in HCM City, he said.
Regarding vaccine production, in addition to Nanogen, two other producers will begin clinical experiments in March 2021.
MOH will negotiate with other countries to obtain vaccines soon.
However, he said that even if there is a vaccine in the future, localities still need to strictly implement measures to prevent and fight Covid-19.
Kidong Park, chief representative of the World Health Organization (WHO) in Vietnam, said Vietnam has successfully controlled the pandemic, but the success was not obtained overnight, but only after many years of preparation.
"Covid-19, the worst pandemic in the last 100 years, shows the importance of a flexible and strong healthcare system. We don't know when and where the next pandemic will occur, but we are sure this is not the final pandemic for humans," he said.
"If the globe does not prepare well for the future, the next pandemic may exceed Covid-19 in both the sphere of effect and impact," he warned.
He said he hopes Vietnam will make more investments in the healthcare system to make it stronger and more flexible so that it will be ready to cope with any pandemic in the future. 
Vu Diep

Da Nang's tourism department, iDa Nang International terminal investment and operation JSC (AHT) and Airports Corporation of Vietnam (ACV), has agreed to build Da Nang as a 'safe', attraction and hospitality destination in 2021-25.

A further 17 people out of the 60 volunteers participating in the first phase of human trials to develop Nanocovax, a locally-produced novel coronavirus (COVID-19) vaccine, received their vaccine shots on December 22 at the Military Medical Academy.