More and more gyms have shut down or have been transferred to others, sometimes for free.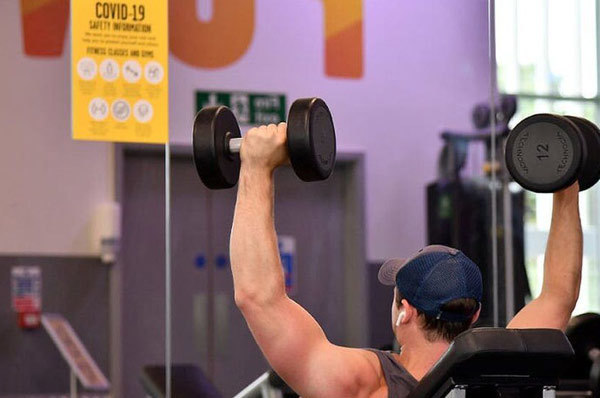 Do Hai Anh, who ran a gym in Ha Dong district in Hanoi for 10 years, earlier this year decided to expand his business. He believed that after the pandemic, people would have more awareness about health protection and go to the gym. He also saw great business opportunities after many gym owners incurred losses and had to sell their facilities at low prices.
In early 2021, Anh drew up a plan to open 3-5 gyms more in populous areas in Hanoi. He mobilized capital from relatives and friends, and recruited trainers and marketing officers.
However, the plan failed because of the pandemic. In late June, the gym had to close and workers had to take unpaid leave. Media campaigns for the opening of new gyms were canceled.
Anh tried other types of business to earn money for the time being, but failed. In September 2021, when the premise leasing contract ended, he decided to sell his equipment and leave the market, though the landlord offered rent reductions.
"Fitness service is not an essential service, so gyms will be the first to close the doors if new outbreak occurs, and will be the last facility to be allowed to reopen," he said.
"The risk is very high for gym owners. Even when gyms are allowed to reopen, the low number of clients will cause losses," he explained.
Asked about the costs to operate one gym, he said the amount is up to hundreds of million of dong. The rent alone costs him VND80 million.
He said the demand is decreasing as winter has come in northern provinces. He has decided leave the market forever and seek other business opportunities.
"Running a gym has never been so difficult," said Do Van Quang, the owner of a gym in Hoang Mai district in Hanoi.
He said the most important factor is having a large space, so the highest cost is rent.
Quang said a small gym costs VND60-70 million a month. The only source of revenue is from monthly ticket sales, while the number of clients booking quarterly and yearly tickets is now lower than previously. The number of new clients is also modest.
He is planning to transfer the gym to someone else and shift to other business.
Quang told VietNamNet that a 4-star gym in Cau Giay District is being offered at VND3 billion, but it has been difficult to find buyers. The total initial investment capital of the gym was VND12 billion, but it has been open for less than one year since opening.
Big losses
Many gyms have shut down because of the pandemic, despite the big initial investment capital and modern equipment.
Lamita, a chain with 65 gyms, which was valued at VND100billion, shut down on January 4, 2021.
In 2019, CEO Vu Thi Thuy Linh received commitments from Shark Lien and Shark Hung, two investors from Shark Tank TV Show, to inject VND10 billion into the chain in exchange for 35 percent of Lamita Fitness shares. However, the project has not received received investment because of several reasons.
Wefit, a well known startup, which later changed its name to WeWow, declared bankruptcy.
WeWow was founded by Khoi Nguyen in September 2016 with an ambitious plan to become a leading brand in Vietnam's fitness industry. More than 600 gyms were connected through an app which provided more than 5,000 workout schedules each day. Clients could go to any gym of the chain.
WeFit got $155,000 worth of capital from ESP Capital in late 2017. In early 2019, WeFit successfully called for $1 million investment from CyberAgent Capital.
However, despite the investments, the chain had to leave the market.
An analyst said that WeWow could not anticipate the risks in business expansion, so it lost control over the business once the pandemic broke out.
According to Anh, gym owners with small capital have to borrow money to maintain operation, but they cannot access bank preferential loans as they cannot prove their financial capability.
Commercial banks do not want to provide loans to gyms because of the high risks. 
Thu Ky

Hu tieu (noodle soup), milk tea, broken rice, snails and fried fish balls – the common dishes of Vietnamese – are being sold at shops on HCM City's Bui Vien Street.

The health and beauty industry has been seriously hit throughout the four Covid-19 waves. Many owners of gyms and spas worth billions of dong have