By September 2021, Vietnam had more than 1.3 million unemployed workers. Meanwhile, the local IT industry, with its growth momentum and large contribution to GDP, is hungry for human resources. 
Born into a working family, Le Dinh Van, 26, from the central province of Quang Nam, studied accounting at university but then decided to quit study as he did not like the job despite the objections of his family.
"My family was shocked, disappointed, and turned their back on me. To earn a living, I did many jobs such as a garment worker, selling grilled chicken, and others to save money and wait for a suitable course and business opportunity," Van said.
Van's temporary jobs later also encountered difficulties due to the impact of the epidemic. He decided that it was time to choose a more stable job for the future. He realized that information technology (IT) has potential, so he signed up for an online programming course. The learning process was difficult because he was completely unfamiliar with IT knowledge.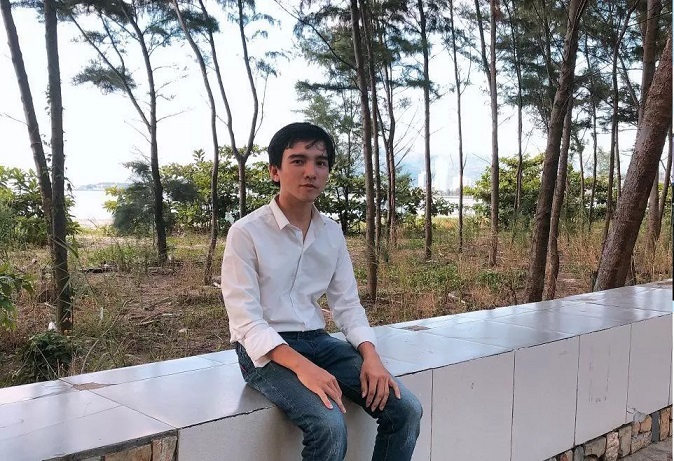 Le Dinh Van, a garment worker, has become a programmer thanks to online learning.
"I was stunned with learning materials in English. Many times I wanted to give up because of difficult assignments, and work pressure... But all my savings were poured into the course, I did not have reverse path. I could only devote all my energy to learning," Van said.
In early 2021, with knowledge from the course, Van successfully applied for the position of programmer at a large Vietnamese technology company that many people dream about.
Like Van, Nguyen Son Tung, 29, from the northern province of Thai Nguyen, used to be unemployed, failed in business and was heavily affected by the Covid-19 epidemic. But his life changed after he joined an online programming course. Tung is now a programmer at a technology company.
Solutions to solve human resource problems for IT industry
According to data from the General Statistics Office of Vietnam, by September 2021, Vietnam had more than 1.3 million unemployed workers. In the second quarter of 2021, about 12.8 million people aged 15 and over were affected by the pandemic.
Meanwhile, the IT industry in Vietnam, with its growth momentum and large contribution to GDP, is hungry for human resources. Like Van and Tung, many people have decided to learn programming through online courses to join this industry.
According to FUNiX - an online IT training firm – it has coordinated with 40 companies to implement the Worker Digital Transformation Project. Accordingly, people who are workers in industries affected by Covid-19 and wish to switch careers to the field of IT, regardless of age or gender, can participate in this 6-month training program, which is fully sponsored by the 40 companies above to become programmers. They must commit to working for these businesses for at least one year after the course.
Nguyen Tran Nhan, CEO of NCC – an IT firm - said that studying IT is a sustainable career change direction for pandemic-hit workers, or for those who are looking for new jobs like Le Dinh Van or Nguyen Son Tung.
"The shortage of human resources is one of the challenges facing the Vietnamese IT industry. For workers who want to change jobs, NCC is ready to welcome them to practice and work with us and we believe that this will be a resource to help the company develop in the long run," Nhan said.
Meanwhile, Nghiem Thi Lan Phuong, Operation Director of AI Solution company, said that learning and doing IT is not difficult because this is a very open field. Young people can work online, and participate in IT projects anywhere in suitable conditions.
"This would be the ideal opportunity especially for young workers in rural, remote and isolated areas... You don't have to migrate, you don't have to face challenges when changing your residence such as expensive living costs, but you still have a stable job, modern working environment and attractive income. At the same time, IT firms can solve the problem of labor shortages, their current problem," said Lan Phuong.
Dang Duong

Vietnam earned 110.7 billion USD in revenue from the IT industry in the first 10 months of 2021, up 9 percent from the same period last year, data from the Ministry of Information and Communications (MIC) showed.

Vietnam is seriously lacking IT engineers, which explains why many new graduates with good skills and experience find jobs with attractive pay of up to VND30 million ($1,300) a month.