Prof Phan Van Truong, who has been to 80 countries and negotiated contracts worth up to $60 billion, said self-study accounts for 90 percent of learning, and occurs over a lifetime.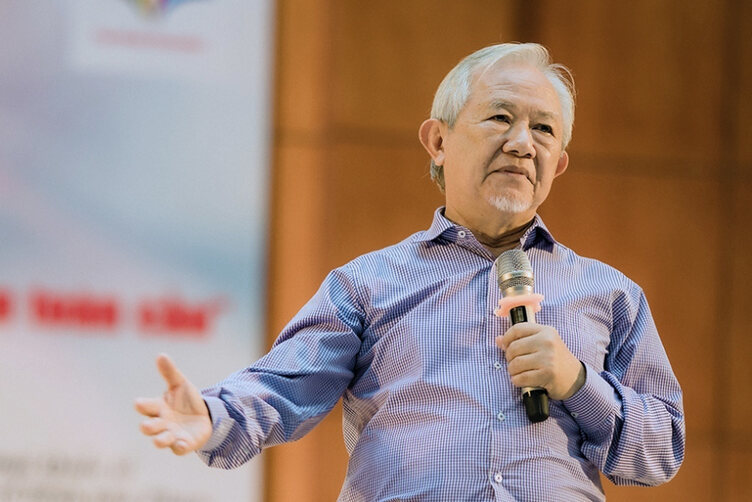 Prof Phan Van Truong
Truong is the author of the famous book 'Mot doi thuong thuyet' (A life in negotiation).
At the age of 75, he still has the habit of getting up at 4 am to study. This skill helped him have a successful career. A university graduate in civil engineering, he became senior manager of many large corporations in the world.
He said that most of he had learned came from self-study after graduation.
Truong said he left for France to study at a boarding school when he was 17 years old. Four years later, he passed the exam to the National School of Bridges and Roads. However, his French language skills were just enough to write, and he was poor at communication and could barely speak French.
"I felt like a fish out of water when my friends, during breaks, enjoyed the time by gathering and telling jokes. However, every time when I wanted to join the group of friends, they would disperse. In their eyes, the French I spoke was a language of somewhere else in the world," he recalled.
This urged him to study French by himself. He bought a book of French jokes and stayed at home every weekend to learn by heart the jokes in front of a mirror. He even practiced bending his tongue so that he could pronounce French like native speakers.
When he could tell the jokes and see his friends 'splitting their sides with laughter', he understood that he had succeeded in speaking French.
"That was how I learned French," he said, adding that he felt hurt when even his Vietnamese countrymen did not enjoy talking to him, which was another motivation for him.
As a Vietnamese in France, Thuong mostly used English in his jobs.
Thuong now can speak both French and English fluently. However, he said he learned English also because he felt he was under pressure.
"When I was negotiating with British people in English, I found as if they thought they were 'superior' to me, not because they were better, but because they could negotiate in their mother tongue," he said.
He then put vowed to learn English. English skills helped him successfully negotiate contracts with the total value of $60 billion during his 40 years of working.
Truong said when he came back to Vietnam, he had to struggle to learn Vietnamese again on the first day.
He was then a visiting lecturer at a university in HCMC, and a lot of students complained that they could understand only 70 percent of what he said, though they found the knowledge they received interesting.

Prof Phan Van Truong, who has been to 80 countries and negotiated contracts worth up to $60 billion, said self-study accounts for 90 percent of learning, and occurs over a lifetime.
Truong then apologized and decided to learn Vietnamese again, everywhere and anytime he could.
"I tried to write and read while looking up at dictionary and I learned from my students as well," he said.
Thuong believes that one should not learn foreign languages with only logical thinking, but with feeling.
France makes big investments in teaching and learning English, but the effects remain below expectations.
"French people are not better than Vietnamese in learning English, because they also learn English the way Vietnamese learn, i.e. the academic way. They think they need to learn English with only their brain," Truong said.
Self-study accounts for 90 percent of learning
Once holding high positions at many large corporations in the world, including President of Alstom Power Asia and President of Suez Southeast Asia, and once awarded the National Order of the Legion of Honor, Truong said he is a lucky man.
"I was trained to become a civil engineer, but I never built roads and bridges in my life, and I never drew roads and bridges," he said.
"The first job I took after graduating from university was teaching economics, though I had not studied economics before and I had no degree in economics," he said.
However, he still became one of the best professors teaching economics at economics schools.
Most of the time he was a businessman in his career. He was a senior manager of an electricity industry group with 25,000 workers, and then a high-speed railway company and urban water supply and oil and gas firm in France.
He was not trained in these fields, but succeeded in all. He believes that success does not lie only in degrees, but in everyone's self-study.
"Self-study accounts for 90 percent of learning," he said. It is the continuous self-improvement of skills such observation, reasoning, communication, i.e. speaking and listening, analysis, evaluation and people's psychology.
"If you only rely on degrees you have obtained and do not continue studying, you will lag behind in modern life five years after graduation and you will be eliminated," he said.
Truong was granted the Medal for the Cause of Education by former President Nguyen Minh Triet in 2009. 
Thuy Nga

Dr Do Pham Nguyet Thanh, born in 1995, an expert at the Biomedical Research Center under the Pham Ngoc Thach University of Medicine, has been honored as one of HCMC 2020 Outstanding Young Citizens thanks to her active contributions to the community.

Nong Ngoc Duy, PhD, honored as one of five leading young scientists in social sciences in Australia, said he had to work no less than 80 hours a week for a long time, and sometimes 14 hours a day, to survive the global competition.