He has cycled across the country four times, covering thousands of kilometres, and has conquered four of the most daunting passes in Vietnam's northwestern region by bicycle.
One would think such achievements belong to a young sports enthusiast, but these feats were actually accomplished by 67-year-old Dang Thanh Hai in the northern province of Son La.
Vietnamese girl with the dream of cycling around the world
Cyclist falls in love with nature
Cycle tours promote country tourism
PEDAL POWER: 67-year-old Dang Thanh Hai poses with his bike with which he has conquered four trips across Vietnam and four of the most daunting passes in Vietnam's northwestern region. — Photo Hai Dang's Facebook

Many Vietnamese long-distance cyclists are familiar with Hai. He is now the member of four cycling clubs, namely Son La City's Cycling Club, the Great Circle of Viet Nam Clubs in the north, centre and south, and the Backpacking Clubs in the north, centre and south.
However, Hai is not a professional cyclist. He started riding a bike just 10 years ago after retirement, and finished his first trans-Viet Nam cycling trip four years ago when he was already 63. Since then, he cycles across the country once a year.
He finished his most recent trip in February, cycling from HCM City to Hanoi along the 2,000km Ho Chi Minh Highway. Before that, he cycled from Mong Cai City in the northern province of Quang Ninh to the southernmost tip of Vietnam, Cape Ca Mau, along the 3,260km coastal road.
In 2017, the 67-year-old cycled from Huu Nghi Border Checkpoint with China in the northern province of Lang Son to Cape Ca Mau, conquering the 2,875km road.
Hai embarked on his first trans-Viet Nam trip cycling from Hanoi to Da Nang in the scorching heat of June, 2016. On the third day of the trip, it was so hot and sunny that Hai and other cyclists had to take a break at 10am and continue the trip at 3pm.
On the following day, they had to start their trip at 2am to avoid the heat and constantly battled against the strong wind while cycling to the central province of Quang Binh. They finally reached their destination – the central Da Nang City – after six days.
Despite the difficulties, Hai said he was still happy to realise his dream of cycling and contemplating the beauty of the country.
"It was the first time I conquered the Hai Van Pass. Reaching the top of the pass in the early morning, we could see an ocean of clouds floating under our feet. The pass embraces the sea, and the scenery was stunning. It was happiness that I didn't have the chance to experience when I was young," the cyclist recalls.
In early 2017, not long after finishing his second trip across the country, Hai conquered four of the most daunting passes in Vietnam's northwestern region with his bike. The trip passed through 12 northwestern and northeastern provinces and then back to Hanoi, with a total length of 2,300km. "It was also the first time I conquered four daunting passes," Hai says.
The four passes in Vietnam's northwestern region include the 30-km Khau Pha Pass in Yen Bai Province, the 32km and 1,600m-high Pha Din Pass bordering Dien Bien and Son La provinces, O Quy Ho - the longest pass in the southwest, connecting Lao Cai and Lai Chau provinces and Ma Pi Leng, a dangerous pass of 20km in length and 2,000m in height.
"A coward will not dare look down from the top of those passes," Hai says.
"The Nho Que River below Ma Pi Leng Pass is 1km deep. Descending the pass, I kept looking forward, daring not to look down to the river. It took me and other cyclists 15 days to conquer the passes. I was over the moon on discovering that I could accomplish more than I thought."
Hai also reveals that he is planning to conquer those four passes again from the East to the West in 21 days in October.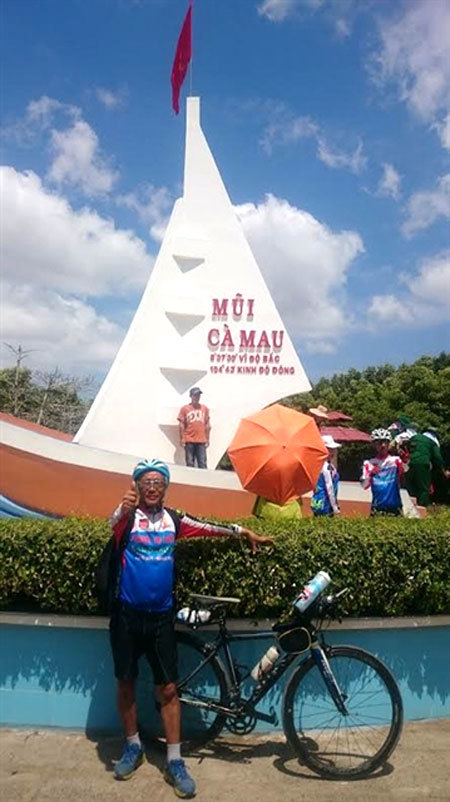 ACROSS THE NATION: Dang Thanh Hai reaches Cape Ca Mau in the southern province of Ca Mau during his trans-Viet Nam cycling trip. Photo: VNN
When there's a will, there's a way
Hai joined the army in 1971 and was discharged four years later. He then studied at the Viet Nam University of Commerce. After graduating in 1980, he was assigned to work for Son La Province's Department of Commerce.
"I was interested in travelling when I was young," Hai says. "I always hoped I could enjoy the beautiful sceneries from the north to the south, particularly those in the provinces my comrades and I used to operate in. Traffic used to be difficult at that time and only state companies and organisations owned cars. I got married in 1981 and then had children. The difficult life made me gradually forget my young dreams."
After working in Son La for 30 years, Hai retired when he was 57. When his mind was set free from financial burden, he started to think about the hopes he had many years ago.
"I dedicated 30 years of my life to my career, family and children. Now I finally have time to think about myself and what I want to do. Being able to do what we enjoy makes life meaningful, not money or social status," he says.
But his advanced age meant it was difficult for the 57-year-old to easily realise his aspirations, so he started to seriously work on his health and fitness.
"Cycling was tiring for me at first. I had to strive every day, cycling 15km at first and gradually increasing my target," Hai recalls.
For ten years he has cycled every single day, even at weekends and no matter the weather. He cycles around 90km per day – 60km in the morning and 30km in the evening.
"If we rest for a day, we will feel discouraged. Only by cycling at least 90km per day can one travel across the country by bike. A trans-Viet Nam trip forces a cyclist to cycle over ten hours a day. Even a 20-year-old will find it difficult without practice. To realise my wish, I had to prepare thoroughly both mentally and physically," he adds.
Hai says he doesn't think it was too late to fulfil his dream at the age of 63.
"I have fulfilled my dream of cycling a length equivalent to five times the circumference of the Earth. When there's a will, there's a way."
The veteran cyclist is now planning a cycling trip with his war comrades to Vietnam's 63 provinces in six months.
"We will both re-visit our battlefields and go sightseeing. I have been to 63 provinces but in groups. Now I want to travel with only one or two of my comrades to each province where we plan to stay for two days to understand the local customs and contemplate the beautiful natural sceneries there," he says.
by Phuong Ha
VNS