Fishermen across the world have tough lives, and squid catchers from the central province of Nghe An are no exception.
S Korea largest export market for Vietnamese squid and octopus
1,000 tons of squid unsalable as China changes import mode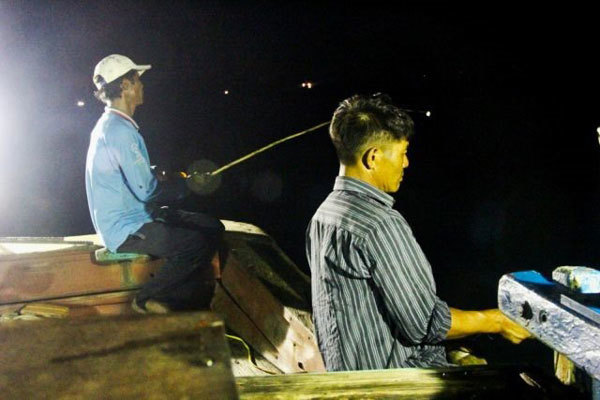 The squid-catching season lasts from March to August and Nghe An's Cua Lo sea squid is renowned for its deliciousness in the north, so it still fetches a good price.
Each trip to sea lasts about 14 hours, for a maximum of VND300,000 (US$13) a journey each.
In July, I took a trip off-shore on a squid-catching expedition with Vo The Lanh, a fisherman living in the province's Nghi Loc District.
Lanh said we would need a quiet sea for this trip, as I would struggle to handle myself amidst rough waves, just one small part of the hardships he and his crew face.
A fisherman's tale
Lanh has been fishing since he first went out on the boat with his father at 15, so he looks much older than his 45 years.
At the age of 18, he joined the army. After leaving the army, he returned to offshore fishing in his hometown.
He recently bought his boat for VND200 million ($8,600) from a local fisherman.
"I have to take the risk of borrowing money from the bank to buy the boat. The old boat of mine is small so it is very dangerous to go offshore fishing," he told Thanh Niên (Young People) newspaper.
"On days when the sea has sudden thunderstorms, life is very dangerous."
The squid-catching season lasts from March to August and Nghe An's Cua Lo sea squid is renowned for its deliciousness in the north, so it still fetches a good price.
For hundreds of years, people in the coastal district have made a living by sea-fishing and boat building.
But seafood resources are becoming rare, especially near the shore, forcing fishermen like Lanh to range farther in search of a dwindling squid population.
"Sea-going is getting harder and harder, but if I don't go, I miss the sea and I won't have money to buy rice," he said.
Captain Pham Van Thanh, chief of the border guard station of Cua Lo Port, says large-capacity fishing vessels operate in near-shore areas and electric fishing have depleted seafood resources.
Squid battle
Our journey started at about 4pm in the blazing heat, led by Lanh and three of his crewmen.
The boat departed from Cua Lo fishing port, with strong easterly winds making the journey difficult.
After an hour and a half fighting the waves, Lanh told his crew to drop anchor.
"This location is nearly 10 nautical miles (18 kilometres) from the mainland," Lanh said when looking at the co-ordinate measuring device mounted on the roof of the boat.
As the anchored boat rocked in the waves, the fishermen began preparing long bamboo rods, with eye-catching decoys fixed to the string above the hooks to entice squid.
After 15 minutes, fisherman Nguyen Van Binh pulled up a fist-size squid and threw it into a bucket of seawater. Dinner had arrived.
Before long darkness covered the sea and Lanh started the generator to turn on five lights illuminating the water, marking the start of the real work as four fishermen cast their lines into the water and bobbed the decoys up and down.
According to Lanh, the "golden" hours for offshore squid catching are from 7pm to 11pm.
Lanh suddenly pulled up a big toe-size squid. "This kind is sold for the best price because of its delicious taste," he said, when throwing it into the boat.
At nearly 9pm, Lanh looked at the boat with only a few dozen squids. He phoned another fishing boat and told his crew "They have over two kilos. Relocate please!"
Lanh's boat passed many other fishing boats and their bright lights.
Minutes after we anchored in the new spot, the first squid was pulled up.
At 11pm, as the wind had changed, fishermen collected the rods, turned off the lights and prepared dinner.
We wolfed down a pot of noodles cooked with squid, a boiled-squid dish, ready-to-eat pork and rice.
After dinner, the fishermen returned tirelessly to their work, never taking a rest from working their rods, despite their dark and tired eyes.
Hard knock life
At 5am, the boat returned to port.

After 14 hours in the sea, the four fishermen had some 6kg of squid, which was later sold to a trader for a total VND2.1 million.
After deducting VND700,000 for oil costs, the rest was divided equally into five shares (boat owners get two shares), so each fisherman earned nearly VND300,000.
While it might be poorly paid, fishing is all Lanh and many of his fellow Nghi Loc men have ever known, so don't expect them, or the squid, to go quietly into the night.
VNS