Hundreds of antiques and treasures of the last feudal dynasty in Vietnam - Nguyen Dynasty – have drifted everywhere. Through decades of wandering, many antiques have been repatriated.
The ancient capital of Hue, in the central province of Thua Thien-Hue today, is a land where many cultures such as Dong Son, Sa Huynh and Cham Pa civilization converged. It used to be the capital of Dang Trong (1) and also the capital of Vietnam during the reign of the Nguyen Dynasty. That land became a convergence point of talents and material resources of the whole country, and a place of national wealth and treasures. However, many treasures have been lost.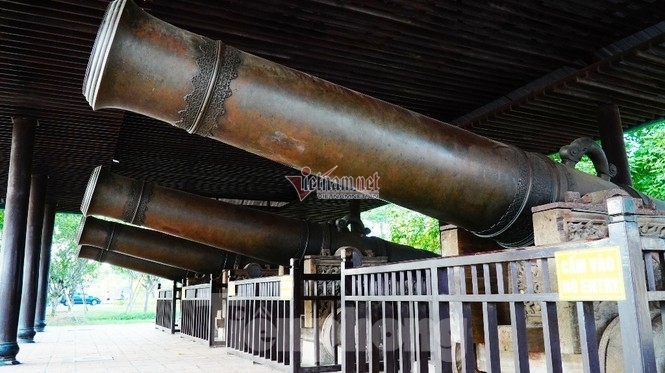 The nine cannons cast in 1803, which are now national treasures.
Based on historical documents, many antiques and treasures in Hue disappeared after historic events in the years 1775, 1862, 1885, 1945, 1947, 1972. The biggest loss in history was associated with the event called "the fall of Hue capital" on July 5, 1885 (2).
During this event, the French army not only killed many civilians but also robbed the most precious things of the Nguyen Dynasty.
According to documents by Father Père Siefert - who witnessed this catastrophic event – the French took away "228 diamonds, 266 jewels encrusted with diamonds, pearls and sapphires, 271 gold items of Empress Dowager Tu Du ...".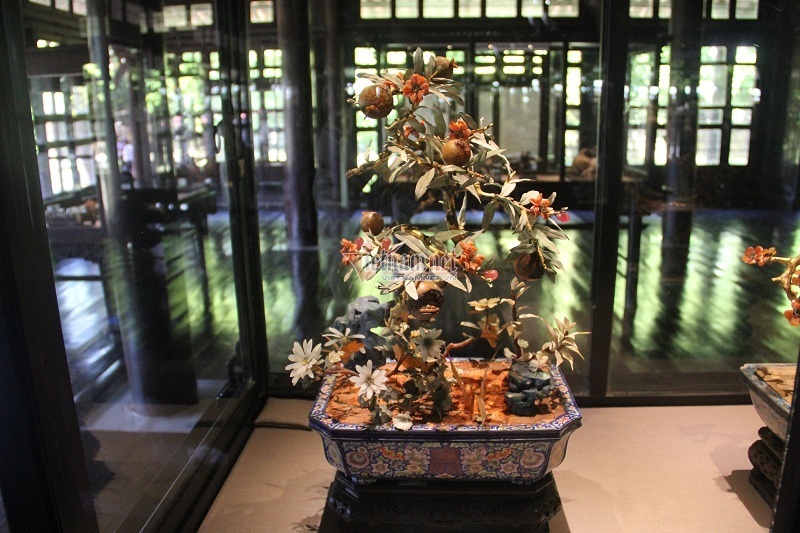 "Golden branches, jade leaves" of the Nguyen Dynasty.
At the shrines worshiping kings Gia Long, Minh Mang and Thieu Tri, most things that can be taken away such as crowns, belts, mats, royal costumes ... were robbed. Most of the wealth in the royal court of the Nguyen dynasty and even the Hue nobility were stolen by the French and brought back to France.
Another type of antique loss: locals discovered some antiques by accident but did not report to authorities. They sold the antiques to scrap or antiques dealers. Most artifacts of this kind have disappeared or are owned by some antique collectors.
Arduous repatriation of Hue's antiques
After acceding to the throne in 1885, Emperor Dong Khanh tried to reclaim some treasures taken by the French.
The Nguyen Dynasty spent a lot of energy and money to regain most of the most important seals and nine bronze cannons that symbolized the strength of the dynasty.
Dr. Huynh Thi Anh Van, Director of the Hue Imperial Antiquities Museum, said that the museum manages more than 11,500 artifacts, of which 8,800 items are preserved in warehouses and displayed at some places such as An Dinh Palace and Can Chanh Palace. And more than 2,760 artifacts are preserved and displayed at royal tombs and other monuments in Hue.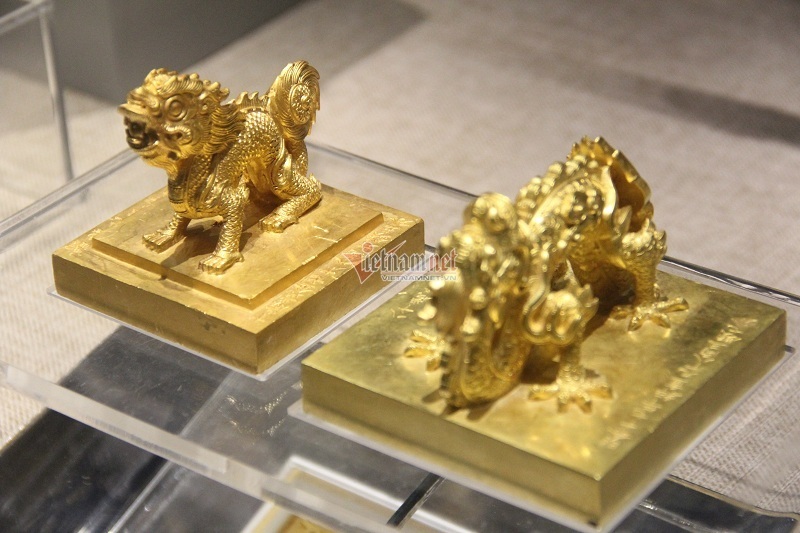 The seals of the Nguyen Dynasty are made of gold.
Among the most special antiques at the museum are the desk and the dart-containing set of Emperor Tu Duc, which returned to Vietnam over 30 years ago after Vietnam's lawsuit to the international court.
According to historical documents, while living in France, Vietnam's last Emperor Bao Dai visited a museum in Paris and he saw some Nguyen dynasty's objects on display for auction. Among these items were a desk and a dart-containing set of Emperor Tu Duc and several ceramic and porcelain utensils.
Bao Dai filed a lawsuit to the court in Paris to reclaim these antiques, but was denied because he could not represent Vietnam in the case, the only subject that was eligible to stand for the lawsuit.
The former king reported the case to the Vietnamese Embassy in France, which then contacted relevant agencies in Vietnam.
Mr. Nguyen Van Me - former Chairman of Thua Thien-Hue province – said that in 1987, when he was chairman of Hue City, he received an official letter from the Vietnamese Embassy in France about the case. The local authorities set up a council with the participation of experts to prepare documents and evidence to prove the origin of the antiques and hired lawyers to prepare for the lawsuit. Having enough evidence, the Vietnamese Embassy in France filed a lawsuit to the French court and successfully reclaimed these two antiques.
Dr. Hai told VietNamNet that in recent years the Hue Monuments Conservation Center has received a number of antiques from donors in France and 60 other antiques from local donators.
In 2016, for the first time, 71 years after Bao Dai's abdication, a large number of Nguyen Dynasty treasures were brought from Hanoi to Hue for display.
Quang Thanh - Thanh Hai - Huong Lai
(To be continued...)
1 - During the 17th century and almost all the 18th century, Dang Trong was a de facto independent kingdom ruled by the Nguyen lords while they claimed to be loyal subjects of the Le emperors in Thang Long (Hanoi).
2- The fall of Hue capital is a huge historical event for Hue people. It is also an event that changed the political life of Vietnam under the Nguyen Dynasty. This event was marked by an uprising, an ambush by Nguyen dynasty soldiers against two French bases - the Kham Su Court and the French army station in Tran Binh Dai. During this event, French soldiers slaughtered a number of Hue soldiers and people.

Mr. Hoang at a very young age was driven by a strong sense of destiny to seek old values manifested in antiques, particularly attire from Vietnam's last feudal dynasty – the Nguyen Dynasty.

Mr. Nguyen Tan Hieu, 34, in Binh Thuy district, Can Tho city has acquired a collection of around 200 valuable vintage cassettes, radios, and over 100 old kerosene lamps.