Thich Minh Tai, a 41-year-old nun, is gently lulling her adopted baby girl to sleep when the infant hears a small noise and suddenly starts.
Abandoned children find a home with nuns in Lam Dong
Nun offers home to homeless children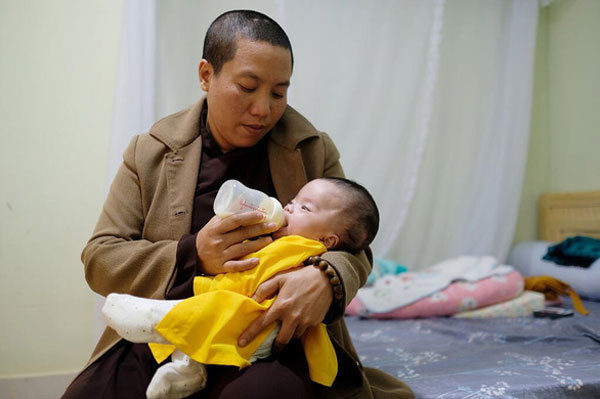 Thich Minh Tai feeds An with a bottle of milk in their room at the pagoda. — Photo tuoitre.vn
The three-month-old infant, named Trieu Hoai An, is thought to have been born in late March in Hiep Thanh Commune, the Central Highlands province of Lam Dong.
Tai, the abbess of the Hue Quang pagoda, met An for the first time at midnight on March 29 at the healthcare centre in the province's Duc Trong District.
Tai rushed to the centre after hearing about the abandoned infant from its staff. At that time, the doctors said An had only a small chance of surviving.
According to the doctors, An was brought to the centre with an unusually large head. She had an open wound on her head and her whole body was crawling with maggots. The left side of her body had a severe sunburn.
An had been discovered earlier that day by a local coffee farmer. She was abandoned in a plastic bag, dangling from a tree at the farm. The farmer immediately brought An to the healthcare centre.
Tai said that when she first saw An, the baby was breathing heavily and there were still maggots crawling around her nose.
Tai was hopeful An would live, but she knew the child's condition was fragile.
But An was resilient. She must have been in extreme pain in the three days after being abandoned but she continued to fight.
"So, I had to do something to save her life," Tai told Tuổi trẻ (Youth) newspaper.
Tài decided to bring the infant to the province's Children's Hospital for further treatment.
Nun becomes mum
A series of kind-hearted people came to the hospital to visit An with the intention of adopting her, but they all changed their minds after learning of her health status.
"The baby's heath became worse with every passing day," Tai said.
Tai considered adopting An herself, but the caring nun had already adopted 12 children since 2013. She was afraid she would not be able to afford An's medical expenses.
She mulled her options and was quite what to do. Suddenly, a proverb came to her: "The road to hell is paved with good intentions" – which in this case, her very good-willed indecision born out of the consideration for the child's ultimate well-being might be the child's very doom.
At this, she no longer felt any misgiving. She adopted An and tried her best to be An's mother.
Trieu Hoai An, the name that she gave the child, literally translates to "peaceful forever" in Vietnamese.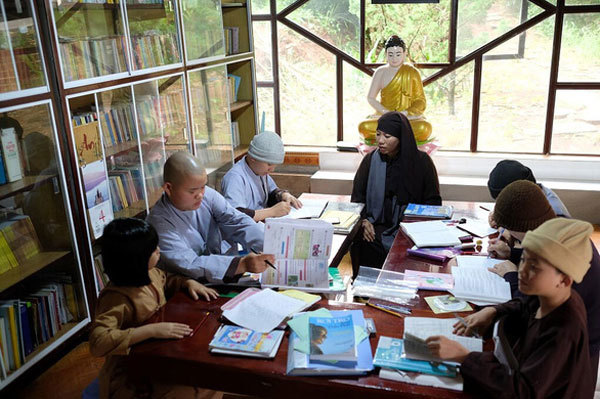 Nun Thich Minh Tai is also raising 12 other kids at the pagoda. — Photo tuoitre.vn
Treatment in Singapore
Tai took An to HCM City for more treatment, where she was diagnosed with hydranencephaly.
The rare disease is a central nervous system disorder that causes an enlarged head and neurological issues. It is reported in less than one in 10,000 live births.
After treatments in HCM City hospitals failed, Tai decided to bring An to Singapore for more advanced care. Tai raised about VND500 million (US$21,560) from generous donors to pay for the treatment.
Tai and one of her friends, Lu Bach Phung, took An to Singapore's Mount Elizabeth Hospital.
Phung said the medical fee was very expensive. They spent all the money they had just for few days in Singapore.
Tai worried a lot. She tried to reach out to international charities to get funds to save An. Finally, An's story broke through with an organisation and she received financial support.
After 10 days in the hospital, An made a remarkable recovery.
The doctors told Tai that the next step would be to drain An's head of excess fluid. They said the probability of success was low and that even if all went according the plan the surgery would not ensure she could grow up as a normal child. It would only make her life more pleasant.
"The moment I signed for An's surgery, I didn't ask much," Tai said. "I just needed An to be alive so that she could see the blue sky and white clouds every day."
After the surgery, An recovered much more quickly than expected. The doctors said it would take eight weeks for her wounds to heal, but she was ready to leave the hospital after just three weeks.
Tai took An back to Hue Quang Pagoda.
She gave the child the nickname "Hoa sen đá", meaning Succulent plant.
"I hope she will be strong like a succulent plant that always finds the sunlight whatever happens," Tai said, her new daughter sleeping peacefully in their room.
VNS