The plucky painters have travelled to Tam Thanh Village to prepare for the Tam Kỳ Sea Festival between June 13 and 16, to be held in the provinces Tam Kỳ City.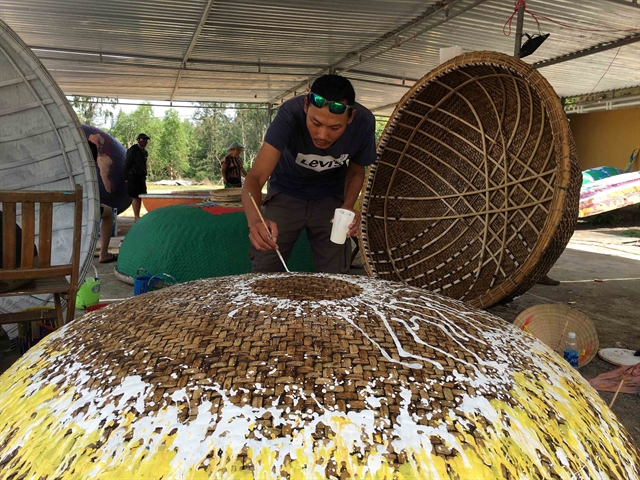 An artist works on a coracle. 
Artists and volunteers from across the country have flocked to a village in Quảng Nam Province to paint on coracle boats.
The plucky painters have travelled to Tam Thanh Village to prepare for the Tam Kỳ Sea Festival between June 13 and 16, to be held in the provinces Tam Kỳ City.
The paintings will be exhibited on Sunday to celebrate the opening of the Tam Thanh Village Community Art Project three years ago.
The project was initiated from an experimental project titled 'Developing Tourism with the Participation of Local Community in Tam Thanh' hosted by Tam Kỳ Ciy's People's Committee, with financial support from GELEX  (Vietnam Electrical Equipment Joint Stock Corporation).
Apart from 20 professional painters, the project has gathered photographers, sculptors and cultural researchers.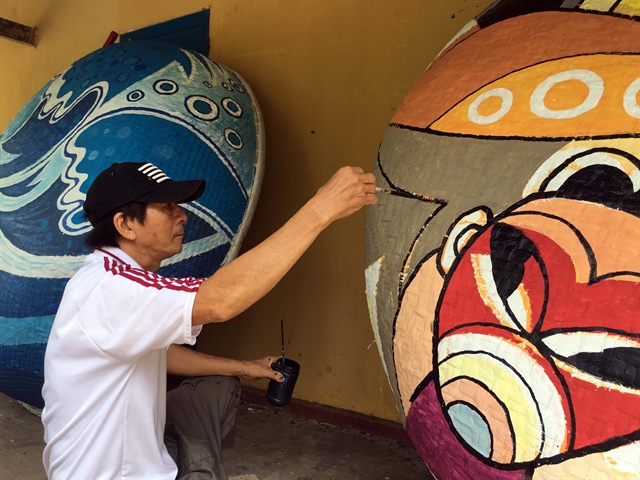 The collection will set a new national record on the first and most numbered paintings on coracles.
All 11 coracles, mostly donated by local fishermen, will be placed along Thanh Niên Road, near houses and empty land by the Trường Giang River.
The total cost for the project is VNĐ5 billion (US$214,000), and local authorities have mobilised support from enterprises and the Community Development Fund.
Tam Thanh Commune has also established trial tourism products like cruising on coracles along Trường Giang River and homestay services.
Authorities have also built proper infrastructure including a parking lot and information signposts for tourists.
A model residential area as well as spaces for displaying fishing village's culture are being established at Hạ Thanh Hamlet.
The larger project aims to introduce art into living spaces and establish a clean environment.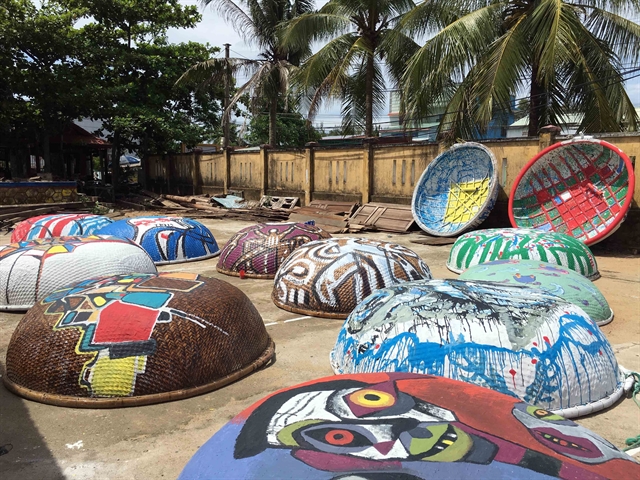 More than 100 coracles have been mobilised for the art project.
The Tam Kỳ Sea Festial will take place at Hòa Hạ Beach, Tam Thanh Commune, Tam Kỳ City and Tam Thanh Sea Square as well as Tam Thanh Community Art Village with various cultural and sport events.
A culinary festival will take place during the time together with a rendezvous of bloggers and vloggers and their campaign to advertise Tam Kỳ as a destination, an international beach volleyball tournament and a children's painting contest.
Folk singing performances, sea swimming races and a coracle boat race are also highlights at the festival.
The event aims to celebrate 20th anniversary of Hội An Ancient Town and Mỹ Sơn Sanctuary being recognised by UNESCO as the World's Culture Heritage Sites and 10th anniversary of Cù Lao Chàm – Hội An recognised as the World Biosphere Reserved Area. — VNS

"Tam Ky really is a city of dreams." That was my first impression of the capital city of the central province of Quang Nam, and I am sure many other visitors have experienced the same feeling.

Tam Thanh fishing village in Tam Ky city, Quang Nam province, has been long-known as the first mural village of Vietnam. The village is drawing a great deal of visitors for its colorful wall paintings

Painters nationwide gathered at Tam Thanh beach to create unique paintings on coracles for display during the Tam Ky Sea Festival 2019.