Private investors are being encouraged by upcoming policies in development of public-private partnership projects in the healthcare sector.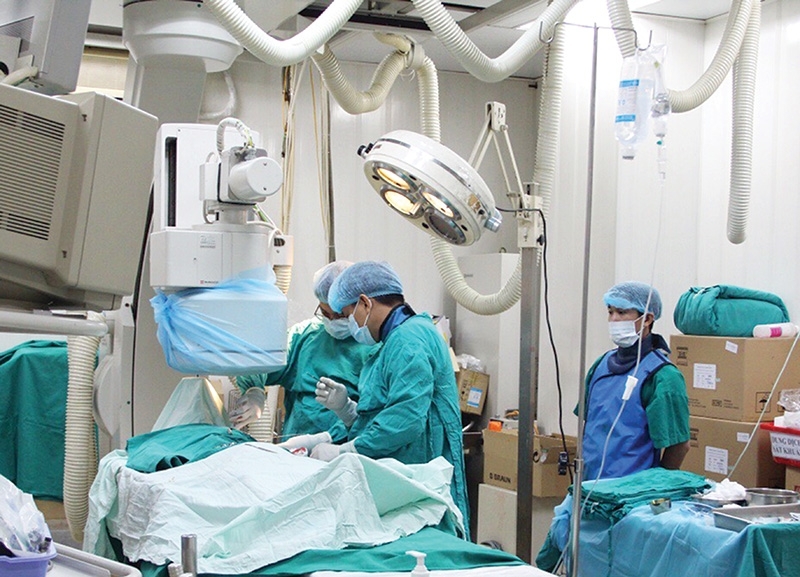 The government believes that attracting private funding through PPP is the most efficient way to develop healthcare
Over the past eight years, 64-year-old Ba Nam, who lives in the Mekong Delta province of Dong Thap, visited Ho Chi Minh City more than 20 times for check-ups and treatment, often going home with a large collection of medicines. Every time he reached the Mien Tay coach station, he often had to rush to Cho Ray Hospital or 115 People's hospital to register for a check-up.
Last time after a wait of five to six hours, Nam eventually was seen for a blood test when his stomach was extremely empty, and then other tests such as a cephalogram.
January 20, 2019 was different, when Nam decided to visit Gia An Hospital 115, the first ­public-private partnership (PPP) model between private-owned Gia An Hospital and state-run People's Hospital 115 in Ho Chi Minh City, instead. With no need to queue up for long, he soon met and was treated by a doctor who was sent there from the People's Hospital 115.
"I am so happy and surprised about how quick the process is," Nam said. "This hospital is clean and looks like a hotel, but the fee is not higher than the others. Next time I will take my wife here. She has suffered from leg knucklebone for years but is afraid to visit hospitals because of their overloads."
Nam is one among over 20 million people from other cities and provinces going to Ho Chi Minh City for check-ups and treatment every year. With around 20 million check-ups and treatment for city dwellers, local hospitals are increasingly overloaded.
Being put into operation late last year, Gia An Hospital 115 has made a breakthrough in the healthcare sector. The VND1.5 trillion ($65.2 million) hospital, which is the second facility in the Singaporean-invested Hoa Lam Shangri-La hi-tech park in Ho Chi Minh City, proves the benefits of the PPP model: easing hospital overloads, increasing service quality, and reducing money drain.
According to experts at the World Bank and its financial arm International Finance Corporation (IFC), other countries alongside Vietnam are facing growing pressures on public services, especially healthcare, when global spending in the field so far sits at over $4 trillion or 9 per cent of global GDP.
Thus attracting private investment via PPP is considered as the optimal ­solution to healthcare sector development amid growing local demands and state budget constraints.
Regulatory frameworks
Ho Chi Minh City is somewhat of a pioneer in PPP project promotion in healthcare. The city is calling for private investment in the local sector across 14 PPP ventures with the total investment capital of VND15 trillion ($652.17 million).
Despite the importance, attracting private investment in healthcare remains a tough task because of a lack of ­regulatory frameworks and ­qualified human resources, cumbersome procedures, and unclear mechanisms in using the state budget in such ­projects.
A lack of a circular guiding Decree No.63/2015/ND-CP on the PPP model has remained a concern for some time. The Ho Chi Minh City Department of Health, hospitals, and ­investors expected that the Ministry of Health (MoH) would soon issue the circular to enable them to make the next steps, while studying a suitable PPP model for the sector.
The MoH was expected to complete the document within the year to facilitate PPP ­development. However, it is possible that the ministry will have to consider a substation as the long-awaited Law on PPP is to be published in the next few months.
As standard, tasks for ­ministries will be assigned when the law is ratified, and new decrees guiding its ­implementation will be built. This means that investors will have to wait longer than ­expected as the draft law is ­expected to be submitted to the National Assembly for ­approval in October 2019.
In spite of that, the Law on PPP is expected to further leverage private investment in sectors, including in healthcare.
As shown in the first version of the draft lately introduced, never-before-seen positive changes in the government guarantee, state counter-funding, and exemption of land leasing fees are under discussion.
They are among the biggest concerns among domestic and foreign-invested enterprises considering joining PPP projects in Vietnam.
Thus far, because of the barriers, a suitable PPP model for the healthcare sector in Vietnam remains unshaped. PPP projects so far focus mostly on infrastructure, and hospital investment, while partnerships in primary healthcare and grassroots healthcare are few and far between.
Caryn Bredenkamp, senior economist at the World Bank, recommended utilising the four letters of PPPP (public-private partnership for people) instead of three, to raise people's awareness about the importance of this model and thus preventing any wrong directions in development of related projects.
Suitable funding models
The World Bank has introduced some successful PPP models globally, including in medical devices management services, management contract services, and specialty clinical or paraclinical services. The models not only bring benefits to locals but also open more opportunities for ­hospitals and multinational corporations to join.
Suitable PPP models have produced successful examples in many countries, helping optimise investment efficiency, optimise operational efficiency, and allocate possible risks.
Dirk Sommer, an expert from the IFC, said that PPP development in the healthcare sector in Australia helped cut state budget overspending from 18 to 4.3 per cent, while project sluggishness reduced from 25.9 to 1.4 per cent, compared to other projects deployed traditionally.
David Ng, healthcare expert at KPMG Vietnam, took Dharmais Hospital in Indonesia as an example of a successful PPP project.
Dharmais began operations in 1993 and faced downgrades and overloads. Because of financial difficulties, the Indonesian government decided to apply the PPP model for development of the hospital, and currently, the hospital is in the bidding process for expansion via PPP.
Former Deputy Health Minister Pham Le Tuan agreed that with PPP, hospitals can be equipped with modern infrastructure, medical devices, qualified staff, and high-quality services. So far, over VND3.2 trillion ($139 million) has been raised in PPP projects between state-owned and private-run hospitals.
Now, the growing interest from multinationals has been buoyed by the country's drug spending per capita growing from $48.39 million in 2017 to $53.54 million in 2018, and a growing middle class.
For example, Novartis and its unit Novartis Social Business is interested in partnering with the MoH in PPP projects in anticipation of the growing local demand for healthcare.
The UK's GSK, one of the world's leading research-based pharmaceutical companies, and biopharma giant AstraZeneca are also making similar moves.
As more favourable ­conditions manifest via the upcoming enforcement of the EU-Vietnam Free Trade Agreement, Vietnam's lucrative healthcare market is ­forecast to be more attractive to multinational groups.
The remainder of the issue is down to how and what Vietnam can do to create a regulatory framework that encourages ­attraction, thus enabling more private and overseas investors like Hoa Lam Shangri-La and Novartis join the future healthcare revolution of ­Vietnam. VIR
Bich Thuy