On the fringes of the world-renowned Phong Nha-Ke Bang National Park sits a quiet village which has become synonymous with rowing tourists to and from the spectacular limestone mountains and caves.
Phong Nha – Ke Bang, magnificent "Kingdom of Caves"
Quang Binh cave festival offers myriad activities in July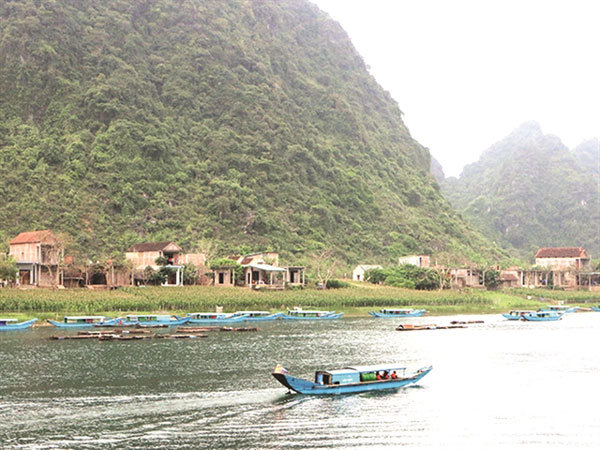 Na Village seen from the Son River in Son Trach Commune, Bo Trach District in the central province of Quang Binh. — Photo thanhnien.vn
Since the UNESCO site in the central region became a must-visit destination for anyone coming to Vietnam, people from Na Village thought it could be a chance for them to climb out of poverty but the reality is they still barely make ends meet.
The village has some 230 boats, but the rowers face competition from other villages in the commune.
With the average fee for each motorised boat trip into Phong Nha Cave staying at VND360,000, subtracting fuel costs and other fees, each rower earns about VND25 million a year on the basis of operating 100 trips during that period. During peak tourism season, each boat operates one trip every three days, while at other times of the year, they sometimes have to wait a week before they get a booking.
"During the winter or flood season, a whole month can pass without a booking," a rower named Bich from Na Village told Thanh Niên (Young People) newspaper.
Similar to many other women in the village, Bich grew up, got married, had children and took to the river to make a living.
"The income from rowing boats is really not that much. We have to borrow money when we need something, but what we make measures in mere pennies. But it's not like we have many choices here," Bich said as she gently guided the boat to the opening of Phong Nha Cave.
Once inside the cave, the motor is switched off and the rower takes over manually to guide the boat using oars.
"If the boat is full, especially with western tourists, it's quite a strenuous exercise for me. On the contrary, fewer tourists on the boat mean a more leisurely time," she said.
Empty houses
As dusk falls, most sightseeing trips have come to an end. On the Son River there are a few crude ferries the Na villagers use to gather weeds that grow at the bottom of the river as feed for their grass carp, which constitute another source of income for the locals.
Looking at the density of cages along the river, one would be excused for thinking this might be a better livelihood for the villagers, but it's really not.
Because they don't use specialised feed for the carp, they don't grow as fast as their counterparts on industrial farms.
It takes four to five years for a carp to reach its mature weight of 4kg and only then can they be sold for a profit.
Luckily, the Son River is nearly always clean and free from pollution since the source of the river is said to be within Phong Nha Cave itself.
Still, the natural feed and free-range way of raising the fish has created a "brand" for Son River fish thanks to their delicious taste and firm texture.
Contrast
On the same river, Phong Nha Village on the opposite bank is flourishing and bustling with activity, while Na Village seems to fall silent as the day gets darker and the poverty becomes clearer.
At first glance, most houses are built from brick and concrete but are unpainted and crude-looking, almost like a range of unfinished projects dotted along the riverbank.
It turns out the villagers have spent a lot - a lifetime's savings for some - on the construction of these sturdy houses, fearing that a similar destructive event like the 2011 floods would once rage along the usually docile river. Even now, in the rainy season, the residents have become accustomed to the water rising as high as halfway up their houses.
Nguyen Van Da, 65, is a former rower who now rents out his boat, meaning the already minuscule income gets split even further as he struggles to make ends meet.
"If I had the money, of course I would have painted my house already," Da said as he welcomed back his wife, who despite being 63, still works tirelessly on their little carp cages.
Their house, like most in the village, doesn't have access to tap water. They are forced to rely on tap water or bottled water, which is reserved for cooking.
According to Hoang Minh Tuyen, head of the village, Na Village has some 242 households with nearly 1,000 residents but only 5.5ha of crops and 16ha of rice.
The village's primary residents are women now as the men have moved away to make a living. Da's neighbours' houses are all locked up nearly all year round.
The "exodus", as Da called it, started years ago, and was not a good sign for the village.
Poor as the villagers may be, they are aware of their role as 'tourism diplomats' in providing services for tourists from across the world who descend on the national park.
Like many others, Da's dream is that one day tourism will truly arrive in the village and lift it from the doldrums.
VNS