Vietnam is listed among the five worst polluters of ocean plastic waste, discharging between 280,000 and 730,000 tons of plastic waste every year into the ocean, according to the United Nations.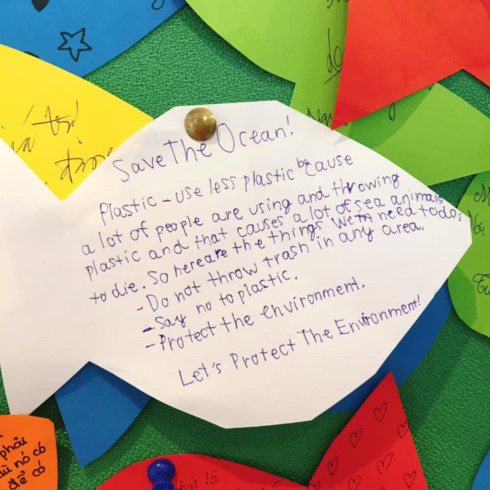 A visitor's suggestions on ways to reduce plastic waste written on a fish-shaped note at the exhibition "Save our seas" in Hanoi. (Photo: Lekima Hung)
Campaigns to reduce plastic waste are trending big at the moment.
The colorful fishes made from plastic water bottles welcome teachers and students from several schools and kindergartens who come to see more than 100 photos of plastic waste all across Vietnam at the exhibition 'Save our seas'.
Walking through the pictures, the visitors excitingly discuss and exchange knowledge about plastic waste and how it affects the life of Vietnamese people. Then, they write down how they feel on fish-shaped notes provided at the exhibit.
Some say thank you to the photographer, while some say they are sad at seeing so much plastic waste in their homeland. Some even suggest practical ways to reduce plastic waste.
At another corner, a middle-aged man named Phan Thanh Nhan is silently gazing at a picture named: "The beach of trash". Nhan says it gives him goosebumps. 
"Pictures showing beautiful beaches at dawn or sunset are very popular on the internet," he said, "But this is the first time I've seen a beach full of plastic waste. It shook me strongly. I admire the photographer for being brave enough to show that there are not only beautiful beaches in Vietnam but also ugly corners like this. That's the job of a true photographer -- to show every aspect of life."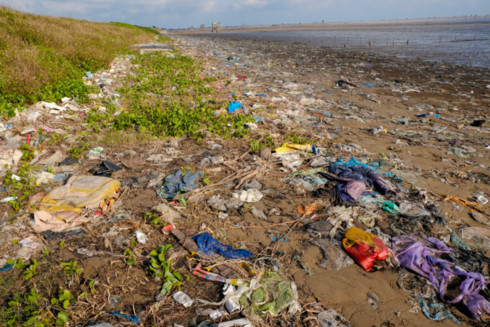 "The beach of trash" (Photo: Lekima Hung)
The exhibitor, photographer Nguyen Viet Hung, widely known as Lekima Hung, came up with the idea of taking pictures of plastic waste 5 years ago from an incident which happened to his family.
"My mother got cancer at that time, which made me do research about the causes of cancer. I discovered that single-use plastic contains BPA, a substance that can cause diabetes, infertility or cancer. So I started to study more about it. I learned that plastic is now the world's biggest concern. As a photographer and a photography lecturer, I understand that photos help spread information and raise public awareness. So, I decided to raise my voice by taking photos of plastic waste all across Vietnam," Hung explained.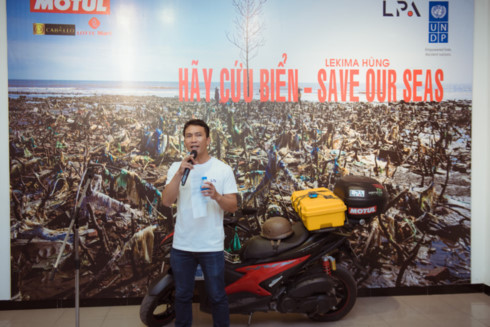 Photographer Lekima Hung speaks at the exhibition's opening ceremony. (Photo: Lekima Hung)
It took Hung nearly a year to research and map out the route. Then he spent one and a half months riding nearly 7,000 km around Vietnam on his motorbike to take over 3,000 photos of plastic waste. 
On his journey, he noticed that there is an estuary every 20km on average. It is part of a complex system of rivers and canals in Vietnam.
All the rivers flow out to the sea, so inland garbage has a greater chance to find its way to the sea. That's why Hung rode through estuaries and along the coastline of 28 provinces to capture the waste.
Among the over 100 photos exhibited, there is one which depicts a fisherman drying fish on frames built on plastic waste; one with children happily swimming in the river, where the waste is floating just 10 meters away from them; one with a little girl going home on the road full of plastic bottles; and many others, each has its own story but all share the message "Only action brings changes".
"This was a one-in-a-life-time trip for me and there were many firsts for me. It's the first time I took photos of plastic waste and rode my motorbike along the coastline of Vietnam. Each photo, each story was very unique and shocking and brought lots of emotions to me. There were some scenes that I couldn't believe exist in Vietnam," Hung recalled.
The photos also left deep impression on artist Trinh Minh Huong from Hanoi.
"I'm touched seeing these photos," he said, "Hung has done a noble job in raising his voice on behalf of many Vietnamese people. The photos show that we humans create trash, eat with it, sleep with it, and one day we will all be buried under it. So we need to take action now! I really appreciate Hung's efforts in helping raise public awareness on plastic waste."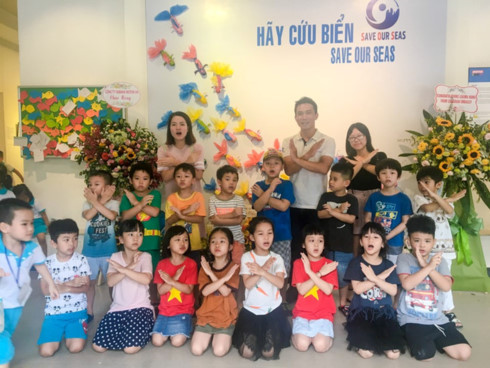 Photographer Lekima Hung and visitors do the X pose as a symbol for saying NO to single-use plastic. (Photo: Lekima Hung)
After Hanoi, Hung plans to bring the exhibition to big cities like Da Nang and Ho Chi Minh City and all 28 coastal provinces that he visited. He also wants to take it to schools to educate more children as they are the ones who will deal with the effects of plastic waste in the future.
Believing that only action brings changes, Hung is also promoting a challenge called "Zero Plastic Day", in which participants do not use any single-use plastic product in 24 hours, then challenge their friends to do so. Now, the question is: will you take the challenge? VOV5