Poor workers are now facing even more difficulties as HCM City is in social distancing period because of the latest Covid outbreak. Many are living on charity meals or having instant noodles.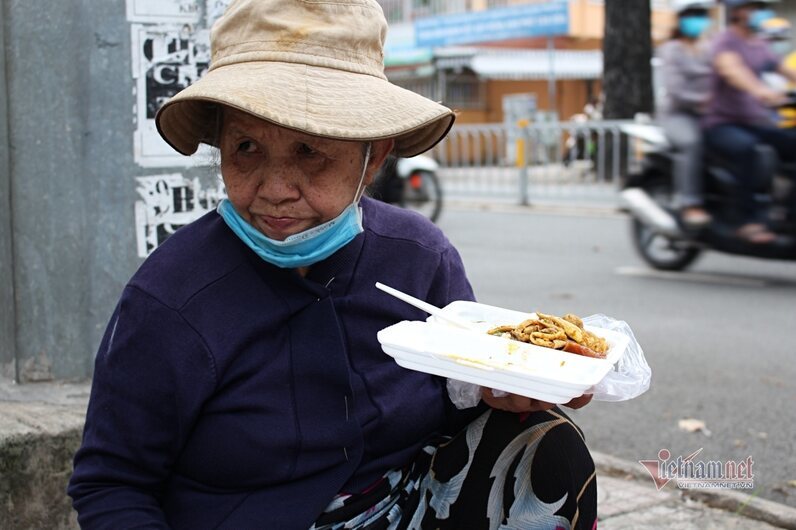 Ngoc Tuyet, 73
At midday, the sun was burning hot. Feeling a bit tired, Nguyen Thi Ngoc Tram, 74, in District 8, left An Dong Market to go to No 96 Nguyen Chi Thanh Street in District 10 to receive a charity rice meal.
Since the day the city imposed social distancing to fight Covid-19, Tram has been going there every day to get meals.
Tram said this is the most difficult time she has ever faced since she left her home village for HCM City, where she earns her living selling lottery tickets.
Tram lives in a rented room in District 8. Before the outbreak, she took a motorbike taxi from the rented room to An Dong Market in District 5 to sell tickets every day.
"The market was busy before. The money from ticket sales was high enough for me to cover basic needs," she recalled.
"But I cannot sell lottery tickets at this moment. As the outbreak gets more complicated, people are staying in their homes during social distancing and restaurants have closed," she said.
Tram is still selling tickets now, though she has arthritis and the market is deserted. However, sales are very slow. From morning to midday, the sales are just half of the number on ordinary days.
She still has to pay for a motorcycle taxi and meals. So she has to try every possible way to save money. She skips breakfast, eats charity rice for lunch, and cooks thin rice gruel or instant noodles for dinner.
At noon on the same day, Ngoc Tuyet, 73, was very hungry. She walked to the rice shop owned by Nguyen Thi Hoa, 59, on Nguyen Tri Phuong Street in District 10 to get charity food.
After receiving a box of food, she went to a roadside tree near the rice shop and ate in a hurry.
"I haven't eaten anything since the morning. The money I got from today's lottery ticket sales was not enough to buy a box of rice. All people are staying at home to prevent Covid-19. No one is buying my tickets," she said.
Tuyet doesn't have enough money to rent a room, so she wanders on the street and sleeps on sidewalks, or on the grounds of Children's Hospital No 1 at night. Unable to cook, she relies on street rice shops.
However, many shops that give free meals have closed, so Tuyet has been living on charity rice.
Not only lottery ticket sellers and scrap collectors, but vendors, home helpers, and motorbike taxi drivers have also suffered.
Cao Thi Thanh, 54, in District 4, said her job as a home helper was hard but it brought a stable wage. The income from the job, plus the money earned by her husband as a taxi motorbike driver, was enough to cover basic needs and feed their children.
However, because of the recent outbreak, she was laid off.
"People are staying at home now, and in order to ensure safety, they don't want home help anymore," she said. "I was told that I only have to leave for some days, but I don't know if I can return."
Meanwhile, her husband has seen his income drop. "He gets no orders on some days. In general, our life is really miserable," she said.
To save money, Thanh and family members don't have breakfast. At noon, her husband takes her to Le Thanh Ton – Nguyen Trung Truc Crossroads in District 1 to receive charity meals.
"We have to beg for food in the immediate time, which helps us save money. We will only think about what to do when the pandemic is controlled. It's now time to fight the pandemic," she said.
Traditional motorbike-taxi drivers have suffered a great deal. Quang, a driver, said most of them are older and are not good at technology so they are reluctant to use apps to get customers. As a result, they have become less competitive than Grab drivers.
"The pandemic and social distancing have caused our income to drop to a new low," Quang said.
Though Quang and other traditional taxi drivers want to stay at home to avoid contact, they still go on the street every day to look for passengers.
"If I don't work, I won't have money to pay for electricity and water," he said.
He parks his motorbike in the shade and waits for clients every day at the crossroads. At noon, he goes to the charity rice distribution points to get food.
Vendors are in the same situation. Ganh, 63, who has been vending on Nam Ky Khoi Nghia – Nguyen Dinh Chieu streets for 20 years, said this is the first time she has faced such difficulties. 
Nguyen Son

People nationwide have done their bit to help fight the COVID-19 pandemic, but few have gone quite as far as Ngon Duc Thang. 

The machines that sell mobile phones or collect used phones, and the apps that connect scrap sellers and buyers are useful solutions at a time when "living green" and "going digital" have become more common.