In late January, when a Covid-19 outbreak occurred in Dong Trieu Town of Quang Ninh province, urgent measures were needed to deal with the emergency.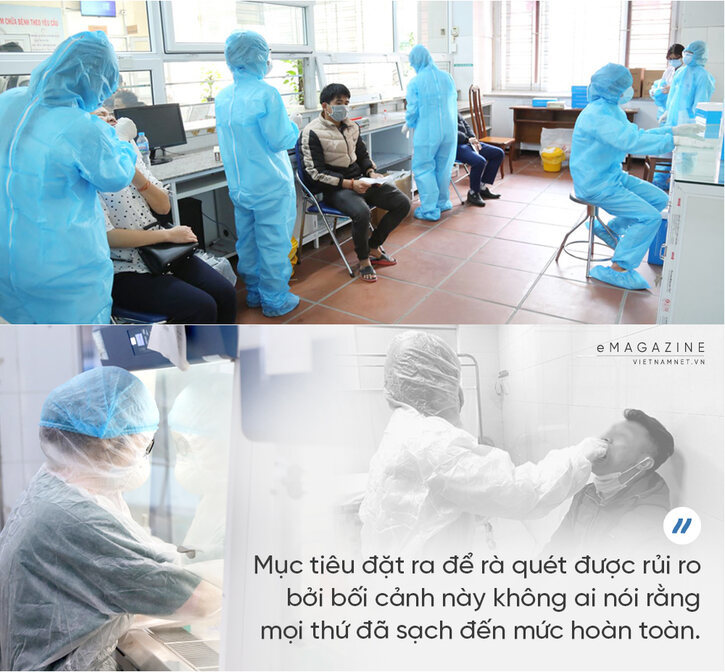 At 1pm on January 27, before getting into a car to go to the National Conference Center to attend the Party Congress, Nguyen Xuan Ky, Secretary of the Quang Ninh Party Committee, received bad news: a security officer at Van Don Airport had tested positive to SARS-nCoV-2.
Four hours later, Ky received further information: Dong Trieu Town, which borders Hai Duong, a Covid epicenter, was very likely to become a hotbed.
He was informed that 19 people with direct contact with infected patients had been found. They had had close contacts with a female patient, born in 1989, residing in Hung Dao commune in Chi Linh City in Hai Duong, who was discovered positive for coronavirus after going to Japan as a guest worker. She was a worker at Poyun Company in the Cong Hoa Industrial Zone in Chi Linh City.
But this was not all. On the next day, Quang Ninh was informed that 119 people in Dong Trieu worked at Poyun. Five days later, the figure rose to 651. And after three more days, the figure increased to 1,026.
From January 27, when the first patient was discovered, to January 29, Quang Ninh had 13 infection cases.
On the same day, the provincial authorities decided to impose social distancing for the entire Dong Trieu Town and a lockdown for Binh Duong commune (bordering Chi Linh City) for 14 days.

With speedy measures and testing contacts and high-risk cases, as well as zoning infected areas, the outbreak in Quang Ninh was controlled within one week by February 9.
As of 5pm of February 2, Dong Trieu Town had reported 15 infection cases. And 35 other cases connected to Dong Trieu were discovered in other cities and provinces.
Urgent meeting at epicenter
On February 2, Party Committee Secretary Nguyen Xuan Ky and Chair Nguyen Tuong Van were present at the Binh Duong epicenter. They were accompanied by Chief Commander of the Provincial Military Headquarters and the Director of the Provincial Public Security.
"If we had not gone to the epicenter, we would not have known what was happening and how people were living," Ky said.
"We were equipped with protective clothing and face masks and we tried to keep a safe distance. It was just like a miniature society, where people still were doing the usual activities, going to karaoke shops and cafes, and selling souvenirs," he said.
"I immediately called an urgent meeting with 21 communes and wards, asking to stop this. A deputy director of healthcare department was sent to the epicenter. There was one medical worker in every hamlet," he recalled.
With speedy measures and testing contacts and high-risk cases, as well as zoning infected areas, the outbreak in Quang Ninh was controlled within one week by February 9.
Contact tracing is key
Thorough contact tracing was one of the actions strictly observed by Quang Ninh authorities. Ky said Quang Ninh strived to trace back to even F5 contacts.
"Dong Trieu has a population of 200,000 and 20 out of 21 communes had an infected person considered F0. If the tracing could not be done urgently, everything would have been chaotic," he said. 'Soon after discovering Dong Trieu's situation, we tried to trace to F5 contacts but we actually traced to F3."
The Party Committee Secretary remembers the first difficult days when Quang Ninh was not subject to a large-scale testing campaign.
"The declaration of Covid outbreak should have been made in both Dong Trieu and Chi Linh, not only Chi Linh, because the two localities once belonged to one administration unit. The Poyun factory is located in Hoang Tien Ward of Hai Duong, adjacent to Bac Ma hamlet in Binh Duong commune in Dong Trieu," he explained.
The two communes share the same market, and the same road and canal where people come every day to wash clothes. And 1,000 out of 2,600 Poyun workers are from Dong Trieu.
At a meeting with the National Steering Committee on Covid-19 Prevention and Control on February 4, Quang Ninh asked for a large-scale testing campaign as positive infections had been found in all five localities, including Dong Trieu, Uong Bi, Cam Pha, Ha Long and Van Don.
"We are grateful to Deputy Prime Minister, head of the steering committee, for his agreement to the large-scale testing campaign which helped extinguish the hotbed quickly," he said.
As Quang Ninh now has controlled the outbreak, the province has resumed some activities since March 2, operating in a "new normal" situation.
The province has set up six testing centers in six areas and has encouraged people to take tests. 
Quang Ninh Party Committee Secretary: Quang Ninh has not had to call for help to 'rescue' farm produce, though Dong Trieu is a large farm produce center in the province. Potatoes and carrots have been selling as usual, and no peach or kumquat tree has been thrown away. At least 98 percent of farm produce has been harvested. Quang Ninh both fought the pandemic and maintained production at the same time.
Luong Bang - Pham Cong

Minister of Health Nguyen Thanh Long has warned that Vietnam remains at high risk of COVID-19 infections from abroad as the number of cases in many countries keeps rising.

Many domestic and foreign organizations and businesses have contacted the Ministry of Health to suggest providing vaccines against Covid-19.