The Fourth Industrial Revolution brings not only new issues, but also possibilities for Vietnam's education and training sector to improve its quality in order to overcome the thirst for high-level labour.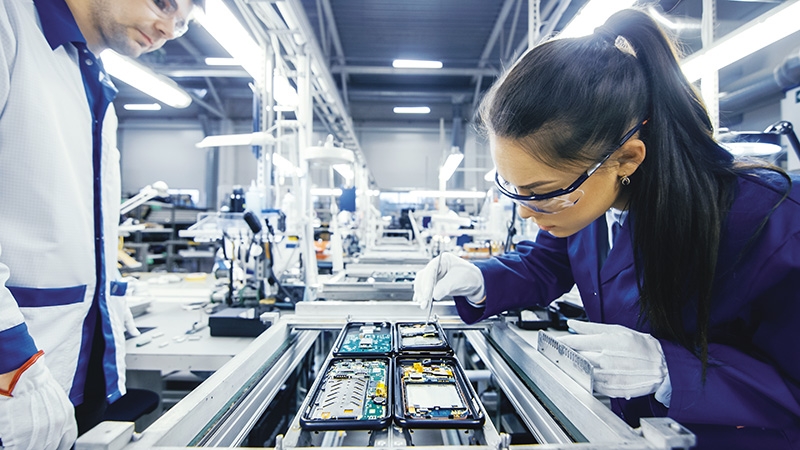 Education and training is at the core of success for students moving into work
Despite pouring her heart and soul into the field of ­education, Jennie Hoang Phuong – chief marketing officer of the INTEK Institute of Applied Technology – has to admit that she feels very worried at a time when the "brain drain" situation in Vietnam seems to be getting worse.
"This is partly due to the fact that the quality of training has not really met the actual needs of businesses, the ease of enrolment at universities and especially the shortage of experience, soft skills of the students," said Phuong.
She lamented that the first INTEK enrolment received thousands of applications, but after the entrance exam, there were only 13 eligible students. At the end of the first year of study, this number has decreased to five students.
Despite a lot of difficulties, Phuong said that she and INTEK are still consistent with the way they are going about their business because their goal is to create the leading technology manpower in Vietnam to supply the international market, accepting that the path of determining quality education must be a long one.
Phuong's anxiety is reasonable. As reported by the Ministry of Labour, Invalids and Social Affairs last year, Vietnam has more than 100,000 unemployed students each year and up to 60 per cent of university graduates take jobs unrelated to their major. Despite the large number of graduates, many businesses complain about the difficulties they face in the recruitment process and up to 41 per cent of employers have not been able to recruit a sufficient number of qualified candidates. It shows there is a mismatch between the level of skills and employer demand.
The 2018 Asian Development Outlook report from the Asian Development Bank showed that the shortage of labour skills is considered a barrier to foreign direct investment attraction and business activities in Vietnam. In addition to being underestimated in terms of expertise, Vietnamese workers also lack soft skills such as foreign languages, critical thinking, and IT skills.
According to this year's Global Competitiveness Report from the World Economic Forum, Vietnam was ranked 103rd in terms of skills and 102nd out of 141 countries in terms of vocational training quality in the report. Although this ranking is much improved compared to 2018, Vietnam is still behind Laos and far behind other Southeast Asian countries such as Singapore, Malaysia, the Philippines, and Indonesia.
The demand for labour resources will not stop at those who have degrees and certificates, but also human resources trained from international standard programmes, fully equipped with the knowledge and skills to meet job requirements in a global environment, and able to compete with workers from other countries around the world.
Valentina Barcucci, labour economist at the International Labour Organization, said that many of the challenges for sustainable employment in Vietnam's labour market will be addressed with skills. Meanwhile, the vocational education system is also forced to innovate to support workers to meet market requirements.
Explosion of training models
One of the first moves by the government for the education sector was the implementation of the national foreign language project, with the aim of ensuring all students learn English from first grade. The Ministry of Education and Training also worked with many organisations and universities from around the world to train and improve English for nearly 1.2 million teachers.
In parallel with this, talk events and seminars on education with the participation of representatives from universities and high schools across the country were also organised to find solutions on how to improve the quality of labour resources to prepare for the Fourth Industrial Revolution.
Dr. Nguyen Huu Huy Nhut, vice director of the University of Economics Ho Chi Minh City said, "The quality of human resources must come from education, especially higher ­education. International co-operation in education is considered an optimal plan to help solve the difficulties of the quality of Vietnam's human resources today."
According to Minister of Education and Training Phung Xuan Nha, many affluent families pay hefty tuition fees for their children's education, sending them to the best and most advanced educational environments. As of 2018, ­approximately 160,000 Vietnamese were studying abroad and nearly 28,000 pre-schoolers and students were attending international preschools, inter-schools, and universities in the country. This has made Vietnam a fertile ground for educational investors with an explosion of international-based training facilities owned by both domestic and international investors.
The domestic private education system recognises the participation of many large corporations in Vietnam. These include Nguyen Hoang group – a professional education investor with more than 40 educational facilities, and featuring a closed training system from kindergarten to doctoral levels.
Other names also entering the private education scene include Vingroup's Vinschool, with 27 campuses from elementary to university level; FPT Corporation with their FPT inter-school system; TH Group with TH school; cement manufacturer Xuan Thanh with Japan International School; and the participation of plenty of other investors such as Viet Hung and Sunshine Group.
The introduction of the amended Decree No. 86/2018/ND-CP allows foreign educational institutions in Vietnam to receive a maximum of 50 per cent of Vietnamese students, instead of 10 per cent for primary schools and 20 per cent for middle and high schools as before, breaking the limit that was once considered a major obstacle for foreign capital inflows into the education sector in Vietnam.
The move has encouraged world-renowned international educational corporations such as Kinderworld Group, BUV, RMIT, Mudd Harvey, and more than 450 English language centres owned by foreign investment funds to expand their presence in Vietnam.
Joint partnerships
In order to proactively solve the problem of scarcity of high-quality human resources, many Vietnamese enterprises have associated with universities, colleges, and intermediate schools with the purpose of training and recruiting workers according to their own requirements.
As soon as Vingroup announced its entry into the aviation market, it immediately co-operated with Canadian group-based CAE Oxford Aviation Academy to set up the VinAviation High-tech Human Resources Training School to train pilots, flight technicians, and flight attendants.
FLC Group works with RMIT University to train highly-qualified human resources in all core businesses including real estate, aviation, finance, technology, and tourism. Meanwhile, INTEK entered partnerships with several tech enterprises to ensure an efficient output of students.
In the field of travel and tourism, Saigontourist is considered a good example of a self-sufficient source of high-quality human resources for its business activities through the School of Tourism and Hotel Saigontourist. Elsewhere, Intercontinental Nha Trang, Sheraton Nha Trang, and Imperial Group also recently collaborated with a number of universities to train human resources for their hotels and restaurants.
In order to encourage educational establishments to improve training quality, and to promote excellent individuals to make more efforts to become highly-skilled workers in the future, many businesses have established scholarship funds for outstanding students at many universities in Vietnam.
For example, the Fostering Young Talents scholarship fund from the State Capital Investment Corporation is available to students of financial schools to promote the growth of human resources of the Vietnamese financial market in the future. Meanwhile, the Science and Technology Scholarship Program for Overseas Study for Master's and Doctoral Degrees from Vingroup commits to award 1,100 full scholarships to Vietnamese people in order to study in leading sci-tech countries.
In addition, there are other programmes such as the scholarship fund of INTEK, the Lotte Group's Live Your Dream scholarship, and the Erasmus Plus Scholarship funded by the European Union.
These, along with other activities, are considered meaningful ties to help young Vietnamese workers become ready before actually entering the professional working environment, with the stringent requirements that Industry 4.0 demands.
Dang Thi Mai Trang - Chief representative Institute of Chartered Accountants in England and Wales
In order to maintain high growth and ensure sustainability, Vietnam should prioritise improving the quality of human resources and increasing labour productivity via innovations. Industry 4.0 is taking the world by storm, thus the acceleration of application of sci-tech in all economic sectors needs to be prioritised.
A long-term HR development strategy is essential for all enterprises in the 4.0 era. For example, in the financial sector, when financial services change as a result of impacts from AI, blockchain, cybersecurity, and big data, accountants must also change their role and master new skills. In Vietnam, our mission is to enhance the professionalism of the financial, accounting, and auditing sectors, in addition to contributing to the development of the business community and the Vietnamese economy.
Bui Vu Thanh - Founder of Embassy ­Education and Little Em's
International education is important, but it cannot be without strong integration of Vietnamese culture, and a way for a child to understand their roots.
Vietnam has so much to offer the world. Challenges are inevitable when we bring international philosophies and approaches to Vietnam, because we cannot replicate directly but we must contextualise into our unique Vietnamese setting. This is often an issue because viewpoints and mindsets can be poles apart but it is through our values at Embassy Education that we have been able to overcome these difficulties and win the trust of our global and local partners.
When we place children at the centre, we will always find the solution. However, our work has just begun, and our goal is to connect with the community and to build a strong, compassionate, inclusive, and open environment where learning can thrive.
Simon Matthews - Country manager ­Vietnam, Thailand, and ­Middle East Manpower Group
It sounds contradictory, but automation is foreseen to replace humans in many areas and create more job opportunities at the same time. According to the Talent Shortage Survey 2018 conducted with nearly 40,000 employers in 43 countries and territories, soft skills including problem-solving, organising, customer services, and leadership are human strengths that cannot be replaced by machines. These are also the most valued and hardest to find soft skills in the 4.0 era.
One of the solutions to tackle the talent shortage is training internal workforce. Vietnam is not an exception. Despite having a young and abundant workforce, they still cannot meet employers' requirements. Therefore, possessing in-demand skill sets is the key factor for the ­Vietnamese workforce to ­survive and thrive in the ­digital age.
Phan Chinh - CEO, INTEK
While Vietnam's PISA ­ranking in mathematics and science is high and above most OECD countries, only 17 per cent of IT graduates in 2017 could find a job in this sector.
This is a real waste considering that 70 per cent of the population is below 35 years old. They represent Vietnam's future and in the context of 4.0, IT education needs not just a transformation but a revolution.
Currently, there is a mismatch between the skills IT students acquire upon graduation and the skills the industry requires. So, to become an export nation with skilled IT resources, the related education needs to address many issues.
The current IT education system is still lagging while the IT labour market is in a very high demand. Unlike other Asian countries, Vietnam has some unique assets and potentials, such as its young population, its high-quality elementary and secondary education system which is available nationwide, and the relative low cost of living.
As result, there is room for international investors in education. The government should play a key role in this eco-system. It has already carried out some key reforms such as encouraging vocational training schools, boosting the internet infrastructure to also reach remote areas.
However, it can do more by setting up a more flexible legal framework, unlocking silos which will help all key education players to work closely together, boost ­collective intelligence and build a future-ready IT labour force. VIR
Hoang Oanh 

The EU-Vietnam Free Trade Agreement (EVFTA) is poised to help Vietnam both create more job opportunities and improve the quality of her labor force. However, the road ahead is really tough.

The Overseas Labor Management Department, under the Ministry of Labor, Invalids and Social Affairs, has warned of risks for local laborers who illegally go abroad for work, especially in Japan, South Korea and Singapore.