The tourism industry has become paralyzed and many eateries have shut down because of Covid-19. This has adversely affected the consumption of drinks, especially alcoholic drinks.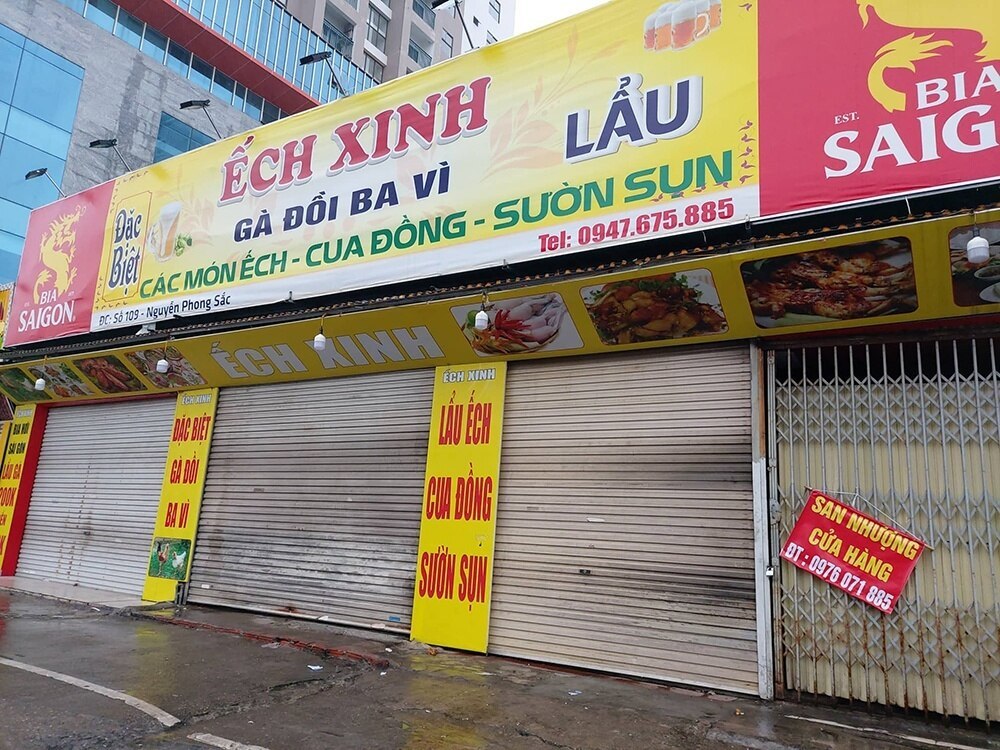 Many eatiers have closed their doors
The Vietnam Beer, Alcohol, Beverage Association (VBA) has reported that more than 85 percent of enterprises are facing serious difficulties as products remain unsold, inventories are on the rise, the revenue is on the decrease, and hundreds of thousands of workers have been affected.
Duong Nhu Quang, Director of Hai Ha Co Ltd in Ninh Binh, said that tourism has been developing very well in the province in recent years, so the company had been growing well until 2020.
But things are different. Because of Covid-19, a lot of hotels have shut down while tourism sites have closed their doors. Revenue dropped sharply by 39 percent in H1 2021 compared with the same period last year, while profit decreased by 10 percent. The sale network was disrupted, while workers' income decreased.
Le Anh Tuan, director of Hanoi-Thanh Hoa Beer, said the company was always a big taxpayer. Thanh Hoa is a populous province which has great advantages in sea tourism development, so the consumption of drinks was always very high.
However, since 2020, when Covid-19 broke out, and Decree 100, which imposed heavy fines on drunk drivers, the production and business of the company has been facing difficulties.
Huynh Van Dung, General Director of Sai Gon - Mien Trung Beer JSC, complained that the fourth Covid-19 outbreak, which has had a big impact on a large scale, has caused more serious damage to the production and business than previous outbreaks.
He said that revenue has dropped dramatically since May. Prior to that, his company, like others, stored large volumes of goods to prepare for the high summer tourism season. However, their plans have been upset because of the outbreak which began in late April.
In such conditions, enterprises have to reorganize their workforce to cut costs and shift to sell products online.
"The biggest problem now is that we have no more financial resources to support and retain sale points (restaurants and eateries)," Dung said.
"Most of them are private business households whose major income is from the sale of drinks. They are facing a lot of difficulties," he added.
Enterprises complain that their situation has become even more serious because of regulations set up by localities. The regulations have been set to fight Covid-19, but have caused disruption in goods circulation.
Beer and soft drinks are not considered essential goods, do they don't get the priority go-ahead in circulation and trade.
Some localities have issued regulations which say that only trucks carrying food and foodstuff products enter their areas, or go through their areas, while beer and soft drink trucks are prevented.
The enterprises said though they have begun selling products online, this only works well in urban areas, and doesn't fit rural and mountainous markets.
They have called on the Government to not raise taxes and fees during the current difficult time, not raise land rents in industrial zones (IZs), and not collect trade union fees until the end of 2021. Also, they have called for policies to support workers in the enterprises and drink sellers who have had to stop operation as they don't have other sources of revenue.
Vu Duc Nam from the Ministry of Industry and Trade (MOIT) said that drink manufacturing is an important business field which makes a big contribution to the state budget. The beverage industry grew well in 2016-2020 by 5.8 percent per annum. However, its production has been adversely affected since 2020 because of the pandemic and related policies.
Production and business recovered in Q1, but has again been hit hard by the fourth pandemic outbreak since mid-Q2. The performance of the beverage industry in H2 is expected to be gloomy because of the complicated developments of the pandemic. 
Tran Thuy

A restaurant in Vinh City, Nghe An Province is offering hundreds of meals every day for Covid-19 frontline workers.

In the current context, the hotel-hospital model helps authorities to reduce the pressure on hospital beds, and private hospitals can join hands with the health sector to participate in the fight against the epidemic.