Nong Van Chuyen, a member of the Tay ethnic minority group, has forged a reputation in the running community for his skill, hard work and creativity, which have allowed him to make running his livelihood.
More than 5,000 runners compete in Hanoi Marathon - Heritage Race 2019
Vietnam Trail Marathon in Moc Chau to draw 1,900 runners
Nong Van Chuyen in a recent marathon. He is happy that he can earn a living through his passion. Photo courtesy of Nong Van Chuyen
Before a competition, most athletes focus on the task at hand. But Chuyen, ranked among the elite runners, enthusiastically advises the other competitors and helps them acquire running gear.
Besides competing, Chuyen takes big races as an opportunity to sell goods so he can live off his passion.
Getting his start
Chuyen, who was born in the northern mountainous district of Trang Dinh in Lang Son Province, came to running in 2013 when he was working as a masseur in HCM City.
He did not make much money, but he set some of it aside to register for the 10km race at the first edition of the HCM City Marathon.
Chuyen loved racing, and he finished with a good time of 44 minutes. Since then, he has competed in more and more events, working at night and training during the daytime.
In 2015, Chuyen returned to the north to take care of his sick mother. Later, his mother died of kidney disease later the same year at the age of 38. Chuyen was 20.
After his mother's death, Chuyen dropped out of HCM City University of Sports to return to Lang Son to work in imports and exports and get married.
However, his job trading at the border gate in Lang Son didn't interest him.
"I didn't enjoy the work at home," he said. "And I could not stop thinking about running. Training conditions at home were not good so I decided to find another job that would let me live my dream."
Chuyen left Lang Son, finding work at a paper factory in the northern province of Bac Ninh.
"Near my working place, there is a very nice road so I can work and run comfortably," said Chuyen.
Chuyen registered to take part in the 10km and 21km races at many marathons in the north and became an elite amateur runner with the nickname Tốc Ca Ca.
He won the 10km at the Long Bien Marathon in 2016, the Hạ Long Marathon in 2017-19 and the Ciputra Marathon in 2017. He also won the 21km races at the Long Bien Marathon in 2017 and the Viet Nam Trail Marathon in Moc Chau this year.
Trainer
In 2016, one of Chuyen's friends offered him the chance to be a trainer at his gym. He left his job at the paper factory and came to Hanoi to help people become better runners.
To make extra money, Chuyen started holding running classes and training session at the city's Thong Nhat Park.
The first class attracted around 10 runners with the fee of VND300,000 per month for each person.
As he was training runners, Chuyen realised they needed a place to buy quality sports equipment. He and his wife starting selling running shoes, shorts, t-shirts, stopwatches, reflector belts and sunglasses.
Chuyen said he ordered the goods online to sell them to local runners.
Thanks to his experience and knowledge of running, he has been able to find quality products and offer them to customers at good prices. He also offers his professional advice.
"I want each good my clients buy to be in accordance with his or her targets and demands," he said. "Every person will have their own demands in running. Sometimes, my store doesn't have products which are comfortable for the customer so I advise them to wait for me to find another product."
Chuyen has expanded from a small sporting goods store to a large one on Hanoi's Dao Tan Street.
"My shop now has turnover of around VND600 million (US$26,000) per month and I employ four people," said Chuyen. "I have also opened a second store in Hanoi with the name Tốc Sport and I will open another one in HCM City."
Chuyen's training courses at Bach Thao Park, Thong Nhat Park and Hoan Kiem Lake have helped him create a network of customers.
Every Thursday, Chuyen teaches beginners the basics and instructs runners who want to improve their performances. He also offers expert advice about sporting goods and training regimens.
Although Chuyen is busy with his business, he still trains for three to four hours per day. He runs from 5am to 7am and from 4.30pm to 6pm.
"Running has helped me give up unhealthy habits," he said. "I love running. I have collected around 100 medals from marathons around the country."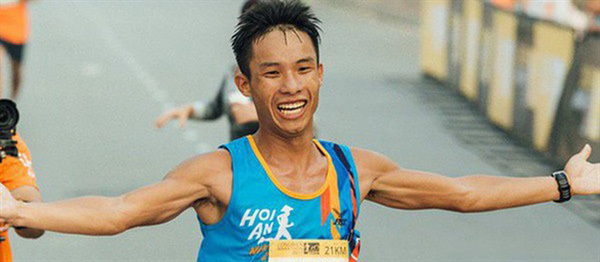 Running has helped Chuyen give up his unhealthy habits and lead a happy life. Photo sr.com.vn

"Every one of us has a starting point," he said. "I experienced a hard childhood being born in a remote mountainous region far from civilisation. However, I had a passion for running since I was small. Now I am happy to have made my passion my job." VNS
Lam Giang