Filmmakers have reacted to a recent proposal by a NA Deputy to stop screening films or revoke licenses if artists in films commit ethical violations.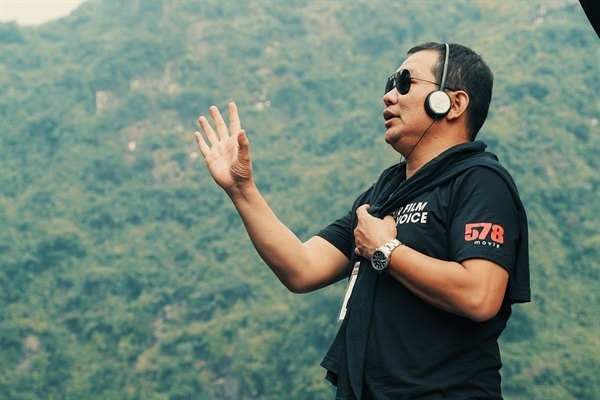 Director Luong Dinh Dung
National Assembly Deputy Le Thu Ha has stirred debate among artists and filmmakers with her proposal to stop screening films if artists are engaged in scandals.
At the discussion about the amendment of the Law on Cinematography on October 23, Ha said what is happening in China could be a lesson for Vietnam. The Chinese administration is running a campaign to get rid of celebrities with deviant lifestyles in a plan to improve quality.
"Artists need to do their best to protect their prestige and images before the public. Artists must have virtue first, and then talent," Ha said.
She proposed that cinematic works be stopped or have their licenses revoked if artists violate political security ethics or have unreasonable language.
The proposal has raised reactions among filmmakers who understand that they will suffer if their films cannot be screened because of actors' scandals.
Currently, all movies have to go thorough censorship by a national council before they hit screens and they are prohibited from screening if they violate the provisions of the Law on Cinematography. No case of film licenses being revoked because of violations in political security or language has ever been reported in Vietnam.
Any halt to screening only occurs if films are discovered as having serious problems in content, or if they are boycotted by audiences.
Future not bright for Vietnam's film industry
Vu Phuong, the producer of Hai Phuong (Hai Phuong) and Nguoi bat tu (The Immortal), said she supports the idea that the State should ask artists who have major influence on the public, especially youth, to preserve their image, moral virtue and healthy lifestyle, and upgrade their knowledge to devote themselves to the art.
The behaviors of artists may cause adverse effects because of the "idol culture". She admitted that she sometimes got involved in scandals because some individuals of teams committed unreasonable behavior or made unreasonable statements.
In these cases, Phuong had to spend a lot of money on settling the media crisis to minimize the losses of the films. So, actors and artists must protect their images before the public.
However, the producer opposes the proposal by the National Assembly Deputy. "It would be unfair if films are stopped just because of scandals of one or just some individuals," she said.
She said that films are collective products and other members of the teams, who are innocent, must not bear the consequences caused by violators. The decision on halting the screening of films will cause serious consequences to the entire team and bring losses to producers.
In Vietnam, in contracts signed between filmmakers and actors, provisions say artists must protect their image before the public and their personal lives must not affect film projects. But, in fact, when scandals occur, only producers have to spend money to deal with crises by restricting the presence of some artists in media campaigns. Meanwhile, artists don't have to pay for media crisis settlements.
In principle, artists must pay for the losses they cause to film projects. But will they have the money to compensate for the losses to films that have investment capital of VND30-40 billion, if their remuneration is just 1/50 of that amount? In general, producers don't want to spend time to pursue lawsuits against artists to claim back the money.
She warned that the proposal, if approved, will bring a "not bright future" for Vietnam's film industry, because investors will turn their backs to cinema projects, and the number of film projects will decrease.
Losses for producers
Agreeing with Phuong, Luong Dinh Dung, another producer said films are cinematic works of collectives, i.e. thousands of individuals participate in the production of a film and create one art work. Therefore, it would be unreasonable if the labor of thousands of people is not recognized.
He explained that it's difficult to control many members of teams who are from different places and work under short-term contracts. And if scandals occur, individuals won't have the money to pay compensation.
Also according to Dung, one film has investment capital of tens of billion of dong on average, and in the future, there will be film projects capitalized at tens of millions of dollars. It would be a big waste if the money is thrown away just because of the faults of some individuals. 
My Anh

National Assembly (NA) deputies have proposed halting screening or removing licence for cinematic works whose artists violate political security ethics or language.

With the explosion of online movie platforms, the management of online movies is much more difficult.