Vietnam has some of the world's most diverse wildlife, but the country's rare species are in grave danger from traffickers.
Wildlife trafficking cases continue to increase in Vietnam
Wildlife crime becomes more serious in Vietnam
Hanoi statement to fight illegal wildlife trade under review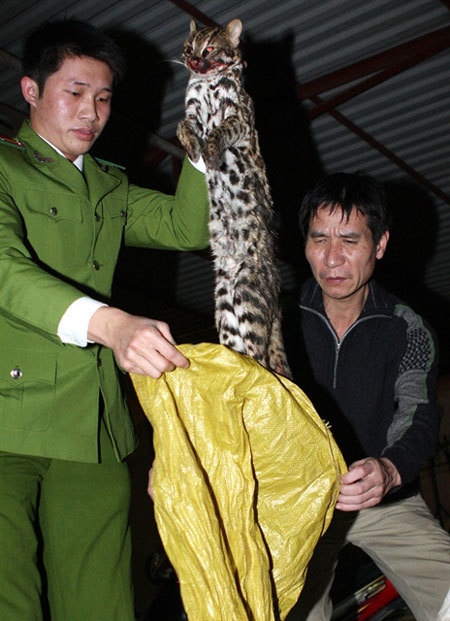 Environmental crime police in Dong Da District, Hanoi hand over a wildcat to a staff member at the Ha Noi Wildlife Rescue Centre. The cat was rescued from an animal trafficker who bought it into the city's outer district of Dan Phuong to sell in the inner city. — VNA/VNS Photo Tran Viet
Statistics from the Education for Nature – Vietnam (ENV) highlight how dire the situation is for many animals in Vietnam.
Rhinos are extinct in the country; there are no more than five tigers left; less than 100 elephants live in the wild; and 16 out of 25 primate species are in critical condition. Meanwhile, hundreds of bears live in captivity and many other rare and endangered wildlife species are threatened by the illegal wildlife trade.
According to the International Union for Conservation of Nature (IUCN), before the 1980s Vietnam's marine turtle population was in rude health, with tens of thousands of turtles laying eggs every year.
Now, the numbers have declined dramatically, as only 200-300 turtles bear eggs per year on Con Dao Island, while the provinces of Quang Ninh, Quang Tri, Binh Dinh and Ninh Thuan record only 10-20 laying turtles year each.
The ENV said that among the five species of sea turtles in the country, the Hawksbill sea turtle population has severely decreased due to humans hunting them for their shells, having fallen 80 per cent in the last century.
Vu Thi Quyen, ENV director, said: "Rhino horn or other wild animal products are believed to have healing properties, but there is no scientific evidence for this."
Despite having no wild rhinos, Vietnam is one of the largest markets for rhino horn in the world. The use of rhino horn had led to the extinction of rhinos in the country, and continued to aid the massacre of rhinos in Africa at alarming levels, said Quyen
A staggering 56 per cent of Asians arrested in cases related to South African rhino crimes are Vietnamese, according to the ENV.
In recent years, criminals have even started selling wild animal products online and last year, the ENV reported nearly 800 cases of violations related to wild animals on the internet.
At an anti-wildlife trafficking conference in the UK in October last year, the Ministry of Agriculture and Rural Development recognised the urgent need to better protect this precious natural resource.
While the ministry called for co-operation between various stakeholders and the use of technology in the fight against organised wildlife trading criminals, more must be done to end the endangered wildlife trade.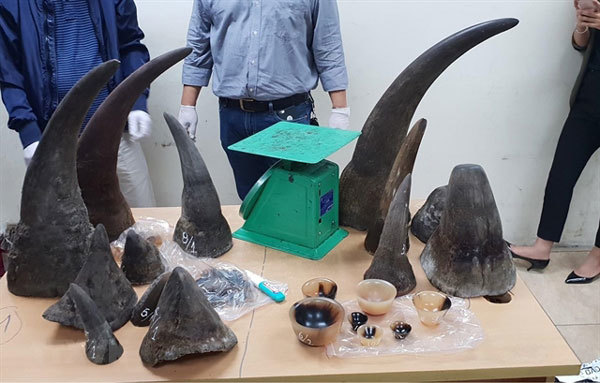 Rhino horns confiscated at Noi Bai International Airport in Hanoi from a package sent from South Africa to Vietnam. — VNA/VNS Photo
Rampant
Several cases of illegal wildlife trafficking on a huge scale have been reported recently, bringing the issue into the limelight.
Last month, Singapore customs officials seized a shipment of 12.9 tonnes of pangolin scales en route to Vietnam, the largest single shipment of the critically endangered animal found in five years.
Further back in October last year, authorities in Da Nang discovered a shipment of about 10 tonnes of ivory and pangolin scales imported from Nigeria.
These incidents seem to be the tip of the iceberg.
Statistics of the Vietnam Association for Wildlife Conservation showed that from January 2013 to December 2017, Vietnam recorded more than 1,500 crimes related to the illegal wildlife trade.
More than 41,300 animals and their products were seized, 1,461 law violators were discovered and 432 of them were tried criminally. Fines for violations related to wildlife protection reached VND16 billion (US$683,800).
Getting tough
Vietnam has cracked down on the trade in recent years, starting with tougher sentences for traffickers.
The Criminal Code 2015, revised in 2017, increased the punishment for trafficking and advertising wild animals and their products to a maximum 15 years in prison from seven years as regulated in the Criminal Code 1999.
The Nha Trang People's Court in the central province of Khanh Hoa in June last year sentenced Hoang Tuan Hai, 47, to four years and six months of imprisonment for trading more than 10 tonnes of turtles.
Hai's sentence was the harshest Vietnam has ever handed out for a sea turtle-related crime.
More recently, on May 14, the Lao Cai City People's Committee sentenced three people from eight to 10 years of imprisonment for trafficking more than 20kg of rhino horns.
Improving supervision
In addition to tougher laws, efforts have been made to make catching criminals easier.
The Department of Forest Protection under the Ministry of Agriculture and Rural Development has proposed developing software to collect wildlife crime statistics to better project where and when crimes will occur.
Nguyen Van Thai, director of the Centre for Wildlife Research and Preservation, said domestic and international conservation organisations operating in Vietnam have also proposed some new regulations to protect wildlife.
They recommended fines for people illegally setting up camps in forests, and heavier punishments for people using traps, hunting tools and hounds in forests.
ENV has also pointed out that co-operation between citizens and authorities is crucial to protecting wildlife.
ENV director Vu Thi Quyen called on e-commerce sites and online shopping applications in Vietnam to build monitoring systems and remove illegal animal sales posts.
She also said everyone should speak up and report wildlife violations to local authorities or on the free hotline 1800-1522.
VNS