Lured in by the feed-in tariff of 9.35 US cents for solar projects, investors are lining up for approval to generate gigawatts of power in the central provinces of Vietnam where solar irradiation is the strongest.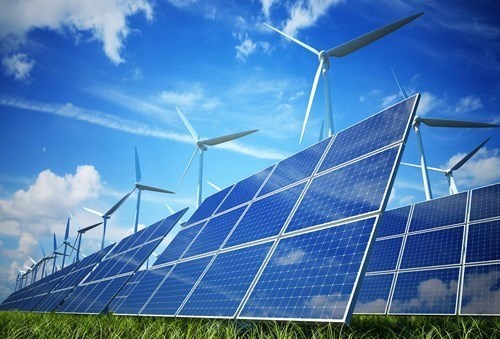 The national grid cannot keep up with solar projects popping up to feed growing manufacturing activity Photo: Le Toan
However, the current grid is not ready to handle this incoming onslaught, putting renewable energy projects in risk and serving a valuable lesson for planners and latecomers. 
Solar power development in Vietnam is hotter than ever. The boom began when the Vietnamese government released Decree No.11/2017/QD-TTg in April 2017 on mechanisms for encouraging the development of solar power.
Bui Van Thinh, chairman of Thuan Binh Wind Power JSC, told VIR, "The issue about grid connection is just like that of My Dinh National Stadium in Hanoi. While the stadium can accommodate only 40,000 people, the demand for watching football matches is far higher than that. How can we decide who gets inside and who will be left outside the stadium? There is similar pressure on the national power grid."
Phu Lac wind farm invested by Thuan Binh is one of the renewable power projects in the south-central provinces of Ninh Thuan and Binh Thuan that had to reduce capacity after the grid was recently overloaded.
Excessive capacity
Under Decree 11, the offer of 9.35 US cents per kilowatt-hour (kWh) feed-in tariff (FiT) for solar power in Vietnam ended on June 30 sparking an investment rush. In Ninh Thuan and Binh Thuan, the installed capacity of approved solar projects has reached nearly 2GW and 4GW, respectively, according to a senior official from the Ministry of Industry and Trade (MoIT).
As of June 30 as many as 82 solar power plants with a combined capacity of 4,460MW have been connected to the national grid, according to Electricity of Vietnam (EVN).
The list of solar projects registered by foreign investors and local firms in Vietnam has been growing continuously, including well-known names such as Tata Power Ltd., Sunseap Group, InfraCo Asia Development Pte., Ltd., Gulf Energy Development, and local developers Thanh Thanh Cong Corporation and BIM Group. Their combined capacity exceeds the planned capacity of the adjusted National Power Development Plan VII released in 2016.
Binh Thuan Wind Power Association has petitioned the MoIT and EVN not to cut the capacity of Phu Lac and Binh Thanh 1 wind power projects in the province. According to the association, the power purchase agreement (PPA) of these two wind power projects, unlike solar power projects, contain no provisions to cut their capacity if the grid is overloaded.
Therefore, the association claimed that the reduction in their capacity is unfair and goes against the agreement.
The association blamed the overload on the scores of solar power projects in some provinces – such as Binh Thuan and Ninh Thuan – as well as the lack of synchronisation ­between the planning and ­execution stages of power source and grid projects. The association argued that these factors have been severely overloading the local power grid system and caused damage for investors.
Meanwhile, a solar power investor who declined to be name admitted that their 20-year PPA has provisions to cut their capacity if the grid is overloaded and they accepted it in order meet the deadline of reaching the 9.35 US cent FiT.
Nguyen Minh Quang from the National Load Dispatch Centre under the MoIT said that the south-central region is the nation's treasure trove of renewable energy, but local power grid conditions are not prepared to accommodate the upcoming supply. "It takes three years, on average, to build a power grid project, while a solar power plant needs only one year to put in place. As a result, grid development cannot catch up with the proliferation of solar and wind power projects," he said.
The lesson is that renewable energy projects need to be integrated into electricity grids that are capable of managing new complexities such as unpredictable and intermittent supply and more distributed power generation. Grid operators will also need to expand and modernise their infrastructure to ensure the reliability, efficiency, and security of electricity supply.
Power redistribution
Dang Trung Kien, chairman of industrial developer Truong Thanh Vietnam Group, said his company decided against investing in the two provinces and was currently building three solar projects in other localities in Vietnam.
"There is a mismatch between planning for solar power projects and that for transmission infrastructure," he said.
Projects developed in overloaded areas risk operating well below capacity, with the risk borne entirely by investors. Banks have reason to be reluctant about funding these projects. There is no quick fix to the problem, though, as "developing the transmission infrastructure requires a lot of time, investment capital, and cannot be rushed," said Kien.
EVN plans to increase investment into upgrading the national grid by 20 per cent this year to VND19.5 trillion ($847.83 million). However, in critical provinces such as Ninh Thuan, the state-run utility and local authorities are still scrambling to draw up sufficient plans for network expansion.
The government is targeting to triple installed capacity by 2030 to meet the demands of the fast-growing economy. The success in attracting investment in the solar sector has shown how quickly change can come, but it also highlights the need for an up-to-date, synchronous power plan that takes into account distribution as well as generation.
The MoIT has just proposed a new FiT scheme, effective for solar projects operational from July onwards, where the tariff rate would be highest for projects in the north and decrease steadily travelling south.
The draft scheme also gives the highest tariff rates to rooftop solar power, which can go up to 10.87 US cents per kWh. Rooftop projects can relieve pressure on transmission infrastructure because the power they generate can be consumed on the spot.
"Renewable energy will continue to be a profitable investment area but it requires the timely assessment of the changing policies and tariff schemes," said Kien.
With energy demand projected to increase by more than 10 per cent annually in the next five years and required power capacity to double, the government is moving forward to develop renewable energy sources to ensure energy security and address the growing power demand.
Vietnam has high ambitions for renewable energy, as shown in the Revised National Power Development Master Plan VII. The plan stipulates that 21 per cent of the total energy supply should come from renewable sources by 2030. As plans for a nuclear power plant have already been postponed by the National Assembly, the country is pushing for more alternatives to satisfy its energy hunger. Foreign investors are especially welcome, as there is no foreign ownership limit and many attractive tax incentives are offered. VIR
Phuong Thu

Prime Minister Nguyen Xuan Phuc has tasked the Ministry of Industry and Trade with reviewing media reports that many solar farms are operating below capacity due to the national grid overload.

The development of solar and wind power projects has apparently overloaded the national power grid system, particularly in the two southern central provinces of Ninh Thuan and Binh Thuan.