The cities and provinces that have controlled Covid outbreaks have reopened some services and received their first travelers.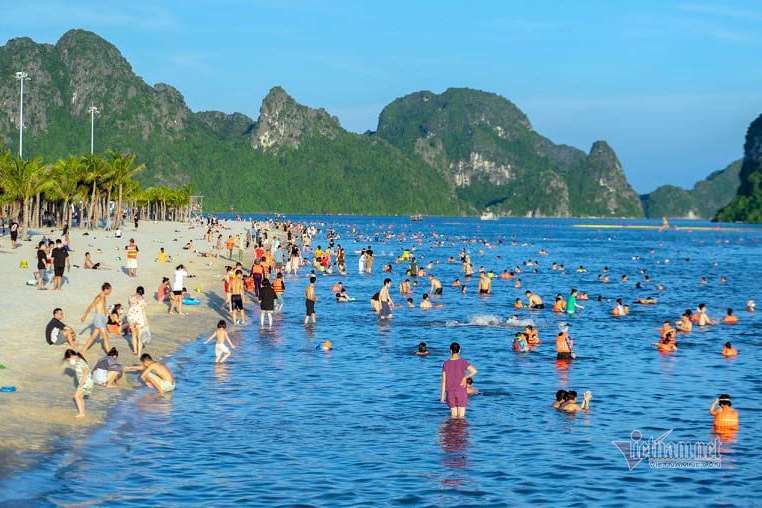 Ha Long City, September 20, 2021
On September 20, people in Ha Long City of Quang Ninh began returning to private beaches and sun bathing at Hon Gai, Bai Chay and Tuan Chau after two months.
Ha Long City has also resumed sports activities. Football playing fields, gym centers and billiard clubs receive clients on September 19.
As of September 20, all four cities of Quang Ninh province had released decisions to reopen some entertainment services. Since 12 pm of the day, Mong Cai City reopened cinemas, karaoke, massage, bar, pub, club, aesthetic services, spa, internet service and electronic games. Tourism sites, belief and religious establishments, restaurants, eateries, street shops, cafes, tea shops, and weddings have also been allowed to resume.
Uong Bi City has reopened football playing fields, gym and yoga centers, and billiard clubs since 5 pm on September 20.
Cam Pha City has also reopened entertainment and sport services, commencing September 21. However, massage, karaoke, bar, discotheque and electronic game services remain closed.
Khanh Hoa, where there is well-known beach town of Nha Trang, is planning to reopen tourism for its residents on October 15 if the pandemic situation is under control. It is also planning to welcome back international visitors with a vaccine passport by the end of the year.
Dong Nai province and HCM City have somewhat loosened control.
On September 20, 2021, Dong Nai began reopening social and business activities in green zones, while keeping red zones under isolation.
In HCM City, after many months of hibernation, the city's tourism has received the first visitors to Can Gio and Cu Chi districts on September 19.
Prior to that, at a working session with Can Gio district's authorities, HCM City Party Committee Secretary Nguyen Van Nen suggested that as the district can control the outbreak, it can organize domestic tours in the locality, though the outbreak has not been contained in HCM City.
Fishermen go to open sea
After two months of staying at home under social distancing, Ba Ria – Vung Tau's fishermen on September 19 went fishing and reported a smooth trip.
On September 9, Dat Do district and three green districts of the province, including Chau Duc, Xuyen Moc and Con Dao loosened some activities in accordance with Directive 15.
However, except for Con Dao, the three green districts maintain checkpoints to control entries and exits.
Based on the results of pandemic control, Vung Tau City authorities have submitted a socio-economic activity recovery plan.
In the first stage, from now to September 30, Vung Tau will consider reopening some traditional markets and allow trade of essential goods.
In the second stage, October 1-31, it will allow some types of enterprises and business households to resume operation, including postal, telecommunication, informatics office equipment and take-away food shops.
The third stage, from November 1 to December 31, will allow reopening of healthcare facilities, massage, spa, sauna, entertainment centers, cinemas and restaurants.
In the fourth stage, from January 1, 2022, Vung Tau will return to normal.
Since September 13, Vinh Phuc province has resumed some services, provided that all the rules on pandemic prevention are strictly observed.
Tourism sites, attractions, and golf courses have been reopened, but they can only operate at 50 percent of capacity and only receive clients within the province.
Buses and taxis can run within the province and can use no more than 50 percent of seats. They have to have a log book to record the itineraries of passengers.
Accommodation establishments have been allowed to open, but they cannot provide karaoke and massage services.
Spas, beauty services and healthcare services have also reopened, but they operate at 50 percent of capacity. 
B. Ngoc

Hanoi needs to find solutions to prevent the coronavirus from spreading and causing overloading of the healthcare system.

Hanoi's authorities have allowed the reopening of some services in the city from 6am on September 21.