Vietnam is now home to a flourishing South Korean expatriate community, whose concentrated presence has transformed their enclaves in Hanoi into tiny pieces of Korea.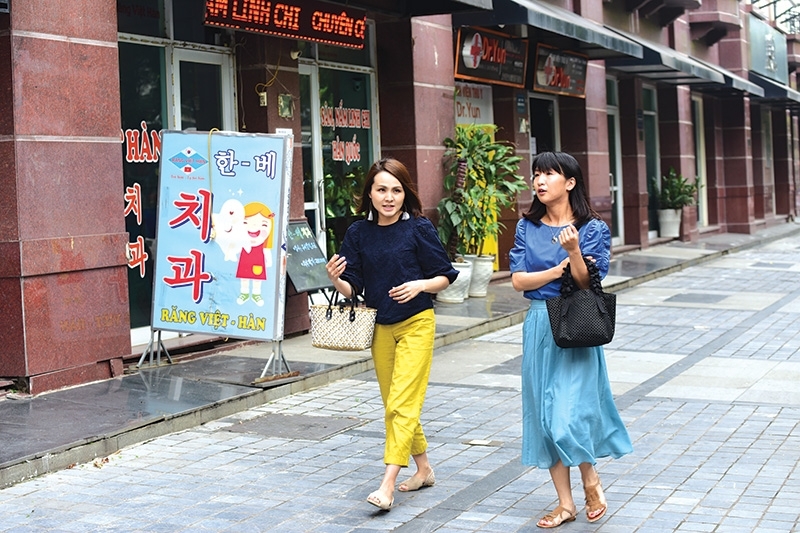 Hanoi's South Korean enclaves are transforming to better accommodate expats' unique tastes
Visitors to Trung-Hoa-Nhan Chinh area, as well as My Dinh and Keangnam Hanoi Landmark Tower in Hanoi now get a serious vibe of walking through a South Korean town, what with the abundance of restaurants, supermarkets, massage parlours, beauty salons, and karaoke bars sporting South Korean banners lining the streets.
A TASTE OF HOME
Among the 129 countries and territories investing in Vietnam so far, South Korea ranks first, followed by Japan, Singapore, Taiwan, and Hong Kong. The number of South Korean people living and working in the country rose to 150,000, former South Korean Ambassador Lee Hyuk to Vietnam told media in March 2018. Most of them live in Hanoi and Ho Chi Minh City.
In Hanoi, this immense South Korean diaspora mainly gathers around Trung Hoa-Nhan Chinh area and the My Dinh, and Keangnam (South Tu Liem district), with mid-income South Koreans opting for the former, while high-earners and fully South Korean families generally choosing the latter. Their presence is evident in the areas as vendors and merchants alike have caught on their unique taste for home, tailoring food, entertainment, and even shopping venues to meet their specific demand.
Song Won Young, managing director of Von Chicken Restaurant on Trung Hoa street, during his 19 years of living in Vietnam, has seen how the South Korean community has been growing by the year, leading to an ever-rising demand for traditional South Korean dishes, which eventually convinced him to find partners and open the Von Chicken restaurant chain.
Young told VIR that the majority of his customers are South Korean who prefer ordering food to their homes or offices rather than visiting restaurant. Although the restaurant has two shippers, they still have to occasionally call shippers from delivery companies to be able to deliver on time. Besides, numerous customers arrive to the restaurant at the late evening after spending time in karaoke bars and massage parlours first.
"In general, the restaurant earns VND15-20 million ($652-869.5) per day, which goes up to VND30-40 million ($1,300-1,740) on the weekends when we are usually fully booked on both floors. In order to ensure the quality and traditional South Korean taste of our dishes, I import chicken, spices, and sauces from Korea, which is an advantage compared other restaurants which use local materials," said Young.
Along with their preference for South Korean tastes, the South Korean community also prefers goods imported from their country, opening up opportunities for supermarkets to meet this demand. Three of the closest supermarkets are Lotte Department Store, K-Market, and Ace Mart. These supermarkets feature more South Korean than local goods, offering customers everything they are used to buying in South Korea, from essentials to more expensive food products.
The My Dinh and Keangnam areas carry perhaps and even stronger line-up of services for the delectation of rich South Korean expats and their families. While there is little difference in the variety of venues (restaurants, spas, karaoke bars are common in both areas) My Dinh and Keangnam offer more luxury.
Ha, a staff member at K-Market on Trung Hoa street, told VIR, "The revenue of K-Market in the Keangnam and My Dinh areas is three times as much as those in Trung Hoa because customers in these areas are richer. Besides, they include complete South Korean families who usually have a higher demand for goods imported from South Korea."
To meet the demand of South Korean clients, all staff of supermarkets, massage parlours, hair salons, and pharmacies can speak Korean and the stores are far more spacious and luxurious than local ones.
Along with the large variety of food and relaxation options, the South Korean community also has a range of international-standard education facilities to pick from for their children, from pre-school to high school.
The South Korean community is growing larger by the year, with more generations appearing with time. This expat community has established numerous groups in order to connect with each other, including social clubs, football groups, and business groups on Facebook, Zalo, and other social media.
STIRRING UP REAL ESTATE
According to the Ministry of Planning and Investment's Foreign Investment Agency, South Korea was the first-ranking investor in Vietnam with 7,745 projects (equivalent to 27.3 per cent of number of foreign-invested projects), and total investment of $64.3 billion, capturing 18.4 per cent, as of April 2019.
Along with billion-dollar foreign investment projects, thousands of foreign senior employees have come to Vietnam to work and live, including managers, senior engineers, and consultants of multinational companies, as well as experts of foreign-assisted projects, non-government organisations, as well as banks.
"This sets a good foundation for the development of the real estate market in Hanoi's western area over the last 3-5 years, especially around Ring Road 3 (Pham Hung) and Keangnam Hanoi Landmark Tower, where most South Koreans live," confirmed Nguyen Hoai An, CBRE Vietnam's Research and Consulting director.
She added that there is always high demand for offices for lease in this area. According to CBRE's quarterly report, the occupancy rates of the projects in this area are very high at 86-97 per cent, even in level A and B offices.
There is always great demand for both apartments for lease and sale in this area, especially from South Korean, Taiwanese, Japanese, and Chinese investors. Some projects in this area have reported maxing out their foreign quotas.
In addition to the hundreds of restaurants, supermarkets, and shops in Trung Hoa-Nhan Chinh with South Korean or Japanese billboards, My Dinh-Me Tri has been emerging as a new centre of South Korean intellectuals and upper middle class.
There are several big buildings in Hanoi developed by South Korean investors, including Grand Plaza (Tran Duy Hung street), Lotte Center Hanoi (Lieu Giai street), Keangnam Hanoi Landmark Tower (Pham Hung street), around which numerous South Korean companies, organisations, and the embassy are concentrated, forming a tight-knit community for living and working.
Of these, Keangnam Hanoi Landmark Tower is one of the most attractive areas for working and living as it is surrounded by new urban areas like The Manor (Me Tri), My Dinh, and other real estate projects, and South Koreans do not mind moving if living conditions are better.
In fact, real estate for foreigners has been heating up since the issuance of the Law on Housing in 2014, which took effect in 2015, granting more privileges to foreigners who wish to own residential property. Since then, South Korean have become the largest foreign community buying residential properties in the capital in particular and in Vietnam in general, focusing on apartments in the range of VND2.5-4.5 billion ($108,700-195,700), within 2-3 kilometres from Keangnam.
Telling VIR about the demand for apartments for rent here, Sean Chung, CEO of Maison Property Group, confirmed that Keangnam is now the centre of the South Korean community in Hanoi. "According to our data, there are around 20,000 South Koreans living in the capital, and this figure is expected to increase due to the rise of South Korean investment in Vietnam, as well as the expansion and entrance of companies, projects, and factories in the country."
"They usually hire premier apartments, and prefer new ones to apartments that have been used for 5-7 years. Companies often spend around $600-800 for apartments for singles, or $1,800-2,000 for houses or $2,500-3,500 for villas for senior experts or managers and their families," he said.
An from CBRE also affirmed that benefit from leasing out apartments/houses in this area has increased tightly over the last three years to 5.5-6.5 per cent from 5-6 per cent.
"Although western Hanoi is one of the most developed areas of premium apartments for lease and the number of released apartments is quite large, rental demand in the area remains high," An told VIR.
"Their behaviour is similar to Vietnamese, they prefer lower prices, while Japanese customers are willing to pay more for added features and services," added Chung. VIR