Vietnam and Sweden are commemorating 50 years of the diplomatic relations this year with a series of milestones made over the past five decades.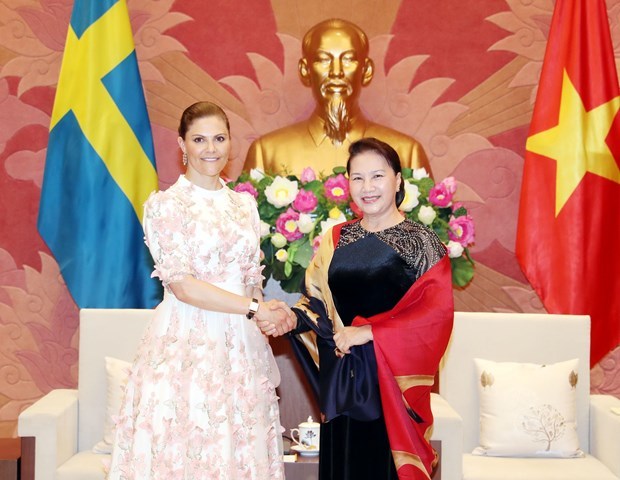 Vietnamese Chairwoman of the National Assembly Nguyen Thi Kim Ngan and Crown Princess of Sweden Victoria Ingrid Alice Désirée in Hanoi on May 6. Photo: VNA
Swedish Ambassador to Vietnam Pereric Högberg said over the past half century Sweden has been Vietnam's friend and partner, even in the most difficult times.
The long-lasting and relationship has been built up on trust and mutual respect, said Crown Princess of Sweden Victoria Ingrid Alice Désirée.
Local media reported that economist Pham Chi Lan, former member of the Vietnamese prime minister's advisory group, answered a question without any hesitance that it's Sweden the best friend of Vietnam. She explained that true friend is the one who helps us courageously and with perseverance without asking for anything back, even during the most difficult time and Sweden is that kind of friend to Vietnam. She noted that her thought remains unchanged even today.
From supporter...

During the Vietnam War, over 2.7 million Swedes (one third of Sweden's population at the time) took to the streets to gather signatures on a petition backed by all five political parties from the Conservatives to the Communists calling for the immediate end of bombings, Swedish Ambassador Pereric Högberg said in a speech on the occasion of the 50th anniversary.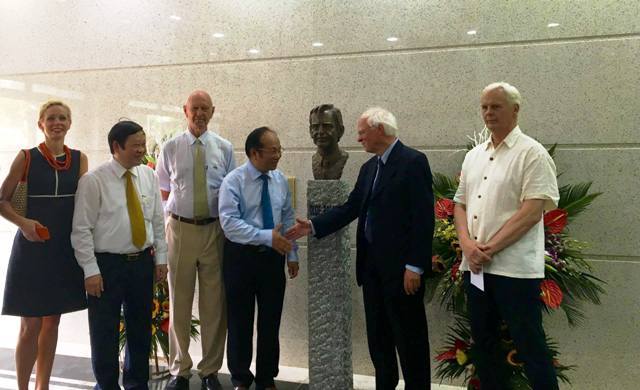 Statue of Swedish Prime Minister Olof Palme set up at Vietnam National Hospital of Pediatrics in Hanoi, which was built with the support of Sweden. Photo: Dangcongsan
Olof Palme, who later became a Swedish prime minister, was the first Western politician to speak out so clearly and so forcefully to protest the war.
The reaction of the Swedes, among the most vocal and active opponents of the war in the West, was one of revulsion and shock, The Times reported.
Their anger intensified shortly before Christmas 1972 with the news of the damage to a hospital in Hanoi that had been partly equipped by Sweden. That news was so shocking that Premier Olof Palme wrote out a statement that linked the American bombing with Nazi massacres in World War II.
The premier said that it was not an instant reaction and he "can't keep silent on this issue and won't be pressurized into silence," according to The Times.
Many Swedes were strong opponents of the war with the depth of feeling depending largely on their age. Young people were active and vociferous, raising money for the liberation front in Vietnam and applauding Palme's position.
…to donor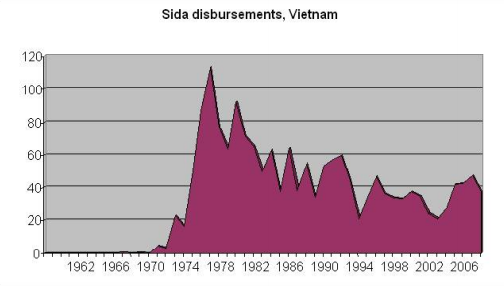 Swedish financial support to Vietnam for years. Photo: Swedish International Development Co-operation Agency (Sida)
In 1969, Sweden was the first Western country to establish diplomatic ties with Vietnam and official development cooperation (family planning project) commenced in 1970.
Since the 1960s, Swedish humanitarian aid to Vietnam was channeled through the Swedish Save the Children, the Swedish Red Cross, and the Federation of Red Cross in Geneva.
Swedish official development assistance (ODA) for Vietnam been has maintained for 46 years and encompassed US$4 billion in today's monetary value. Sweden was the second largest ODA donor to Vietnam in the 1970s, the biggest in the 80s, and the fourth biggest in the 90s, according to statistics by the Swedish Embassy in Vietnam.
Many works across Vietnam mark Sweden's financial and technical support, including Uong Bi Hospital in the northern province of Quang Ninh (built in 1975), Vietnam National Children's Hospital in Hanoi (built in 1974), and Bai Bang Paper Mill in the northern province of Phu Tho (built in 1974), electricity generation plant in Ho Chi Minh City's Thu Duc in 1984, the building of Da Nhim Hydropower Plant in the Central Highlands province of Lam Dong in 1986.
The European nation continued its support to Vietnam in the Doi Moi (Reform) process with initial programs in poverty alleviation and hunger eradication and then with development projects mostly conducted by the Swedish International Development Co-operation Agency (Sida).
Swedish politicians, academics and experts shared knowledge and experiences that supported Vietnam's own efforts in transforming towards a market economy, lifting millions of people out of poverty.
After the bilateral development cooperation ended in 2013, Sweden still provides substantial assistance to the Vietnamese people through regional aid programs in the Mekong, and via the EU's and UN's respective aid budgets to Vietnam.
Sweden was the first OECD member country to adopt a whole of government approach on equitable and sustainable global development that promotes international support to Vietnam for decades.
The Swedish government granted support to different fields, typically health, education, forestry (including afforestation), electricity generation and supply, and administrative reforms in land, tax, and law.
Sweden was the first bilateral donor in sectors such as local governance, judicial reform, media, transparency, anti-corruption, gender equality, LGBT-rights and sustainability. These values are pillars on which the Swedish society is built, said Pereric Högberg.
The Swedish aid targets economic growth, economic and social equity, economic and political independence, democratic development, gender equality, and sustainable use of natural resources and protection of the environment.
The bond is still developing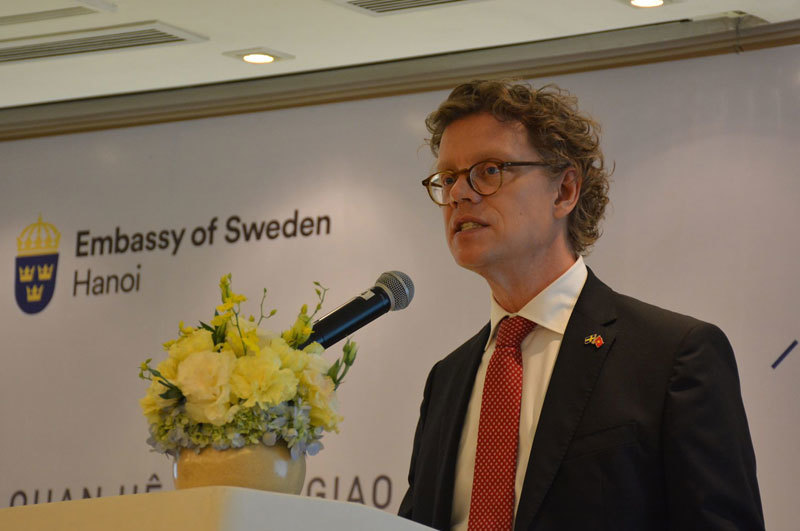 Swedish Ambassador to Vietnam Pereric Högberg. Photo: Swedish embassy
Pereric Högberg noted that the partnership is not only a government to government relation, but also between the two peoples.
Over the years, thousands of Vietnamese have taken part in training programs in Sweden, studied at Swedish universities, worked for Swedish companies. Meanwhile, thousands of Swedes have lived and worked in Vietnam.
In 2018, more than 50,000 Swedes visited Vietnam.
In terms of multilateral, Sweden, with a clear and credible voice within the European Union and the United Nations, stands up for global values and principles, and work efficiently for a long-term sustainable development, including in Vietnam.
Sweden and the Swedish people will always be a friend of Vietnam and the Vietnamese people yesterday, today and into our joint future, the ambassador noted./ Hanoitimes
Linh Pham