In front of her smartphone camera, Ha Lam Truc, 11, confidently speaks English, performs her favorite rap songs, and dubs famous movies.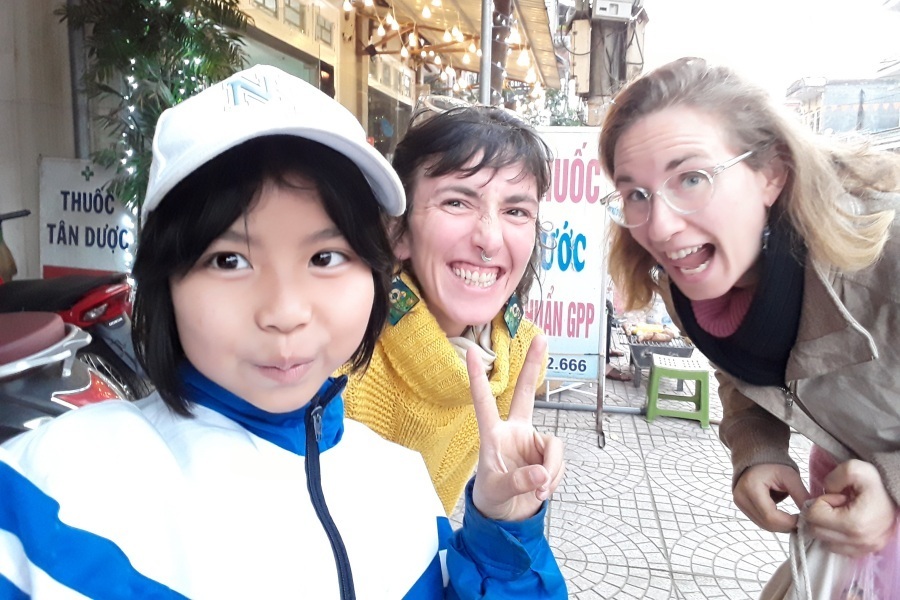 Ha Lam Truc and foreign travelers
Truc is a Tay ethnic girl from the land surrounded by vast hills, mountains and fields where English centers are tens of kilometers away from her home.
Truc was born in Hanoi. But when she turned a year old, her father decided to leave her with grandparents in Lang Son province because of a family problem, while he stayed in Hanoi.
Tung, the father, said after seeing other children speaking English so fluently, he decided that he would create a favorable environment for his daughter to learn and speak English well.
After working hours, he searched for information on the internet and went to international schools to see what was taught at the schools.
At first, he let his daughter watch YouTube and listen to English songs via phones. But this seemed not to work.
He tried to rearrange his work and stay with the daughter more regularly.
As Tung was not good at English, he feared that he would show the wrong pronunciation to the daughter. So he first learned how to pronounce words from Google and then taught the girl.
He gave homework to her every day and asked her to videotape the work to send to him.
He showed her videos on presentation skills, discussions and TED talks which helped her master stage presentations. Everything improved step by step, including body language and facial expressions.

In front of her smartphone camera, Ha Lam Truc, 11, confidently speaks English, performs her favorite rap songs, and dubs famous movies.
Witnessing his daughter's progress, Tung believed he was on the right track. But he understood that the girl needed an environment to practice English.
"Two foreigners came to Lang Son when Truc was selling goods at the market with her grandmother. It was not a tourism site, so there were very few travelers. We nursed every opportunity to talk to foreigners, so we invited them to our home to have meals and took them to travel. Truc also learned to become a tour guide," he recalled.
On another day, a group of Australian high school students came to the locality for a 1-month charity program. Tung asked the homestay owner to let Truc stay with the students for two weeks. And the stay helped a lot: Truc's pronunciation became better.
Later, Truc visited the homestay every time when it received foreign travelers. They had deep affection for the girl who spoke English confidently and danced well.
When Tung and his daughter were walking around Hoan Kiem Lake one day, he told her he would award her if she could talk with more than five foreign travelers. And she was able to do this.
Now Truc goes to Hanoi every week from Lang Son. In addition to practicing English, they both participate in volunteer activities. Truc sends money every month to SOS Children Village in Hanoi.
Truc now follows the US school online study program thanks to a full scholarship. He wants his daughter to use English as a second language and tool to help her receive other knowledge.
Asked about his parenting skills, Tung said he has the habit of accompanying his daughter.
"Being next to her, I realized some of her advantages, such as rapping and dancing skills. I encouraged her to learn English through her hobbies," he said, adding that this way of learning helps lessons to be less boring. If children feel happy, the class time will be much more effective than learning under pressure.
Tung pointed out that the connection among family members in Vietnam is getting weaker. Parents are at the office in the daytime and they only see their children in the evening. The short conversations in the evenings are not enough to understand each other, he said. 
Thuy Nga

Vietnamese proficiency in using English has continued to drop this year, being listed among countries in the low-proficiency category.

Four years ago, Ngo Mai Huong, a teacher for Wellspring School, visited bookstores in Hanoi to look for quality English books for her three-year-old daughter.