With love for teaching and a desire to help others, Ha Thi Hang has helped all ethnic students of a school in the northern mountain province of Hoa Binh's Mai Chau District escape illiteracy.
Soldiers in fight to eradicate illiteracy
Vietnam gains ground in fight against illiteracy
A teacher who banished illiteracy from of a commune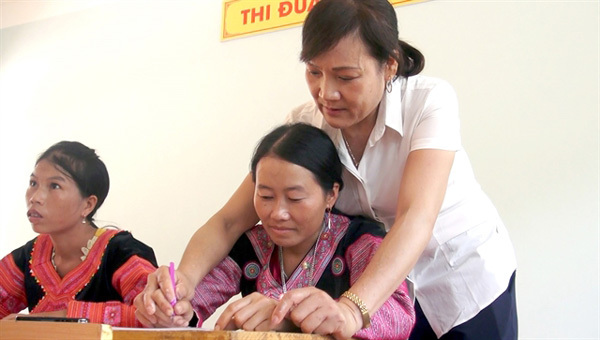 Teacher Hang (right) helps an ethnic Mong student to write a sentence. VNA/VNS Photo Thanh Hai
The teacher has made a great contribution to illiteracy eradication in the mountain regions of the province.
Hang, 52, principal of Bao La Secondary School, in Mai Chau District, last year was assigned to work as a teacher at Hang Kia B Elementary and Secondary School in the same district's Hang Kia Commune.
Hang Kia is a disadvantaged area, with 95 per cent of the population Mong ethnicity. When Hang started working there, the school had a high ratio of dropouts of nearly 40 per cent at primary level and 66 per cent for higher classes.
The school is located in the middle of the valley of Thung Ang Village, Hang Kia Commune, just 60km from Mai Châu Town and more than 10km from the communal People's Committee.
However, it takes more than an hour for a car to reach the school on rough roads which are full of slippery rocks with a mountain on one side and a deep abyss on the other.
Hang said such roads are typical in the area.

As the rate of dropouts was very high when she arrived, Hang said the most important thing was to change the mindset and awareness of locals about literacy.
"To get children to go to school, firstly fathers and mothers must be literate and know how to read and write," Hang said.
The teacher swiftly mobilised local authorities to open classes for the elderly to universalise education.
Her action was supported by the community, so the classes were full of local people.
Mai Chau's statistics revealed the percentage of people in Hang Kia Commune who cannot read and write is nearly 60 per cent and most of them are women.
"For the Mong people to understand the importance of studying, we have to start from the smallest things including being close to them and directly helping them in all works of daily life," said the teacher.
For example, according to Hang, when a disease turned into an epidemic among humans and cattle in the area, she and her colleagues summoned doctors, bought medicine for each household and helped them use it properly.
As local people could not read the prescription and the medicine's direction and effects, the teachers instructed them how to use it, particularly how to control the disease and prevent themselves from being infected again.
Gradually, local people became more aware of literacy.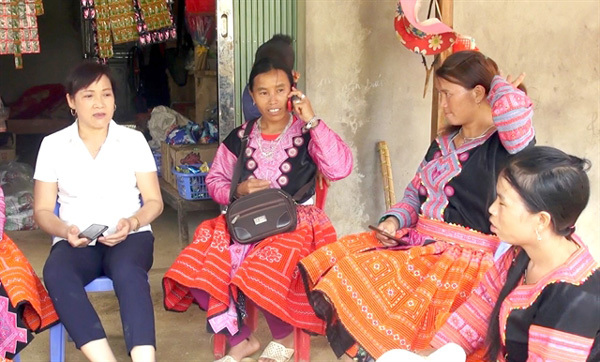 GATHER ROUND: Teacher Hang (first left) talks with a group of local Mong ethnic woman about the importance of illiteracy eradication.
 
Pham Thi Thom, also a teacher at the school, said when she and Hang worked there travelling to school was very hard due to the unpaved roads.
It was especially hard when it rained, another factor which kept kids away from the classroom.
"We had to go to their houses to convince the students not to drop out and at the same time get their parents to attend the evening classes," Thom said.
Kha Y Mai, who was an illiterate mother from Thung Ang Village, was happy to learn how to read and write thanks to Hang and other teachers.
"It was really a challenge for me whenever my children and I got ill before because I could not read the doctor's prescription or how to use the medicine. Now, I can read and write. It helps me a lot in life, especially in caring for the children and my family," Mai said.
Like Mai, Giang Y Phenh, another woman in the same village, said since she became literate, she could solve maths problems, count and read poems and sing popular songs.
"It is absolutely interesting when I can read and write. I like some poems about President Ho Chi Minh and schools. Since I learned maths, I can teach my small children how to count and plan for the family to do economic activities," Phenh said.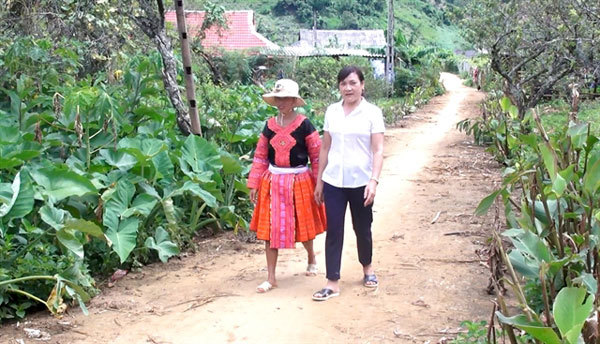 SCHOOL RUN: Teacher Ha Thi Hang on the way to visiting a household in Hang Kia Commune, Hoa Binh Province's Mai Chau District to convince people to go to literacy classes. VNA/VNS Photo Thanh Hai
 
The women vowed to stick with the classes and encourage their relatives to get involved to help escape poverty.
Vu Duc Hanh, head of Mai Chau District's Education and Training Office, had high praise for Hang and teachers at the Kia B schools for their contribution to local education.
The official said since Hang arrived at the school last year, more than 100 students had regularly entered secondary and high school classes and 100 more adults had come to evening classes.
"The students are all very willing to study. They have helped make the classes effective and enjoyable," said Hanh.
With such effort from both teachers and students, in the school year 2018-2019, the number of students going to classes of both primary and secondary education in Hang Kia Commune reached 100 per cent with no dropouts.
"This is really due to the great contributions of teacher Hang," according to Hanh.
Since working at the school, Hang has developed regulations for classes and encouraged teachers to overcome difficulties to help ethnic people learn Vietnamese.
Hang and other staff and teachers of the school also help students and people in localities implement and follow the guidelines and policies of the Party and the State.
In her nearly 30 years working in the education sector, with a love for the job and a spirit of dedication, the teacher has received many awards and certificates of merit from the Ministry of Education and Training and local authorities of Hoa Binh Province for her achievements in education creativity, innovation and management, particularly in the national programme of illiteracy eradication. VNS