Returning to Vietnam from Thailand with technology which helps keep flowers 'immortal', Le Thi Viet in the last 12 years has been diligently creative, bringing flowers to more and more people.
The small house in Hamlet 3 in Trung Thanh Commune of Nong Cong District in Thanh Hoa province is where Viet lives and embalms flowers to create immortal flowers.
In fact, the place where she works only has one old wooden table. She has been working hard there for the last 12 years to create beautiful flowers that help aestheticize life.
In 2001, because of difficult living conditions, she had to leave Vietnam for Thailand as a guest worker. She found it interesting to create immortal flowers and decided that she needed to learn how to make them.
As she was very industrious and creative, she made products with special characteristics of her own. When she became more skillful, the Thai owner of the workshop assigned her to manage the workshop and train workers.
In 2005, after returning to Vietnam, she began applying the technology to create immortal flowers in her poor home village. At that moment, these flowers were luxurious and expensive, unaffordable to the majority of people. Therefore, it was not easy to sell the flowers.
However, because of her passion, she still tried to develop the business. She spent two years to travel to many places to learn about market demand, and seek flower supply sources and supporting materials. In 2008, she began launching her first products into the market.
Flower embalming technology without chemicals
Realizing that the Thai flower embalming technique cannot keep flowers fresh for a long time, Viet invented a technique of her own. Her flowers have the life expectancy of up to 10 years.
Viet affirmed that her 'immortal' flowers do not use any chemicals. Petals dry, but they look like natural flowers. The color of flowers remains scarlet and chlorophyll can be preserved.
"At first, you need to choose high-quality flowers. After that, you cut branches and put them into a box which contains a kind of sand and cover the box for seven days. Later, it is necessary to put the flowers into another box which contains another kind of materials and embalm for three more days, so that flowers become sturdier before arranging them in glass vases," Viet said about the flower treatment process.
Viet makes many different products, from a vase with one flower to one with 100 flowers, priced from VND120,000 to VND4 million, depending on the number of flowers.
In order to have a pretty vase of flowers, one not only needs to choose beautiful flowers and embalm them, but also know the art of arranging flowers. Workers skillfully arrange flowers and create styles while not affecting the flower quality.
The difference in her products is that they are dry, keep their natural color and are not dyed like other products in the market. The superiority of the products is that they are non-toxic to workers and environmentally friendly.
Her products are available in Hanoi, Vung Tau and Nghe An.
Immortal flowers were one of four excellent creative products that received credit from the Thanh Hoa provincial Women's Union at the 2019 Women's Day of Creation - Start-up.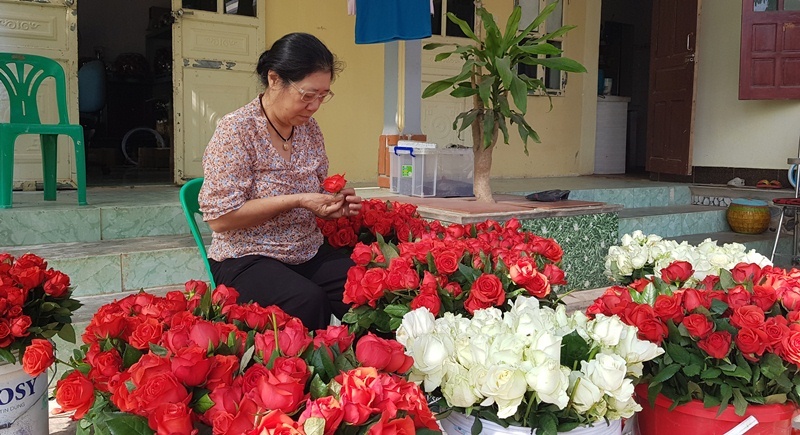 Selecting flowers is an important phase.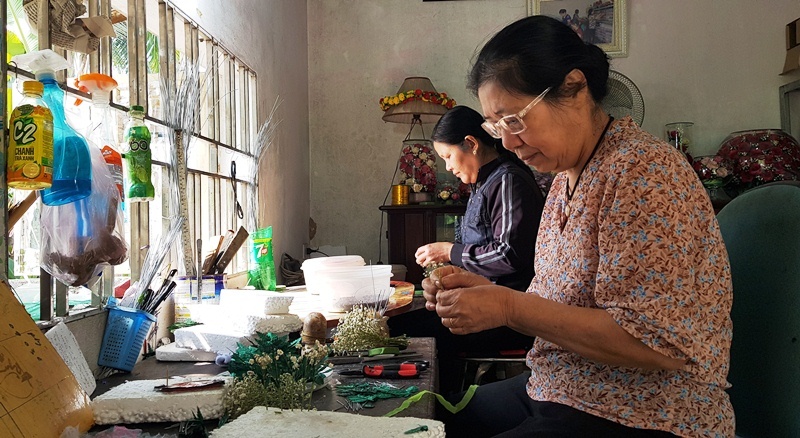 Viet's desk.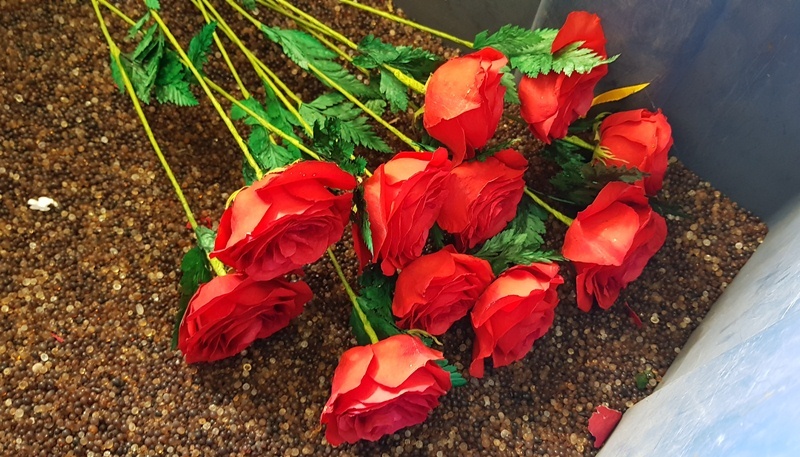 Dried flowers look like fresh flowers.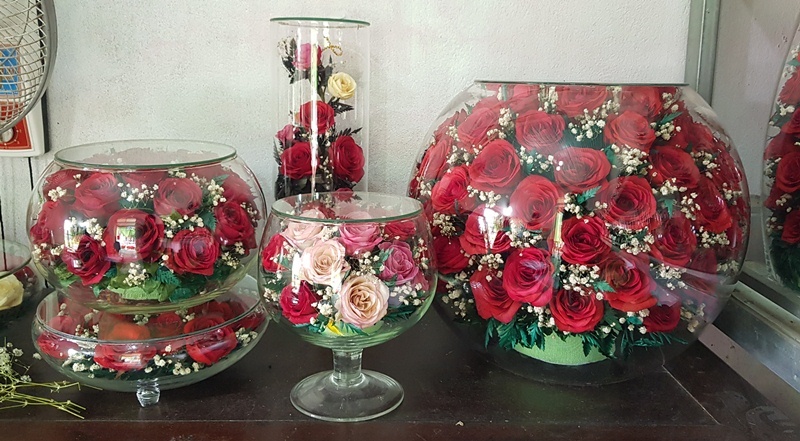 The flowers have the life expectancy of over 10 years.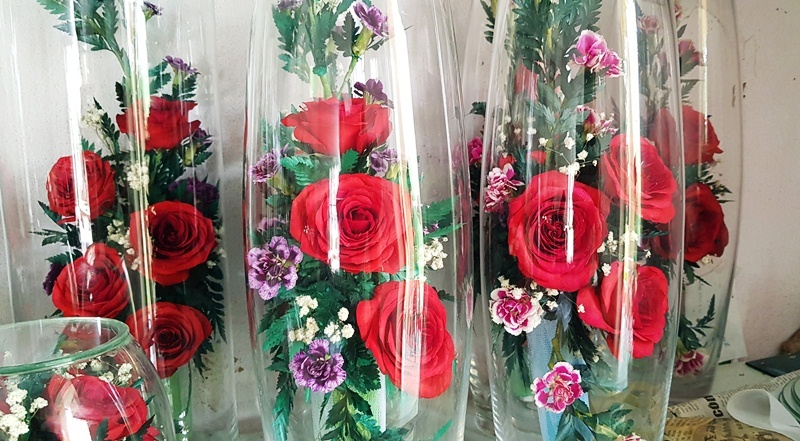 The cheapest product is priced at VND120,000 per flower, and the most expensive is VND4 million per vase of flowers.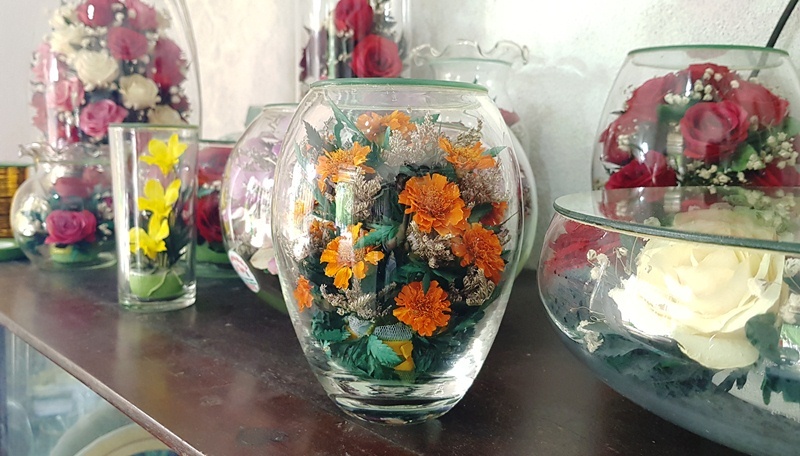 In addition to roses, Viet also creates daisies and lilies.
Le Duong

In the feudal time, Dong Cuu village in Hanoi's suburban Thuong Tin district was famous for its embroidery profession. 

With nimble hands, Do Quang from Ben Tre province can turn long threads of wool into beautiful peach and apricot flowers. His handicrafts are very popular, even though the prices are as high as tens of millions of dong.