Vietnam's e-commerce has been growing rapidly, and when the pandemic is over, the e-commerce market is expected to be even more robust.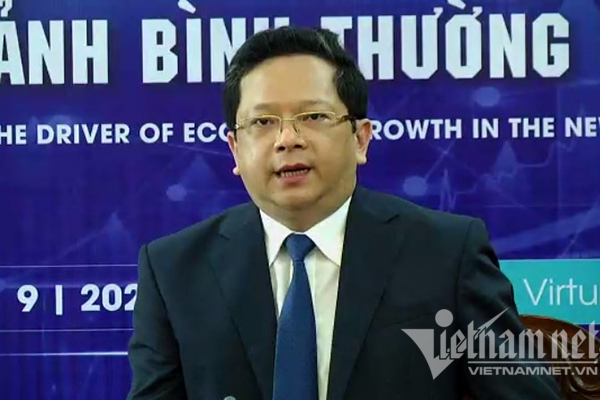 Nguyen Duc Hien, Deputy Head of the Party Central Committee's Economics Commission.
Nguyen Duc Hien, Deputy Head of the Party Central Committee's Economics Commission, said the Politburo's Resolution 52 on guidelines and policies in the 4.0 industry revolution says the digital economy is a pillar for national development. Vietnam's digital economy is expected to make up 20 percent of GDP (gross domestic product) by 2025.
Hien said at a seminar held recently that the digital economy is growing rapidly, especially in fintech, telecommunication, computer and electronics manufacturing and ICT (information and communication technology) services.
However, there are still many problems, including weak and overlapping legal framework, the use of cash on a large scale, and the rapid development of new business models, which makes it difficult for state management agencies to manage digital economic activities.
Nguyen The Quang, Deputy Director of the Agency for E-commerce and Digital Economy under the Ministry of Industry and Trade (MOIT), said Vietnam's e-commerce is in its most prosperous development.
An MOIT's report showed that from 2016 to now, e-commerce grew by 25-30 percent per annum. The B2C revenue of Vietnam's e-commerce increased from $5 billion in 2016 to $11.8 billion in 2020.
MOIT believes that B2C (business to consumer) revenue will reach $35 billion by 2025, accounting for 10 percent of the country's total retail turnover.
Vietnamese spending on online shopping in 2020 was $240 per capita per annum, while the figure is predicted to surge to $600 by 2025.
Healthcare, education and other sectors are also taking full advantage of digital technology to grow, especially amid the pandemic.
New picture of digital economy
The participants at the seminar all agreed that there would be a completely new picture of Vietnam's e-commerce after the pandemic.
Nguyen Ngoc Dung, Deputy Chair of the Vietnam E-commerce Association (Vecom), said because of Covid-19, all chains in the economy have been disrupted.
In the supply chain, e-commerce has made a great contribution to goods circulation. However, during social distancing, problems have arisen, affecting the operation of e-commerce firms.
However, the pandemic has sped up the application of e-commerce and caused it to grow 1-2 years faster than predicted by the association.
Vecom proposed that shippers be allowed to travel and deliver products among districts.
Some localities have given strong support to shippers and created favorable conditions for them to work. This has helped many firms regain smooth operation.
However, Dung said because of the pandemic, the predictions about e-commerce growth may not occur after the pandemic.
A new chapter will begin. People have been educated about e-commerce during the pandemic, so a new wave of development will come. But it will depend on the policies on supporting digital economy development.
Dung said many firms in the blockchain sector successfully called for large amounts of capital during the pandemic via the Internet. This was something new in Vietnam's digital economy.
Private-public partnership 
Nguyen Thai Hai Van, CEO Grab Vietnam, made a proposal at the seminar – promoting private-public partnership (PPP) between the Government and businesses, taking full advantage of the technological platform to carry out activities to fight the pandemic and develop digital economy.
HCM City has been facing challenges in maintaining supply chains. Van believes that if the private-public partnership could be exploited well, the business would be able to better help local authorities in the fight against the pandemic and economic recovery. For example, the municipal authorities should allow it to provide shopping services.
Van also suggested that there should be recognition of the role of shippers in the supply chain. In many countries, the contingent of shippers is seen as a frontline force, and Vietnam should learn a lesson from this.
She said that cashless payments will be a big step forward and serve as a leverage in sustaining the economy during the pandemic. The number of people using Grab's cashless payment increased by 30 percent in 2020. This is proof of the potential and growth rate of this economic segment.
Vietnam is making efforts to push up the digital transformation as a key strategy to boost the national economy. The digital sector is expected to contribute 30 percent to Vietnam's economy by 2030. 
Trong Dat

The set of indicators will fully reflect every aspect of the digital economy, including digital infrastructure, the popularity of digital means, online services, and human resources.

Vietnam is one of the fastest growing internet-based economies in the region. E-commerce revenue has been growing at a rate similar to the growth rate of world e-commerce revenue and higher than the country's GDP growth.