More than 380 Chinese were found gambling online in Our City, a 100 percent foreign invested urban area in Duong Kinh district in Hai Phong City.
The number of cases of violations of Vietnamese laws by foreigners is increasing, which is posing challenges for state management agencies.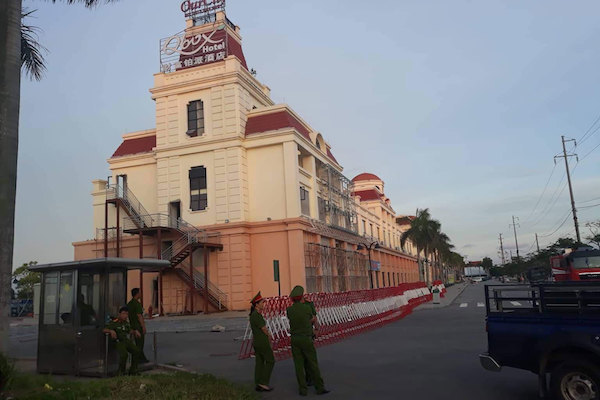 The police in Our City
Nguyen Duy Hung, chair of the Hai Thanh Ward People's Committee, told the press that of the 380 arrested Chinese gambling in Our City, only 27 had registered their temporary residence with local authorities.
A senior official of the district explained that Our City is a 100 percent foreign invested urban area, and is under the direct management of the city, under the current decentralization policy.
"In general, we don't have authorization to inspect 100 percent foreign invested units. If we want to have working sessions with the units, we have to inform them about the sessions in advance," he explained.
With this kind of management, will management agencies and local authorities be able to promptly discover the activities of foreigners violating security order and national defense?
Tran Quoc Vuong, permanent member of the Party Committee Secretariat, is worried about what happened in Our City. He said: "We have not been able to discover criminal activities committed by hundreds of foreign individuals for a long time. This shows worrying problems. "

The number of cases of violations of Vietnamese laws by foreigners is increasing, which is posing challenges for state management agencies.
Is itthe bad management of agencies and local authorities, or something else?
The number of law violations such as deception, theft, prohibited drugs, goods trafficking and hi-tech crimes is on the rise.
On March 29, 2019, the Quang Nam Police put into detention Ezechiedo (Nigerian nationality, temporarily residing in district 12, HCMC) and four Vietnamese who were charged with deceiving and appropriating VND100 billion from many Vietnamese women.
On April 19, at Duy Nhat Hotel in Nguyen Tat Thanh Boulevard in NHa Trang City, the police caught tens of Chinese installing hi-tech devices to c cheat and appropriate assets. They impersonated local officials, and used phones to control, threaten and force people to transfer money to their accounts.
On May 11, in Vinh Loc A commune I Binh Chanh district, HCM City Police arrested Jhu Minh Jyun from Taiwan, China and seized 500 kilograms of drugs.
On June 12, at No 251 Vo Van Hat street in Long Truong Ward of District 9, HCM City, the police arrested 20 Chinese, including eight Taiwanese, and collected some exhibits used by then to pretend to be Chinese police. At the police headquarters, the subjects admitted to using high technology to defraud and appropriate others' property.
In recent days, several agencies have discovered cases of trafficking and transporting drug in large quantities. The rings were headed by foreigners.
The discovery shows problems in state agencies' work of managing foreigners. Vietnam's agencies only know foreigners enter Vietnam, but don't know where they go, where they live and what they do. This is a weak spot for foreigners to commit crimes in Vietnamese territory.
As Vietnam has been deeply integrating into the world, the number of foreigners coming to Vietnam to do business, work, live, study and travel is increasing rapidly.
According to the 2019 white book about businesses in Vietnam, there were 16,178 foreign invested enterprises operating in the Vietnamese territory in 2018 and hundreds of thousand of foreigners in Vietnam who live and work.
According to the Vietnam National Administration of Tourism (VNAT), nearly 15.5 million foreigners in 2018 and 10 million foreign travelers came to Vietnam in the first seven months of the year.
Most foreigners come for healthy purposes and make a big contribution to Vietnam's economic, social and cultural development. However, there are also people violating the Vietnamese laws – trafficking, gambling, cheating, organizing prostitution and carrying out operations infringing on security and national defense.
Therefore, ministries, branches and local authorities need to have reasonable solutions to prevent the crimes.
First of all, it is necessary to check and amend some laws. There must be legal documents that clearly define the functions and tasks of local governments in managing foreigners, with more power and jurisdiction for local officials.
It is necessary to build an information system identifying foreigners staying in Vietnam and the information must be updated regularly.
Nguyen Huy Vien



Prime Minister Nguyen Xuan Phuc in Ha Noi on August 5 received High Representative of the EU for Foreign Affairs and Security Policy and Vice President of the European Commission Federica Mogherini.  

For the past years, the Vietnam Coast Guard has always accomplished its mission successfully, contributing to firmly protecting the sovereignty, national security, safety and order in national waters.