Many people love learning to play the piano, but following the classical technique it can take up to five years to become an accomplished player. Many give up after only three months because they find it too difficult and discouraging.
"Classical music made me an unselfish man": award-winning pianist
Child pianists do Viet Nam proud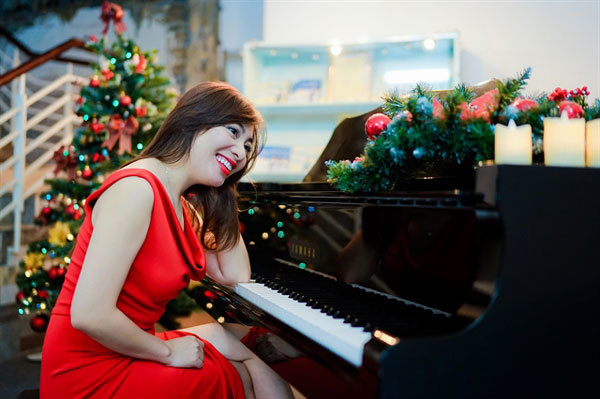 Truong Doan Boi Ngoc has invented two methods of learning piano accompaniment and piano solo which have helped thousands of beginners. Photo courtesy of Truong Doan Boi Ngoc
However, Truong Doan Boi Ngoc, 27, who is not trained as a professional piano teacher, has created a new way for students to learn how to play really good pieces within just six weeks. Her two methods for piano accompaniment (four weeks) and piano solo (six weeks) won her the title of Most Creative Piano Teacher, awarded by Raymond Aaron, the New York Times Bestselling Author, at the Publisher Awards in Singapore late last year.

Piano Lady
Born into a poor family in Cam Ranh Bay in the central province of Khanh Hoa, Ngoc had a deep passion for music from a young age. Ngoc's mother, Doan Thi Hoang, had to borrow money to buy Ngoc an organ and to pay for her lessons when she was 12.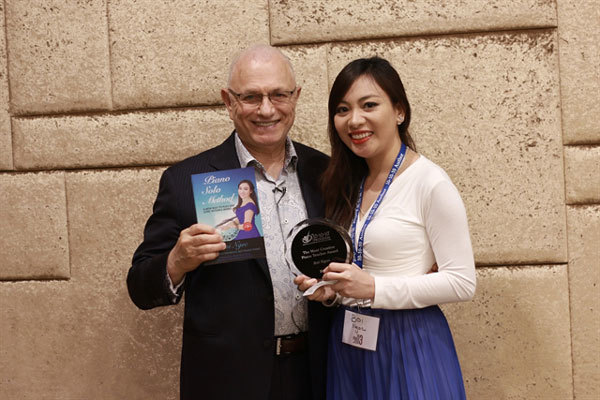 New York Times Bestselling Author Raymond Aaron (left) presents Truong Doan Boi Ngoc the Most Creative Piano Teacher award in Singapore. Photo courtesy of Truong Doan Boi Ngoc
"After three years of learning, my teacher said that he had nothing else to teach me," Ngoc said. "I could already read sheet music and write chords for a choir. This started my self-taught piano journey."
She then moved to play the organ in church. She saw other people had different ways of playing with their left hands. When playing the organ, the left hand stays still, she said.
"There was no Youtube or internet for us at that time, so I had to find another way to teach myself to play piano accompaniment," Ngoc said.
"I listened to the sound carefully while the choir sang, and watched the left hand movements of the pianist. I memorised those sounds and then tried to imitate the same sounds as much as possible on my organ," she said.
Ngoc's piano accompaniment skills gradually got better and better. She began to play solo by ear, adding diversity and her own emotions to her style of playing.
In 2011, she started her own channel on Youtube and has posted lots of videos with her playing her favourite songs, along with tutorial videos. From an amateur player, she – a graduate in economics from the Foreign Trade University, HCM City – has become famous and is now an online piano teacher, a job that she had never thought about before.
People call her the "Piano Lady" because she has the largest number of piano videos and tutorial videos on Youtube in Việt Nam. Her videos have attracted more than ten million views and about 58,000 subscribers in and outside the country.
So far, she has designed five training courses and has two methods to learn the piano that make it a lot easier than classical training. She's also the author of Phương Pháp Tự Học Piano Solo (Piano Solo Method for Beginners -- A New Way To Play Any Song Within Six Weeks) which has been translated into English and is available on Amazon.
Talking about the book which earned her the Most Creative Piano Teacher award, Raymond Aaron said he was really impressed by the knowledge and experience that Ngoc demonstrates in the book.
"Ngoc is an incredible young and self-taught pianist with more than twelve years of experience," he said.
"Ngoc's magically written words will help you become a better piano player and you will achieve results quicker than you would if you were to learn how to play in a traditional way."
"Most people after six weeks are still doing very little scales, and Ngoc has got her students doing beautiful musical pieces," he added.
Students young and old
Using these techniques has led Ngoc to become a piano coach for many people, both young and old. She helps them learn the piano more easily and quickly. She has inspired thousands of people to learn to play the instrument.
"While doing a private tutorial lesson on Skype with one of my students who had the nickname Fu Loc Chu,72, from France, I got the idea of helping elders find an easier way of reading sheet music and combining both hands on the piano," Ngoc said.
"I marked colourful dots under the right hand notes on the sheet music which signified the left hand position, so that my student wouldn't need to read the sheet music for both hands but just read the notes for one hand.
"This is a new method of teaching the piano. It allows people to be self-taught, to discover and create.
"I have taught this method successfully to hundreds of students, and 80 per cent of them can play a song after the first lesson with just a week of practice. Some of them can play independently, while others can play by ear after four months."
Ngoc's mother, Doan Thi Hoang, 57, is also her student.
"I have never thought I'd be able to play the piano. It was really amazing when I realised I could do it," Hoang said. "I mastered a song titled Thằng Cuội after just one week. I've posted it on my Facebook page and it's received lots of likes and hearts from my friends. Thanks to my daughter's teaching, I can play dozens of songs now. It's a joy for us old ones!
Sharing the same passion as Ngoc's mother, many other over 60-year-olds have signed up for online piano classes.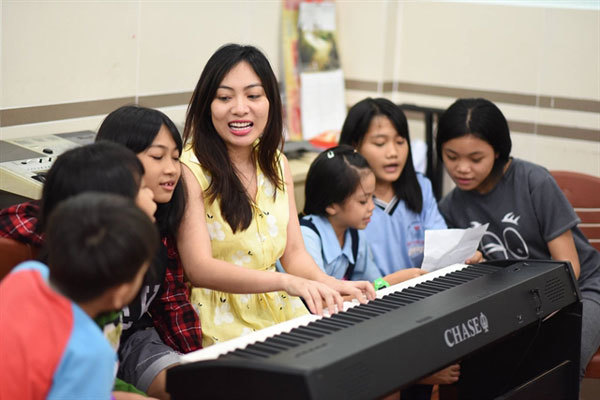 During her free time, Truong Doan Boi Ngoc (centre) teaches children at Mai Tam Orphanage in HCM City to play the piano. Photo courtesy of Truong Doan Boi Ngoc


Young children, especially those from the Mai Tam Orphanage in HCM City, also love Ngọc's charity piano classes.
"Along with the online classes, I visited the orphanage to teach the girls and boys first hand," Ngoc said.
"They are so innocent and cute and all want to learn the piano. I just can't refuse to teach them. Asked what they wanted to be when they grew up, some said a famous pianist, some a piano teacher, and some just an enthusiast who could play for poor children at the orphanage.
"I was also born into a poor family with no money and no tradition of music for me to follow my passion, but I managed to do it. So I want them to keep dreaming and trying their best to fulfil their passion. I believe they can do it, just as I did.
"With my new methods of learning, anyone can achieve results and success," she said.
by Bui Quynh Hoa
VNS