Techcombank shares (TCB) of billionaire Ho Hung Anh have been increasing in price. Forbes estimates that Anh now has $2 billion in stock assets. Other recent developments of the country's wealthy: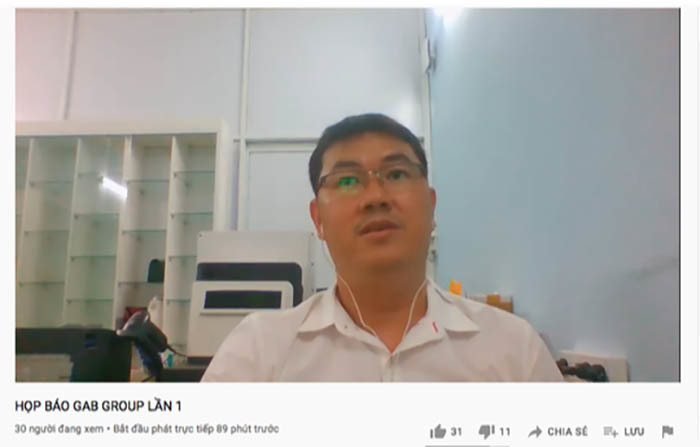 Nguyen Vu Quoc Anh
Shark Viet
Asked about reports about violations committed by his project, Shark Viet, a well-known investor of the Shark Tank TV Show, admitted that there were problems in the construction, handover and operation management of the project. Over the years, Intracom has been deeply aware of these and has been making every effort to settle the problems and offer a comfortable life to the residents.
The project has been inspected by agencies since 2015 and Intracom has observed the inspectors' decisions on punishment, while implementing measures to fix the problems. However, he admitted that some solutions of the company have not been agreed to by some residents, who are continuing their appeal.
Appropriate agencies have inspected the project once again and released a series of decisions to settle the problems. Intracom promised to cooperate with local agencies to handle the outstanding problems as soon as possible.
The Government has recently released the conclusion about the issues of the apartment building that were denounced by residents. The company arbitrarily changed the height of stories, increased the floor construction area, and changed the functions of some floors in order to have 33 more apartments for sale.
CEO lives in four-level house
One of the events that most caught public attention was the livestream of Nguyen Vu Quoc Anh, the CEO of a company registered with charter capital of VND500 trillion.
Anh at the livestream made a series of noteworthy statements. He said that the company's revenue from July to December is expected to reach VND10 trillion, and that the company will enter the Indian, US and Chinese markets.
The company plans to obtain revenue of $1 billion by 2022, $30 billion in 2023-2025. Its products would be present in 250 countries.
He also talked about his dream of building a financial center and a global automatic center in Vietnam.
He said that if everything went smoothly, there would be 17 buildings representing 17 companies of the group. The investment capital for the financial center is $30 billion.
When asked why a billionaire lives in a four-level house and drives a motorbike, Anh said everyone has his own lifestyle and he likes a simple one.
Ho Hung Anh and family members have $2 billion
Forbes estimated that Anh had $3 billion as of June 13. His stock assets have increased significantly recently thanks to the TCB price increases.
TCB price rose by 1.63 percent last week. Bank shares are considered the 'pillar' in the stock market with bright prospects. The information about capital increase, credit space, and the Q2 business performance will continue to support bank shares.
VDSC (Viet Dragon Securities Corporation) predicted that the banking sector would have a 27 percent profit growth rate this year.
Do Minh Phu's TPBank projects a 32 percent pre-tax profit growth rate this year, or VND5.8 trillion. It also plans to see an asset increase of 21 percent to VND250 trillion and mobilized capital increase by 20 percent to VND222 trillion.
In mid-2018, Phu was appointed to the post of TPBank President in 2018-2023 after he resigned from the post of President of DOJI and five other companies, including SJC Hanoi, SJC Da Nang, Yen Bai Precious Stone and Gold, Bong Sen Do Investment and trade, and DOJILand.
VND350 billion in securities
Nguyen Hoang Hiep released a report on the day of becoming a big shareholder of Rong Viet Securities (VDS). The individual investor spent VND350 billion to acquire 17 million VDS shares, or 17 percent of shares, from June 10 to June 14.
Before the deal, Hiep held no VDS shares.
At Military Bank Securities (MBS), CEO Tran Hai Ha has registered to sell all 1 million MBS shares he is holding, slated for June 17-July 16.
The sale is a personal financial plan arrangement, and the transactions will be made under order matching or put-through modes.
In a report released earlier this year, the MBS analysis division suggested the share price of VND28,300 per share.
In another case, Dat Xanh's Deputy CEO Nguyen Truong Son sold 690,000 DXG shares. The share price fell immediately after the sale. 
Bao Anh

The Wealth-X and UBS reports did not disclose the exact names of billionaires, while the Panama Papers and the Bahamas reports included names in tax paradises.  

Billionaire Pham Nhat Vuong has launched a new system that is expected to help Vinhomes bring in about $1.5 billion in 2021.