Inexpensive Chinese smartphones from Xiaomi, Oppo, Vivo, One Plus and Realme are gradually knocking out big names like LG, Samsung or even Apple.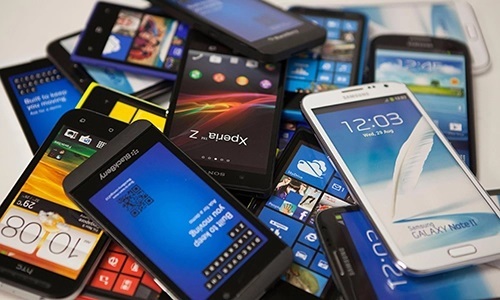 "Even a pig can fly if it's in the center of a storm," Xiaomi CEO Lei Quan told foreign correspondents in an interview in 2015.

At that time, Xiaomi was like a Don Quixote fighting in vain with Apple or Samsung windmills.

But from a company with only $500 million in revenue in the beginning to $38 billion in 2020 with 396 million monthly users, Xiaomi has made the impossible possible, setting the stage for Chinese smartphone manufacturers to transform and hold one of the strongest growing markets on the planet.

Redefining smartphones

Xiaomi was founded in 2010 by Lei Jun and some experienced figures in the technology industry. Interestingly, Lei Jun himself had no experience in making phones.

Becoming Kingsoft CEO at the age of 29 and stepping down after nearly a decade, Lei Jun saw the next destination on his journey to build his own empire. Lei Jun invested heavily in technology, from social networks and web browsers to the mobile industry.

His final destination was a smartphone manufacturer, even though he was a novice in this industry. Lei Jun outlined new strategies and redefined the smartphone market in his own way.

Lei Jun abandoned the concept of traditional sales to focus on e-commerce. He did not consider users as customers but called them Mi Fans. He listened to ideas and improved products in a community of tens of millions of members.

Xiaomi also abolished the 365-day cycle of launching a new phone model. Xiaomi products are cheaper by half compared to products of competitors in the same segment with a shorter product cycle.

What did Xiaomi do?
Lei Quan, Xiaomi CEO, who once had no experience in smartphone manufacturing.


Selling cheap phones and accepting less profit is something everyone can think of, but not everyone can do it. Xiaomi used the two most basic methods to reduce the price of a smartphone: reducing raw material costs and cutting selling costs.

Xiaomi can buy cheap components because it is located in the 'world's factory'. But any company in the world can order outsourcing from factories in China, as long as it pays enough.

The secret is that Xiaomi orders large numbers of smartphone components to reduce the cost of raw materials to the maximum. Then, with the components, Xiaomi creates a product with a universal configuration, and a month later it has the same product with the difference only in the internal memory. A few months later, it again released a new model that only differs in screen size and camera resolution. Next year, it will launch a new model with a slightly larger and thinner battery.

But this strategy will not be successful if products are in stock. Therefore, Xiaomi sells goods online: customers place an order, pay for it, then Xiaomi produces and ship goods. It only sells flash-sale phones on e-commerce platforms.

No intermediary stores and no inventory, and newly launched phone models are sold out within seconds. Xiaomi has created an extremely effective crowd effect, from which its products are advertised verbally to new users with zero marketing costs.

Finally, having sold tens of millions of phones each quarter, Xiaomi profits from ads on apps for the Android operating system developed by itself called MIUI.

Xiaomi has developed from nothing to become one of the 500 strongest groups in the world, according to Fortune magazine.

Lessons for latecomers

Chinese firms have imitated Xiaomi's approach and it works. From long-standing rivals to newcomers, all have learned from Xiaomi's method to turn smartphones into Chinese's own playground.

Obviously, each of them has their own way and changes to suit the situation. In 2018, Realme was born and chose to attack the Indian market. Similarly, a year later iQOO also entered India.

Other competitors such as OnePlus, Oppo, and Vivo chose Europe, Southeast Asia or Latin America before being strong enough to confront Xiaomi directly.

As a result, Xiaomi witnessed a significant decline in market share in the smartphone segment under great competition. But it has turned to AIoT - Internet of Things (IoT) products integrated with artificial intelligence (AI).

With smartphones as the key, Xiaomi has opened up a wide path to young people's smart homes, from robot vacuum cleaners, fans, rice cookers, refrigerators, air conditioners, air purifiers, electrical outlets, water quality testers, and smart shoes to Bluetooth speakers, smart TVs, IP cameras, drones and even smart electric cars connected to the Mi ecosystem.

While its rivals are seeking to sell more smartphones, Xiaomi is selling everything it can at cheaper prices in a potential multi-trillion-dollar market, which will be decided by millennials, or people who were born in the 1980s and later.

In Vietnam, VinSmart once found a market with a similar approach, but it has stopped the game to focus on other areas. Meanwhile, Bphone is still struggling to find the right user segment.

History has shown that only the phone manufacturers that find the first breakthrough in price (Xiaomi) or camera (Oppo, Huawei) can make a difference. As slider, flip, VR/AR and 5G phones have all appeared, Vietnamese phone manufacturers need to think beyond that, in a game where non-innovative laggards will hardly survive.

Phuong Nguyen

With the sharpest revenue decrease in history, mobile phone retail chains in Vietnam experienced a memorable year in 2020.

Vsmart phones have seen milestones that have never been made by any Vietnamese phone company.