Many shop owners have had to suspend their business and give back their premises to landlords because of the impact of Covid-19. But, surprisingly, despite low demand, many landlords have still raised rental prices.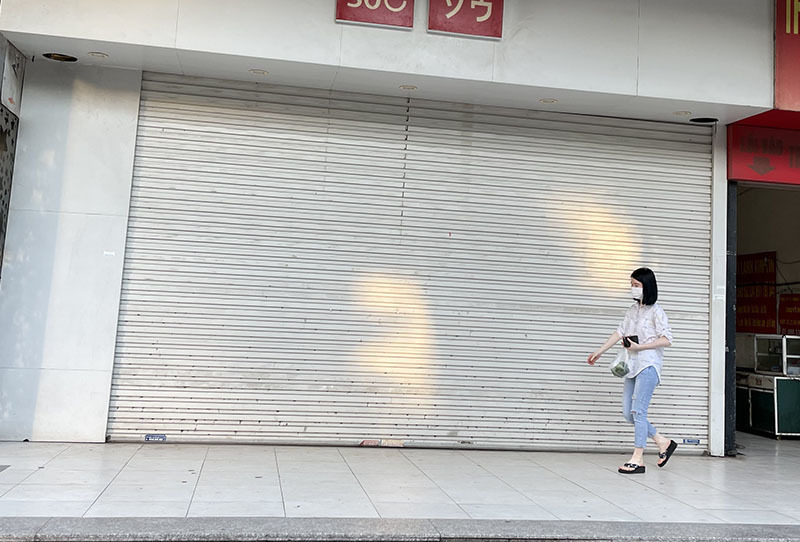 Retail premises have been left idle
At one company, a receptionist still has to be present at her old address every morning to wait for clients and guide them to the new address. The clinic's owner said moving to another location was a last resort. The clinic had been operating for five years and had become well known among locals.
When Hanoi imposed social distancing, the number of clients fell sharply and the clinic decided to suspend operation. While the revenue was zero during lockdown days, the clinic still had to pay rent, electricity and water bills, and pay the security guards.
In late October, when the lease contract expired, the owner asked the landlord to cut the rent by 30 percent, but the proposal was rejected.
As the negotiation failed, he decided move the clinic to a location nearby.
He is satisfied with the new location. "The street-front five-storey villa has very reasonable rent. We feel better operating here," he said.
While the rent in an apartment building ground floor is VND50 million a month, not including service fees, the rent is just VND45 million a month at villas.
The owner of the former space has not found a renter and the space has been vacant for many months. Other rentals are available at more attractive prices.
Hong Minh, the owner of a dental clinic in Ha Dong, complained that she failed to negotiate with the landlord on rental cuts, so she is considering moving to another location.
"The landlord said clinics still could make big money despite the pandemic, so no reason for him to cut the rent," she told reporters.
Minh leases two stories with total usable area of 100 square meters at rent of VND35 million a month.
"I have poured billions of dong into the clinic, so I really don't want to move. I am wavering between moving away or staying on," she said.
Leasing a semi-detached house in My Dinh at VND35 million a month to sell medicine, functional food and cosmetics, Nguyen Thi Hai was shocked when she was informed about the rent increase, commencing in January 2022.
Hai complained that the rent increase will be a burden. Though drugstores still opened during the pandemic, revenue was very low. She was thinking of asking the landlord to reduce the rent when the landlord unexpectedly informed her of the rental increase.
After Hanoi authorities allowed eateries to resume operation, Nguyen Thi Thuy, the owner of a restaurant in Hai Ba Trung district, quickly prepared for reopening. However, she recently got a notice that she would have to pay 100 percent of rent. Prior to that, she had enjoyed a 50 percent rent reduction.
She said that revenue may be unsatisfactory because people are still hesitating to eat out. She will take a loss if she has to pay 100 percent of rent.
"I think I will negotiate with the landlord about the rent. If he says 'no', I will leave," she said.
The Covid-19 pandemic has caused retail revenue to drop sharply, impacting the domestic retail property market. The income of the owners of villas and street-front houses has dropped dramatically recently because of low demand.
Predictions about the future of the retail rental market vary. Some believe that once businesses bounce back, retail premises will become more expensive. Meanwhile, others are not optimistic about pandemic developments. The number of Covid cases has increased day after day so they are worried if they will be asked to close their doors again.
The owner of a four-storey house on Cau Giay street said a usable area of 160 square meters has been left idle since the beginning of the year, though he has offered a rent reduction from VND50 million to VND30 million.
Nguyen The Vinh, a real estate broker, said it's difficult to lease street-front houses now. If landlords cannot retain their existing clients, they will find it difficult to find new tenants. Many places in advantageous positions have been vacant for two years despite 50 percent rent reductions.
Local newspapers report that The Gioi Di Dong, a large mobile phone distribution chain with presence all over the country, has terminated a leasing contract at a premise in An Nhon Town in Binh Dinh after failing to negotiate for rent decreases. Soon after The Gioi Di Dong left, another retailer leased the premise at a rent that is 20 percent higher than that once paid by The Gioi Di Dong. 
Duy Anh

Many shops hit hard by Covid-19 have had to close, but some foreign retailers have taken advantage of the opportunity to scale up their business in Vietnam.  

The income of the owners of villas and street-front houses has dropped dramatically over the last year because of low demand. Many owners have been told to pay tax if their revenue is over VND100 million a year.