Where are the talents now? Are they abroad? Many talented people only work as experts and researchers, and their capabilities are not maximized, Minister Nguyen Chi Dung has said.
VietNamNet publishes part 2 of the presentation about development issues made by Minister of Planning and Investment Nguyen Chi Dung to his employees.
Winner takes all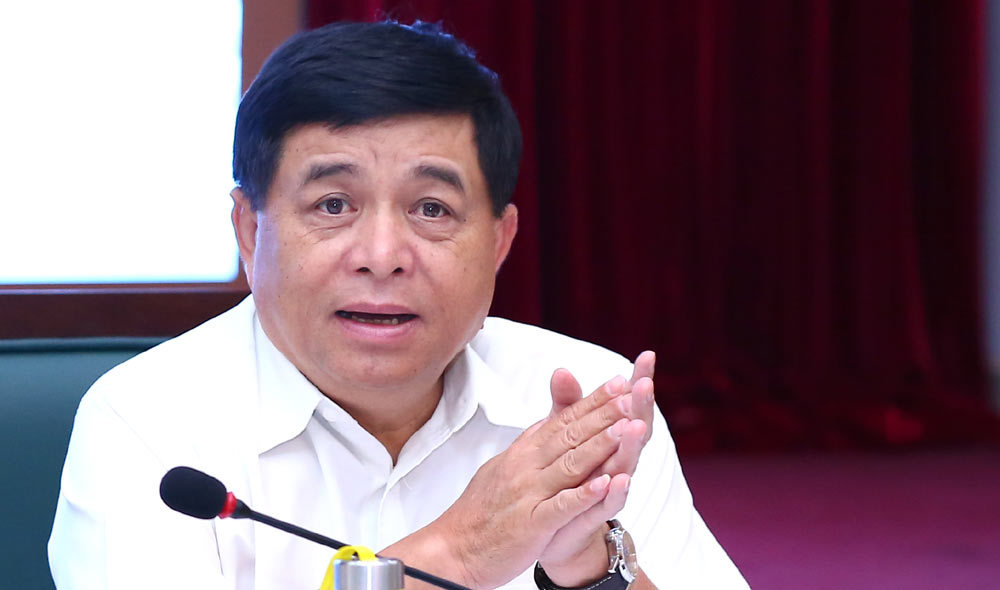 Minister of Planning and Investment Nguyen Chi Dung. Photo: Le Tien
My favorite keywords are "connect" and "share". It creates a common platform for us to cooperate for development. We have to connect and share with each other to prosper and thrive because no one can go far alone in today's world. Of course, to get to the finish line quickly, you must choose the right path and decisions need to be accurate and timely.
In the book "My Vision: Challenges in the Race for Excellence", the author (Mohammed bin Rashid Al Maktoum - Vice President and Prime Minister of the United Arab Emirates, and ruler of the Emirate of Dubai) wrote one thing that I have great sympathy for: "With each new day in Africa, a gazelle wakes up knowing he must outrun the fastest lion or perish. At the same time, a lion stirs and stretches, knowing he must outrun the fastest gazelle or starve. It is no different for the human race. Whether you consider yourself a gazelle or a lion, you simply have to run faster than others to survive." That shows the mindset of being always at the forefront, always the number one.
The author also wrote that when one climbs to the top of Mount Everest or the moon, no one remembers him. People only remember the first person to set foot there. Beauty contests are the same: people only talk about the beauty queen, not the runner-ups. The winner takes it all.
Keep the pace of reform, be open
We need to continue to persevere in innovation and reform. Every innovation or change always creates added value. Administrative procedure reform helps reduce time and lower costs to facilitate people and businesses. We need this unified thinking in policy making for national development.
However, I have found that in the process of institutional building, we often create barriers because we do not properly understand the role and functions between the state and the market, what state management is, and which tools should be used.
In many cases, we go on forbidding, or building a barrier first. Then we see the inadequacies and try to correct them, and we see that as reform. It is no different than filling flowing water with rocks to make the flow slow down and then removing the rocks to make the water flow normally again, and call it reform. That thinking is wrong. We should clear the flow, not build a bank and dam to hinder it.
All policies must be towards the people's happiness
I want to emphasize that we need to have a good mindset to define the roles, functions and tasks between the state and the market in the development of legal regulations to avoid overlaps, conflicts, waste and troubles.
People must be subjects in the development process. All policies of the State must revolve around and towards the happiness of the people. We - policymakers - must keep this in mind.
Relationship between stability and development
For a long time we often discussed stability and rapid development. This pair of categories is very good. If they are performed cleverly, it complements each other; otherwise, it will create a conflict. Stability is a premise for rapid development, but rapid development is also a premise for stability. If we don't develop fast, how can we have the resources to keep it stable. On the contrary, if there is no stability, how can we develop quickly. Of course, it is necessary to apply this pair of categories depending on each historical period.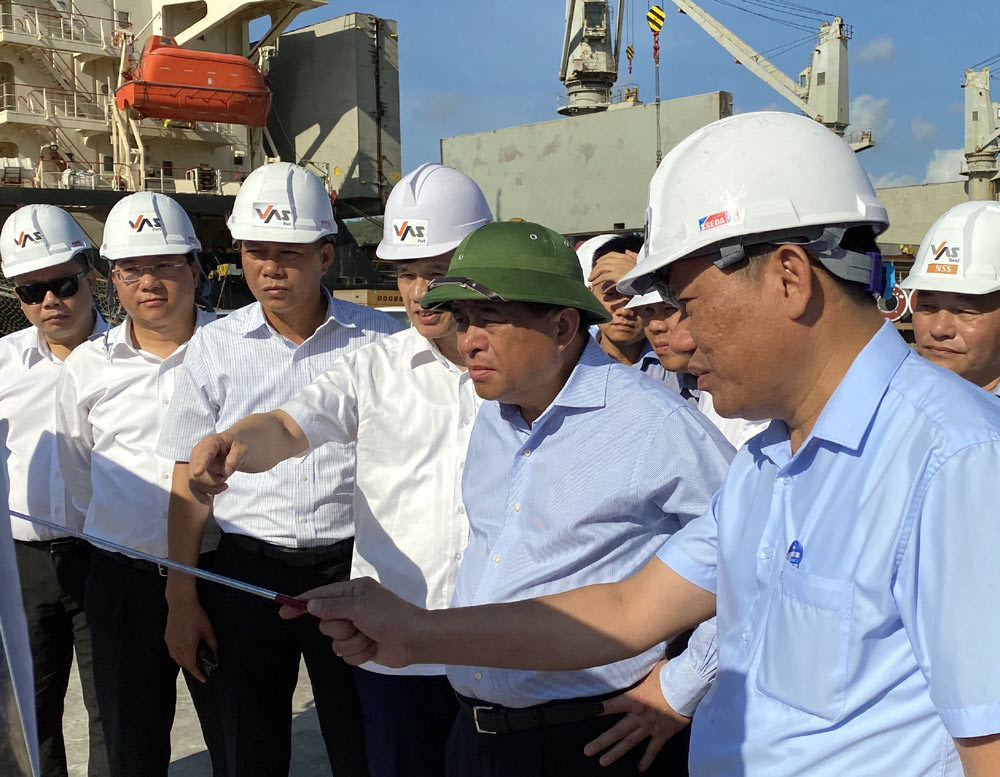 Minister Dung during a field trip to Nghi Son economic zone, Thanh Hoa province, in July 2020.
In the past, the Vietnamese economy was weak, fragile and vulnerable, so we set the goal of maintaining stability. But we are stable now, and the politics is stable and the society is stable, so we need to focus on rapid development to maintain stability.
There may be disagreement, but I think that now we are stable, we need to grow a little faster in the sense of maintaining stability, not break that stability. This is my personal thought.
We need to determine what is the driving force for rapid and sustainable development. I think there are two factors: science, technology, innovation and creativity, and humans. If we do not focus on these two factors, it will be difficult to develop in the 4.0 industry era.
Take advantage of human resources for rapid development
I want to talk about the human factor, the nation's strongest and most potential resource, but we have not yet promoted it. Vietnamese people are intelligent, hard-working, and high-willed, which has been proven through different historical periods. But where are the talents now? Are they abroad? Many talented people only work as experts or researchers, and their capabilities are not fully developed. Vietnam has many talented people, but they have not become the country's resources. This is what we have to think about.
I am very enthusiastic about the establishment of the Vietnam Innovation Network, which has gathered many overseas Vietnamese for innovation. We are also setting up the National Innovation Center.
We need to take advantage of human resources for rapid development, especially in the current golden population period. Vietnamese people need to get rich before the population gets old. By 2030, Vietnam will transit to the period of an aging population. The time is only 10 years away, so we must take advantage of this vibrant human resource before the country turns to an aging population, with increasing social pressure.
Allocate resources to ensure investment efficiency
The market is the most important mechanism to ensure an efficient allocation of resources. However, our mechanism is different: We have a policy of balanced development among regions, not letting the gap between the rich and the poor get wider. Therefore, in resource allocation, we must ensure the dual goal.
Public investment in the next period should be implemented based on balance, but also must rely on efficiency, focusing on a number of growth poles to break through, thereby contributing more to the state budget. We need to pay more attention to the key economic regions, the growth poles, even though there must be harmony and balance with less developed regions.
In the early stages of development, we have agreed on the efficient use of resources, reduction of recurrent expenditures, and increase of investment expenditures. We think that in the direction of development, making the GDP higher, having more powerful enterprises, and contributing more to the budget, then public debt will automatically decrease. However, there is also a view to keeping public debt and overspending at a low level without paying attention to development and GDP growth. This is a contradiction in development.
Personally, I follow the view of creation for development: to develop faster and make the GDP grow, we will achieve the dual goal of developing while the public debt and overspending will decrease. Is there any benefit to keeping the public debt and overspending low but with no growth?
We still have the problem of the spreading out of investment. Everyone invests in similar projects, which are fragmented and small, with poor connections. This way of investment is much more wasteful than corruption.
In the next 5-10 years, as for socio-economic development strategy, there is an idea of designing fast growth based on dynamic, smart cities, particularly Hanoi, Ho Chi Minh City and 5 centrally-run cities. Rapid growth needs to be based on key economic regions, areas capable of creating material wealth.
For example, HCM City needs to focus on developing an international financial center. More than 10 years ago, I worked on a project with foreign partners to form an international financial center in Vietnam. It is now a golden opportunity to implement this idea; otherwise it will be a waste.
Tu Giang
To be continued....

Vietnam is still in the group of low-middle income countries. We are trying to narrow the development gap with other countries, but they are not standing there to wait for us.