"My kid is going to be discharged from hospital today, but I don't know how we can go to our hometown. We are running out of money and cannot lease a car, while Hanoi is in social distancing. Please help us."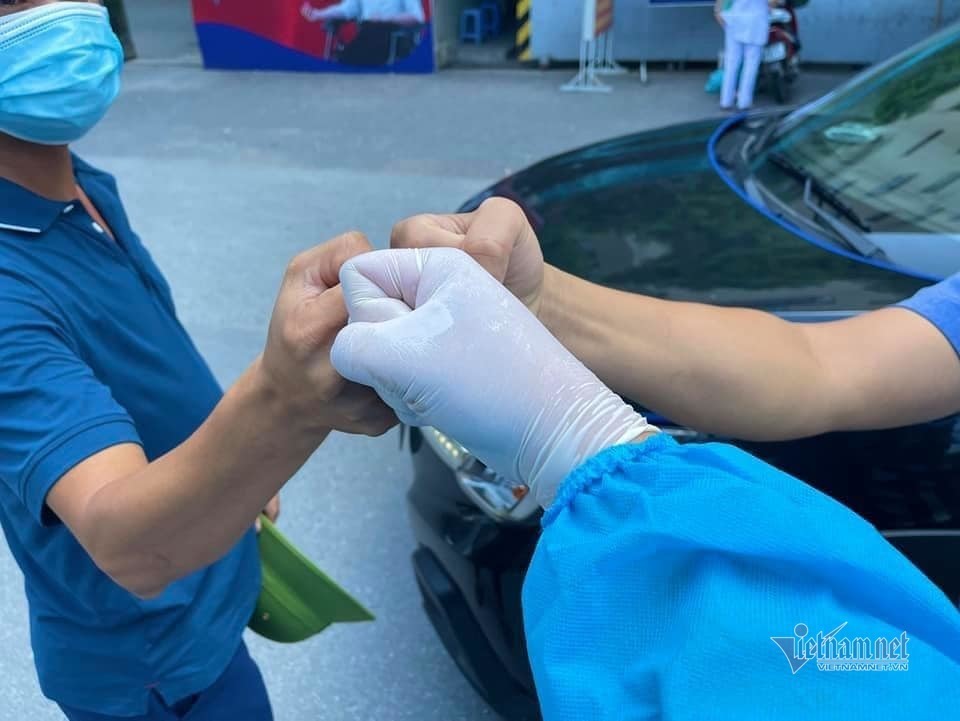 This was the call from Oanh, the mother of Bui Dang Bao, 13, who received treatment at Central Children's Hospital on July 27. Binh Minh, one of the founding members of a team of drivers with the name 'Nhung chuyen xe yeu thuong' (trips of love), answered her call.
Bao suffers a serious disease: he has a tumor on his eye socket and has been receiving treatment for 10 years. Oanh's husband, who suffers from cancer, is at home.
Minh joined forces with two drivers of the team to carry Oanh and his son to their hometown in Quynh Phu, Thai Binh on that day amid social distancing in Hanoi.
Doan Van Khoa, a team member, carried them from the hospital to the checkpoint next to Tu Son Town of Bac Ninh province, while Le Thi Nhung, who lives in Bac Ninh, carried them from the checkpoint to their home.
The work was done free of charge.
Oanh and her son were one of thousands of cases that received help from 'Nhung chuyen xe yeu thuong' over the last year. Every day, the team helps 10 cases, carrying poor patients to hometowns or to checkpoints at the entrance gates to the capital city.
The priority subjects of the team are patients from other provinces who have difficult conditions. They have had long-term treatment at hospitals in Hanoi and are exhausted physically, emotionally and financially.
A representative of the team said the team receives support and cooperation from the community, especially drivers from many areas.
The teams must strictly observe regulations on pandemic prevention and control. Drivers have to test negative for coronavirus to be eligible to drive cars, and must apply measures at the highest level to prevent the pandemic.
Private cars used
Trinh Minh Hieu in Hoang Mai district, Hanoi, said the team of drivers was set up one year ago with 20 permanent members in Hanoi and other members from neighboring cities and provinces.
The members use their private cars to carry patients.
Hieu said his business, a labor export company, has been frozen during the pandemic. He has had to take a lot of extra jobs to earn money, including a Grab car driver.
However, he feels luckier than most, especially patients from other provinces who come to Hanoi for treatment. He is willing to use his Honda CR-V to carry patients everywhere, from the northern mountainous provinces of Lao Cai, Yen Bai and Son La to the central region such as Nghe An and Ha Tinh.
Asked about his most memorable trip, Hieu said last September he and another member of the team took a Mong ethnic minority couple and their child from Hanoi to their hometown in Mu Cang Chai in Yen Bai province.
It was a night trip during heavy rain. The car could not reach the hamlet of the couple. Finally, the Mong family members had to walk three kilometers to get to their home.
One hour later, Hieu received a call from the couple, who could not speak Vietnamese fluently. They said they were happy because even though they were soaked, their child was safe. Hieu said he felt relieved after the call.
Le Thi Nhung, who lives and work in Bac Ninh City, is called the 'golden girl' of the team.
Nhung recalled a trip on December 31, 2020 night, she transported a 2-month patient and family members from a hospital in Hanoi to Si Ma Cai in Lao Cai province.
While her friends were spending that time to welcome the New Year 2021, Nhung and her younger brother spent time on the road with unfamiliar people.
Nhung drove her car from Bac Ninh to Hanoi and then headed for Lao Cai. When Nhung came back home, it was 8am on the first day of the New Year. 
Hoang Hiep

People nationwide have done their bit to help fight the COVID-19 pandemic, but few have gone quite as far as Ngon Duc Thang.